Written by Claudia Dey, Trout Stanley has returned to the Factory Mainspace (125 Bathurst) with its dark and hilarious exploration of love, loss, and co-dependency.
On the eve of twin sisters Sugar and Grace Ducharme's 30th birthday (which also coincides with the 10th anniversary of their parents' death) a mysterious stranger arrives on the lookout for love… and a lake. The play is wild, touching, and hysterically funny.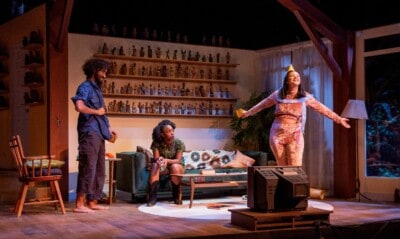 We chatted with Natasha Mumba, who plays Grace, this week.
SDTC: What drew you to the script for Trout Stanley?
NM: I was drawn to the sisters relationship. The show is a love triangle in which Sugar is the center and Grace & Trout are fighting for her. Grace, (The character I play) truly believes that Sugar is the love of her life and the reason she can exists in the world. And it's a thrill seeing all the things she does to prevent her being taken away.
What about this play appeals to you personally?
I love the ambition of Grace. Her deep belief in her ability to change her world and become everything she imagined she could be, considering the very dire situation both her and her sister are in.
How did you map out this production? Walk us through your process.
I start off by noting my first impulses of a first read–I realize more and more that my first feelings of the play are usually quite formative. And of course you delve deeper into the play and gather the many nuance that exist, which are essential but somehow I always return to those first few notes I wrote on the first read and I am reminded again of what the play is.
What was it like working with Mumbi, Shakura and Stephen?
What a great crew of people. I'm having such an incredible time working and playing with these artists. Mumbi's vision of this play and what our family not only looked like— but exploring the cultural context of a black immigrant family in an excluded small BC town; Allowed us all so much freedom to play and explore the many aspects of ourselves that often get muted in plays that were originally written from a Caucasian perspective. We brought our full selves to this piece which made it a richer experience for me.
Why does this show resonate at this point in time?
I think that Claudia Dey say's it best in her playwright notes, " Trout Stanley is about finding catastrophic, ecstatic, outrageous and devotional love in a merciless landscape of the North." That to me is exactly what drives me through the play every night, holding on to the need for deep love among the devastating chaos of this world. And is equally so relevant to how we strive to maintain sanity with all the chaos of our world and planet.
What do you hope audiences take away from this play?
A new perspective of a classic Canadian play, and how they can continue to evolve and exist in vibrant ways.
Trout Stanley runs through the end of the week. Grab tickets here.