A cashmere sweater is certainly a timeless and treasured Christmas gift, but there are many ways of enjoying this heavenly textile. If there is one person in this city who is an expert on how to wear and live life with cashmere it's Aly Currie, owner of The Cashmere Shop in Yorkville (check out their 2014 Gift Guide here).
We talked to Currie about the resurgence of the turtleneck, what it's like to run a family business, Mongolian sheep and her fierce loyalty to Frosty The Snowman.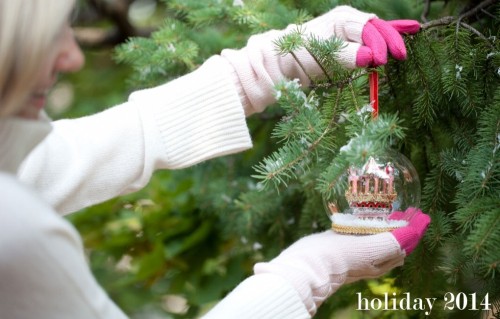 SDTC: How many years has The Cashmere Shop been in your family? What has changed since it first opened?
AC: The Cashmere Shop was originally started as a mail order company by my Dad in  1993, he ran it out of our Lawrence Park home (I was his model!). He then opened a pop-up store at Yonge and Briar Hill for the holiday season and the following  autumn opened in Yorkville.
In 2003, he moved to Mongolia to live in the countryside and farm. It was at this point that I left McGill, moved home from Montreal and took over the business. I didn't want to change our amazing quality Cashmere or the amazing relationship we have with our clients, but we needed an update in both branding and style, so I've grown and evolved both over the past 11 years.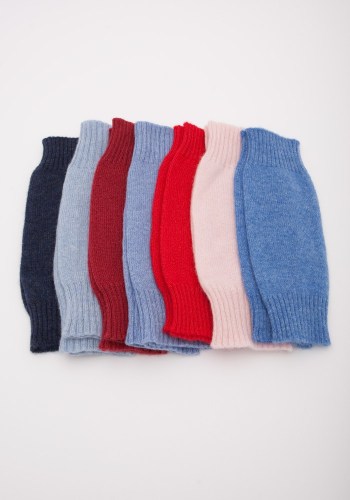 Beyond sweaters, what other cashmere offerings do you have?
We've got a lot of really great accessories. We have scarves, in various styles and colours, gloves and mitts; such as our texting glove, and our cashmere mitts with a leather palm, great for driving! We have a large variety of hats (our best-seller is definitely the fur pom-pom hat). We have wristlets, which are similar to fingerless gloves and are a really great addition to pair of gloves, either under or over, just for that added warmth. Cashmere Socks, which are the best thing ever! As well as blankets and of course, our very popular Cashmere pant, which we do in two styles.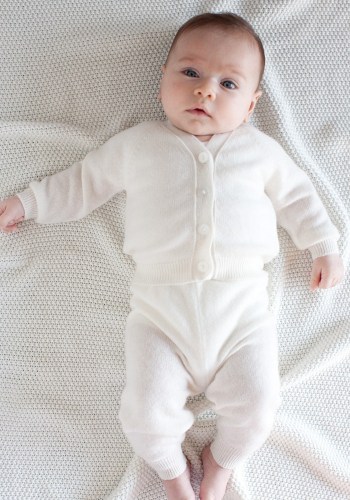 What items in shop are most popular for holiday gift giving?
Our Fur Pom-Pom hat ($195) is very popular. We make a variety of colour combinations, using all real fox and coyote fur. Any of our fitted sweaters have been popular for presents as well. They are all $299, so they sit at really great price point for people who shopping for gifts. We have 4 different styles, Round Neck, V-Neck, Turtle Neck, Cowl Neck and Striped sweaters.
Our Yarnz scarves have been extremely popular this year. They range from $175 to $250 depending on the size, but they come in such a great variety of colour combinations and patterns. We have one that is a great ice blue with an amazing image of a leopard on it ($250) that is definitely a great addition to anyone's scarf collection.
The Everyday Classic Wrap and Scarf ($195) has been super popular as well. We've got the great neutral colours that every woman should have in her collection; black, charcoal, light grey and white. For the men, we just got in this really great Short Scarf ($135) that comes in a variety of colours. It's really great for those guys on your list that doesn't want to fuss with a big or longer scarf.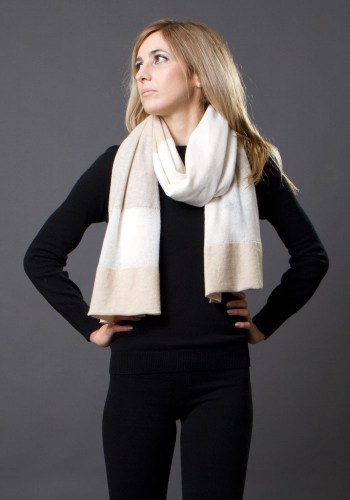 Where does your wool come from?
All of our Cashmere is from Mongolia. We manufacture our private label and wholesale Cashmere there. Mongolia is an amazing country, they have wonderful relationship with the animals; they truly care for the goats. We also have an accessory brand that we sell, Rosie Sugden, whose Cashmere comes from Scotland and we sell a sock brand called Marcoliani from Italy.
What are some beloved holiday traditions in your family?
The holidays are such an amazing time of year and truly my favourite, I'm known for my love of Christmas! We have an annual Christmas Party at my house at which we raise money for a different charity each year. I also have a tree decorating party with some of my friends and my children.  It's the best time of year to relax with friends and have people over to your home for food, drinks and a good laugh.  My nephew is Jewish so my children are lucky to also get to know Hannukah traditions, we love to playing dreidel and of course they love to win chocolate gelt!
Do you have a favourite holiday movie?
I love the classics such as Rudolph the Red Nose Reindeer, Frosty the Snowman and of course Charlie Brown's Christmas. I watch them MANY times over the holidays with my kids. Later at night, when the kids are asleep, I love to watch The Holiday (with a glass of wine);  Cameron Diaz wears a lot of amazing knitwear in the movie!
Cashmere aside, what are some other things you do to stay cozy during the winter months? 
 I work so much during the holiday season so my favourite thing to do after a long day of work is curl up with my kids in their pajamas and get super cozy on the sofa with my Cashmere blankets, turn on a Christmas movie, and dim the lights so the only thing lighting the room is the glow of the Christmas lights on the tree. Sip from my mug of something hot, either Hot Chocolate or Hot Apple Cider. Enjoying the cuddles and kisses from my two young children.