Cooking food is not my strong suit, but eating food totally is. So when I was delivered a Mark McEwan Valentine's Day basket worth over $200, I knew I had to step up my game for the former (the latter would take care of itself). I had a slew of delicious products in front of me—pasta, sauces, breadsticks, chocolate, oil, balsamic, salt—but what the heck would I make with them? The basket also included McEwan's cookbook, Mark McEwan's Fabbrica: Great Italian Recipes Made Easy, which has tons of awesome recipes in it, but I wanted to think outside the, er, book.
It was when my roommate and I were discussing our love of Pizza Pops that an idea popped (teehee!) into my head: Homemade Pizza Pops! But of course, Pizza Pops are a very specifically produced snack THAT I WOULD NEVER TRY TO REPLICATE so I will from now on refer to my creations as Love Pockets (I don't want to get sued, you guys). We crafted two different kinds of Love Pockets: Pesto Chicken Love Pockets, and Tomato Sausage Love Pockets. DOUGH POCKETS FILLED WITH LOVE AND FOOD: WHAT COULD BE TASTIER???
Please, throughout the rest of this post, keep in mind that I am a very average cook, and therefore the measurements and amounts of each ingredient are not going to be scientific (you can decide what "some tomatoes" is for yourself, ok?). This recipe served four of us, plus we had leftovers. (Also note that we decided to make two large Love Pockets and then slice them like a pizza, because giant snacks are fun.)
So, straight from my heart to your stomach, I present to you: Love Pockets.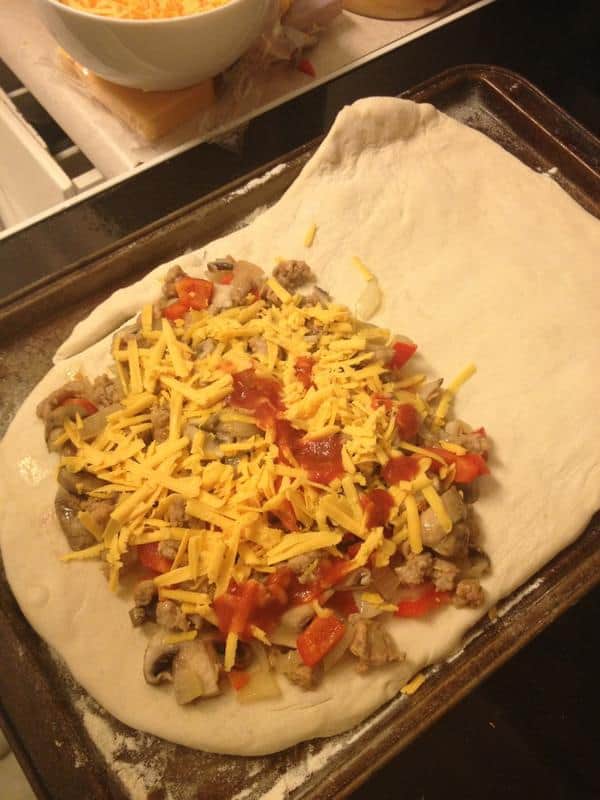 WHAT YOU'LL NEED:
FOR BOTH:
Dough (you can get this at pretty much any grocery store and it's really cheap, so that's great). One ball (mound? Oh fuck, I'm awful at this already) of dough per Pocket
A block of cheddar cheese
FOR PESTO CHICKEN LOVE POCKETS:
La Fav Basil Pesto (we got this from the basket)
Some tomatoes (told you!)
Some olives
A chicken breast
FOR TOMATO SAUSAGE LOVE POCKES:
Roxy's Tomato Sauce (from the basket)
A white onion
Some mushrooms
A green pepper
One or two Italian sausages (depending on how big they are)
HOW TO MAKE 'EM:
Preheat your oven to 400 degrees
Spread some flour over a cutting board or clean counter space and roll out your dough. You can use a rolling pin if you're awesome and have one of those; if you're more like us, you can use that half-empty bottle of white wine that's been in the fridge way too long
Slice up your ingredients and start loading them onto the dough (you want to put everything on one half of the dough so that you can fold the other half over when you're done). For the Pesto Chicken Pocket, slice the chicken into strips and cook it in a frying pan a bit before putting the meat on the dough. For the Tomato Sausage one, take the sausage out of its casing and cook it up with the white onion, mushrooms, and green pepper. Then plop onto the dough
Get artistic, evenly spacing out all of the ingredients, cheese, and sauce in your Pocket
When it looks ready, fold the empty half of the dough over the filled half and seal the edges by pressing the two sides of the dough together
Slide into the oven and cook until golden brown, then let cool, and slice 'er up (tip: they taste extra delicious when paired with hot sauce like Frank's or Cholula)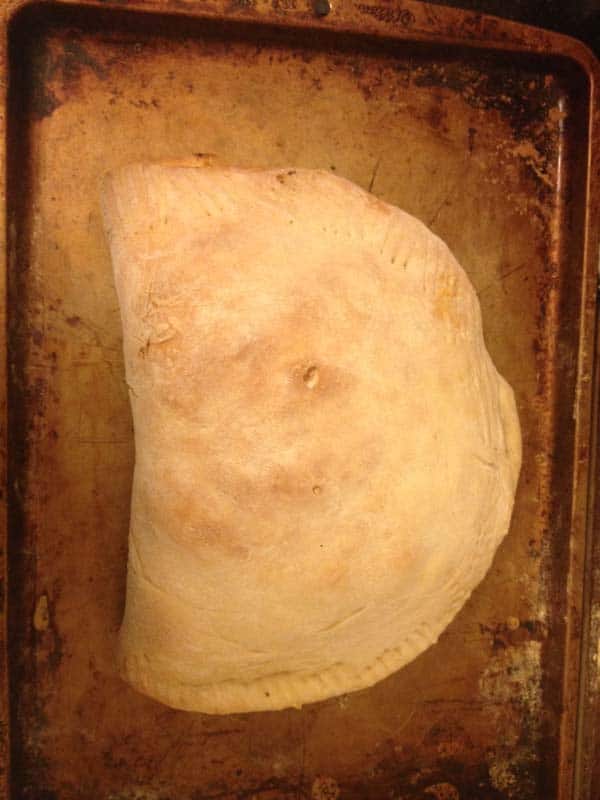 *Bonus points: Make a side salad to go with the Pockets. We just used whatever veggies we had in the fridge at the time, and put some of McEwan's Ice Pressed Evoo and La Vecchia Dispensa Condimento on them as a dressing, topped with a little Just A Pinch Himalayan Salt (all from the basket)—because making your own dressing is so much healthier and cheaper than buying it from a store
Eat up, my little darlings! And to purchase some of the seriously delicious goodies in the basket, make a trip to McEwan Grocery at the Shops at Don Mills, 38 Karl Fraser Rd.