Knowing that puzzle sales were up 370%, as people continue to look for activities to keep them busy in quarantine, creative designer Paddy Harrington (founder of Frontier) and celebrated printer Rich Pauptit (Flash Productions) decided to create custom puzzles featuring beloved Toronto businesses that give back.
Puzzles feature storefronts or favourite dishes from your neighbourhood restaurant, and for every 'Piece Together' puzzle sold, $15 will go towards the local business featured in the puzzle, plus customers can choose to make an additional direct donation to that business at checkout.
"Independent-owned businesses and artists are the heart of the communities they operate in, from restaurants, cafes and breweries, to fitness studios, live music venues and clothing boutiques. With so many of these culturally-significant establishments having a really hard time right now, Rich and I decided that we wanted to do something to help them weather this storm – we want these places to survive,' said Harrington.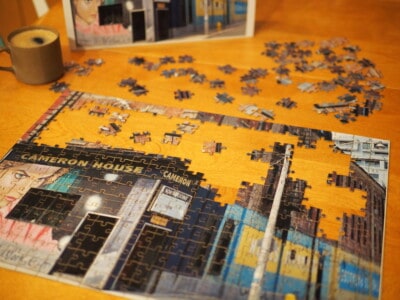 Each 300-piece PieceTogether puzzle sells for $35 CAD. Some of the Toronto hot spots who've been featured on a puzzle so far include Dora Keogh Irish Pub, Reyna, Rosalinda, The Cameron House, MISFITSSTUDIO, Archive Tattoo, and stackt.
If you're an independent business, or Canadian artist, who wants to participate, you can set up a profile and upload an image to create a custom puzzle that your loyal customers will enjoy piecing together.
"Puzzle sales have skyrocketed as people look for engaging things to do at home. We believe that people would prefer to do puzzles of their favourite local spots, while also supporting those businesses – and PieceTogether was born." It's an incredibly cool idea that benefits everyone involved.