Lyndie Greenwood often walked past the Parkdale Public Library on her way to Parts and Labour, where she worked as a server alongside Chef Matty Matheson during the wild and early years of the now shuttered restaurant. Never in a million years did she think that she'd return to the neighbourhood, a decade later, to star in a sitcom about the Parkdale library. "I received the material for Shelved and I was floored. It was the perfect thing: funny, heartfelt and it spoke so deeply to me as someone who was born and raised in Toronto."
The series is a love letter to the public library system, and takes inspiration from the Toronto Public Library, specifically the Parkdale Branch, which has been renamed in the show to Jameson Branch. It's no wonder why they chose Toronto, we are home to one of the world's largest and most respected public libraries. On any given day, approximately 100,000 people use the Toronto Public Library, with 87, 606 books and items borrowed daily.
Greenwood stars as Wendy—an optimist and overzealous branch manager who's determined to make the library the best it can be. Wendy sees the good in everyone, and often acts as a mediator between opposing personalities.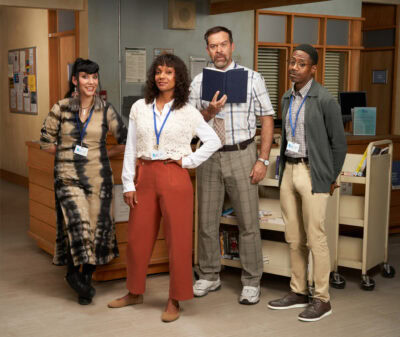 "I love Wendy. She's an amped up version of an aspect of myself. I don't have to put anything on with her," says Greenwood, who was thrilled to flex her acting muscles in comedy after working in more dramatic roles (Sleepy Hollow, Nikita, The Expanse). "I will pull inspiration from a few different places when I'm playing a role but Elaine from Seinfeld has had a big influence on my life." Similar to Louis-Dreyfus, Greenwood is great at physical comedy, engaging her whole body into every awkward moment.
The series honours the myriad of ways that a library is used in a day; it also provides lots of laughs through the exaggerated workplace characters and cringey interactions that take place between the stacks. The style of humour is to be expected from creator and executive producer Anthony Q. Farrell, who cut his teeth as a writer for The Office.
After watching episode 1, audiences will likely question why a library sitcom hasn't already been done—It's certainly a hotspot for action, and a space where a wonderfully diverse cast of characters congregate. It's also one of the few remaining places that is free and welcoming to all, which inspires viewers to consider its importance.
"It's a place where all different parts of the community can come together and bond together which is hard in a big city," says Greenwood. "I grew up at Beverley and Baldwin, near Lillian H. Smith Library at Spadina and College, and I used to go there all the time. Offering a warm place to sit and just read is really beautiful."
Before being cast, Greenwood was considering giving up acting—the role came at the exact right moment, and she was delighted to return to Toronto (she now lives in Joshua Tree, California) to make the show. After a couple of hard pandemic years, Shelved reinvigorated her career, and it also revived her love for the library. "When I was in Toronto shooting I started going back to the library. That's a real surprise gift to come out of a show."
SHELVED premieres Monday, March 6 at 9:30 p.m. ET/PT on CTV, CTV.ca, and the CTV app.