On November 17th, Artscape Wychwood Barns will host over 60 local vendors for the popular Gluten Free Garage event. Shedoesthecity is proud to be a returning media sponsor and as such, we're profiling various entrepreneurs and community leaders who, through their passion and hard work, inspire others to lead a healthy lifestyle.
We've profiled the women behind RawFoodz, the irresistible gluten-free bakery Bunners and in this post, we talk to Lynn Jackson, an art educator at the much-loved Children's Art Studio. After all, a creative mind and an outlet for the imagination is vital for overall health too! We also think Lynn has a wonderful career and wish we were a six-year-old in one of her imaginative classes.
SDTC: Tell us a little about the Children's Art Studio origin story.
Lynn: I started teaching art at the barns about 4 years ago and, since then, the studio has steadily grown into an art school that offers weekly classes, camps and TDSB programming for kids 2-14 yrs.

SDTC: Why is it so important to offer young people a creative outlet?
Lynn: My studio maintains a strong belief that exposure to the arts at an early age helps children build positive self-awareness, innovative thinking, and original expression. Our teaching artists, visiting artists, and volunteers are passionate about teaching children to steer their own creative direction through experimentation in various art forms including painting, collage, sculpture, and printing in order to provide students with the opportunities to play and be imaginative in a space that supports creativity.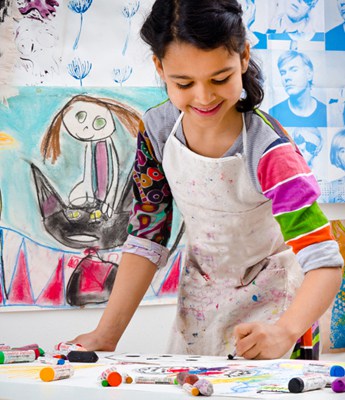 SDTC: Children's Art Studio Inc. develops student-guided curricula. How does that work, and why did you choose that approach?
Lynn: Our unique curriculum is designed for students to fully experience all the benefits that come with participation in art making. In developing and implementing our class, camp, and workshop curricula we design art-making experiences that reflect the interests, needs, and skill level of our students. We believe that customizing our curriculum to the needs of our students creates a supportive and nurturing environment in which they can grow blossom into the amazing young people.
SDTC: What are some of the best responses you've had from kids to your classes?
Lynn: I love making art! I DON'T WANT TO GO HOME! Can I have my birthday party here? This is AWESOME!
SDTC: What advice would you give to young people who are planning on starting their own creative educational programs?
Lynn: I would say that the world doesn't need another Jackson Pollock or Andy Warhol. They were great artists that changed the path of art history, and it's important that kids recognize their work, but it is more important that a child knows how to develop their own creativity and style. Focus on a child's originality and help them develop visual literacy and self-confidence.
We have a teaching training program launching in December, which I recommend for anyone wanting to teach art. More info is available here: http://childrensartstudio.ca/teacher_training.php
SDTC: What do you love about working out of Wychwood Barns?
Lynn: The community here is warm and friendly and very family orientated. The playground is amazing and there is always something exciting going on in barn 2. We often visit Adventures in Sound Art (NAISA), who have a studio here, and I think Artscape has done a fantastic job taking an abandoned building and converting it into a multifaceted creative centre for the community. I truly love working and living here!
SDTC: What can we expect from Children's Art Studio at Gluten Free Garage?
Lynn: From 10:30-2:30, the Children's Art Studio will be hosting a free open studio. Parents can drop off their children (ages 5 to 10) to take part in our three interactive activities including: a gluten-free, allergy-friendly play dough sculpting station compliments of Giggles Fun Dough, the Canadian artist Cybele Young paper bird collage activity and a jewelry making station inspired by the wearable art of Early African people.
SDTC: Why should people come out to Gluten Free Garage?
Lynn: GFG is a fun family event for food lovers who are sourcing both gluten free products and healthy options for their diets. There will be lots of free samples, demonstrations, and the coffee truck Manual Labour is amazing. GFG is our favourite event at the barns and all my teaching-artists are looking forward to it.
Come join us at Gluten Free Garage on Sunday, November 17th! Bring your kids if you got 'em! You'll have a great time and your tummy will thank you.