At 16, dancer & choreographer Maddie Hanson secured early admission to Juilliard School in NYC, placing her among the youngest students to attend the school. She's since worked alongside industry icons like Jirí Pokorny, Cindy Salgado, Roy Assaf, Johannes Wieland, Stephanie Batten-Bland, Tony Testa, and Dana Foglia, as well as perform works of Martha Graham, José Limón, Thuy Wyckoff, Victor Quijada, and Crystal Pite.
The past four years Maddie has centered her passion for dance by creating original work, finding inspiration through imagery and deep diving into artistic research to bring her vision to life. This Saturday, Maddie returns to Toronto to present her latest contemporary duet piece entitled Retrospective at Dance Ontario, DanceWeekend '20 as a world premiere commissioned piece. This piece will bring you on a journey through a developing partnership between a male and female who experience disconnect and detachment within their relationship.
We asked her about her work this week.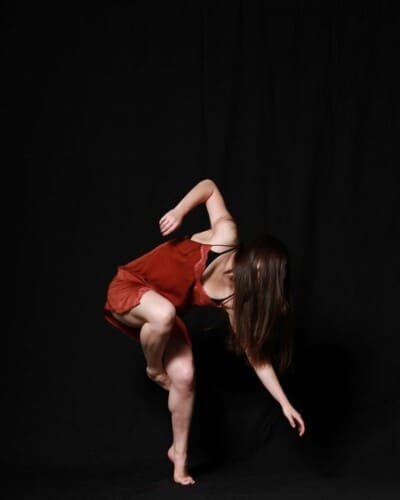 SDTC: What is your earliest memory of dancing?
MH: My earliest memory would have to be when I was four or five years old, dancing around to music in the living room with my sister!
Performing or choreography: which do you prefer, and why?
Both. At this moment in my career, I feel that they feed each other, and that engaging in both performative and choreographic practice only serves to better inform the next opportunity I have in a studio to create. Having the experience and the knowledge from both sides of the stage teaches me how to be a better visual storyteller, leader and communicator.
How would you describe your dancing artistic style?
My movement is grounded, gestural and contemporary, with a strong physicality and connection to the dancer performing the movement. Creatively, I am interested in utilizing physical dance movement in combination with elements of theatricality to make concept-driven work, while walking the line between abstraction and literalism.
Who or what has had the greatest influence on your work?
I believe the greatest influence on my work has been the training and the artistic lineage I've been able to grow in as I've developed as an artist; I look at my artistic identity as a composite image of the many ideas, aesthetics and movement philosophies that I've been lucky enough to have learned from, and that a small piece from each has shaped my voice. Choreographically, I work from a very conceptual place, so inspiration from external mediums such as literature, poetry, visual art and film, often serve as a spark for my new works. I have also been incredibly inspired by the work of choreographers Crystal Pite, Jirí Pokornÿ, William Forsythe and Hofesh Schecter.
Walk us through a typical day in your life, from getting up til going to bed.
I wake up early (around 6 a.m.) to work out, and then either head to rehearsal for freelance projects or will make my way to my favourite ballet class in NYC with Zvi Gotheiner or Gibney Dance for a contemporary class. In the afternoon, I either get in a studio to research material, take more class, have rehearsals or find a coffee shop and spend time working! I end my days at home, winding down, rolling out and usually taking a bath (with epsom salts of course!) Part of the beauty of freelance life is that my days change up all the time.
What can audiences expect from Retrospective? What was happening in your life when you were developing this piece?
Retrospective is a contemporary duet that is both an exhibition and exploration of the development of the relationship between two individuals. I was interested in working with the ideas of disconnection and detachment, and the piece incorporates multimedia video work played on stacked retro televisions, which further elaborate on and review the dynamics being portrayed in the movement. It is an engaging and subtle look into the dynamics between these characters, and audiences can expect to follow their journey as an arc from beginning to end. In developing the piece, it primarily stemmed from my interest in incorporating a film component and pairing this with the older technology and image of the stacked televisions. Working backwards from this, I became interested in the beginning, middle and ending of a story, and how to play with these parts in and out of order onstage.
In your opinion, why is dance more important today than ever before?
Dance is as important as ever because I feel it is an access point for empathy in everyone. There is such a diversity in the kind of work dance artists are presenting, and it is incredibly inspiring and moving to have an art form that is ever-changing, effortful, fleeting, physical, vulnerable, provocative, and as varied as our experiences in everyday life. Ultimately it is a beautiful tool for communication, which is key in today's climate.
Dance Ontario's DanceWeekend '20 comes to the Fleck Dance Theatre (207 Queens Quay W) in the Harbourfront Centre this weekend. Find out more here.