Originally from Egypt, Malak immigrated in 2011 after being in Tahir Square when Mubarak stepped down as result of the Arab Spring. Now, she's getting ready to make her mark in Canadian music with her new single "Hard Pill." Most recently, she was awarded "Ottawa's Best Musician" by Ottawa Life Magazine and had a series of successful 2018 CMW shows. Malak now calls Toronto home.
SDTC: What's at the top of your bucket list?
M: Win a Grammy.
What were the aspects of Canadian culture that stood out to you when you first moved here?
Freedom. You can do, say, wear whatever you want and it's everyone's responsibility to accept you for who you are. I think that's pretty magical.
What do you wish more North Americans knew about life in Egypt?
That Egyptian culture is exciting, distinct, inspiring and full of so much love. And that the nightlife is unreal.
What's your go-to song for getting stuff done?
I actually have a hard time listening to music when I'm working on something I need to concentrate on because I end up paying attention to the music too much. But if it's a task that doesn't require a lot of focus (cleaning the house or cooking) my go-to is "All Time Low" by Jon Bellion or "Dinosaur" by Cairokee.
What advice would you give to your fourteen-year-old self?
In retrospect, that guy really wasn't worth it.
Who has made a big impact in your life recently, and how?
I recently opened for an amazing Egyptian fusion band (Massar Egbari) on their Canadian tour. They gained popularity in the Egyptian revolution because their music pretty much spoke everything that was on the minds of those who protested. They sing about freedom and equality and protecting your rights.
I remember being in Tahrir Square when President Mubarak announced his resignation and how enormous the celebration was. When they flew here for the tour, I would play my set and then listen to theirs from backstage, and their music always made me tear up. It reawakened my pride in where I come from.
Sometimes I forget that as much as I love being Canadian and working every day to contribute to a culture that is built on equality and diversity, I am also grateful to call myself an Egyptian. I think my hyphenated identity will always be a huge part of my music.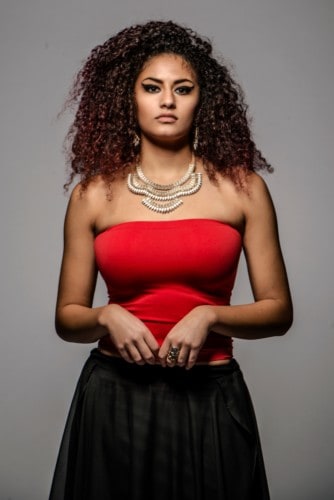 What does your ideal Saturday look like?
Lazy morning. Big breakfast. Going to the beach with my favourite people in the world and spending the day swimming and drinking and talking and tanning until sunset. Then dance all night. This question isn't geographically specific, is it?
What's the best part of being your current age?
I can do grown-up things but I don't have to be a grown-up yet.
What do you hope people take away from your music?
That making mistakes, even ones that end up hurting you, is okay. What matters is how you bounce back and work on making life better for you and those who matter to you. Be proud of who you are!
What/who is currently inspiring you?
My mum. Every day. And my manager, Dean. He keeps me from totally losing it.
What art work would you love to have in your space/on your walls, and why?
My cousin is a pretty awesome abstract painter. I'd love to get her to paint my walls. Something with warm colours. Anything but grey.
What was your favourite game/toy as a child?
I loved my puzzles and Legos!
What adult task would you like to get better at?
I would like to get better at not spending money I don't have.
If you could spend a year studying something, what would it be?
Music production.