We were introduced to Marli Davis' work through OCAD's annual GradEx show, and we're struck by how different it was from anything we've seen.
Marli describes herself as an 'excavator', "I uncover erased histories and formulate new relationships with a lineage I thought I understood," she tells us.
In Warm Bodies, Ghostly Specimens, Stoic Machines, Marli explores her Japanese heritage and cultural fragmentation through art, science, and spirituality. She transforms heirlooms, archives and memorabilia sourced from her family home, and by reviving a lost lineage, she inspires conversations on ancestry.
What inspired you to create this work?
I currently live and work out of a domestic space that was owned by my late grandmother and lived in by many of my deceased ancestors. I moved here at the beginning of the pandemic, finding myself intrigued by my everyday surroundings. Constantly reminded of ghosts when interacting with their residual possessions.
Forgotten cultural objects, photos, archives and scriptures, provided me with information on my family's resilience and hardships, ones I never knew existed until moving here. This inspired me to investigate the potential energy each fragment held. I'm visited by nostalgia, kinship and confusion when interacting with these archives. So, I rehabilitate the objects in my home, treating them as specimens that hold vital pieces of the lineage I'm trying to transcribe in my work.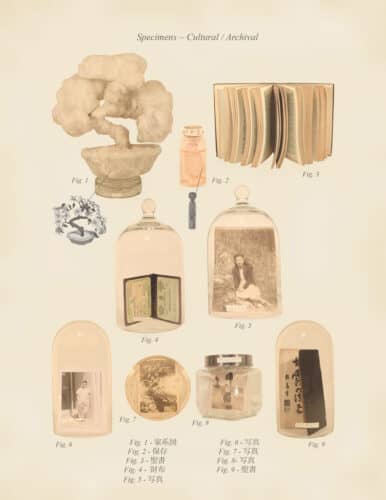 Have you been thinking about your heritage differently this year than in the past? If so, how?
My thoughts on heritage have completely changed within this past year. After finding traces of lost ancestry in my home, and wanting to revel in that loss, I constantly wonder, what is the dead trying to tell me? My work allows me to answer these questions by reviving and situating my family's memorabilia within a taxonomic mapping of my cultural lineage. Utilizing the premise of experiments to fill in the missing information.
I now understand my family's hesitation to pass down cultural heritage, based on their experiences living within Japanese Canadian internment camps. I wasn't aware of how severely they were persecuted and labelled as enemy aliens, taught to change names, language, dress, morals and personas. In my grandmother's eyes, I was fortunate not to be burdened with a culture she was taught to resent and repress at a young age. I would beg her every day after school to teach me more about Japan, being Japanese and the language.
I want that sense of 'necessary erasure' to end with me and my generation. I feel more connected to these spirits and the silenced injustices they faced, after identifying the privilege I was bestowed, due to past ancestral struggles and trauma. I now carry a responsibility over this inheritance, having uncovered its forgotten memories.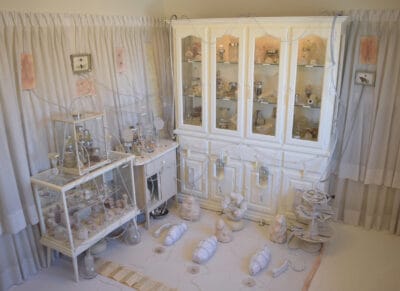 What part of your heritage are you most proud of / enjoy celebrating?
I'm engaging my Japanese heritage in this particular work, in a celebratory way. It was my Japanese family who raised me. I ate their food, observed their language and attended their ceremonies, growing to appreciate and implement traditional morals in my daily life.
In this work, I proudly illustrate a newly established connection to this lineage. I am mixed; Black, White and Asian, and by executing this project, it's taught me how to openly honour every part of my genealogy. Eager to research and learn more about all of my heritages and their missing pieces in my life. I'm no longer hesitant to celebrate all aspects that make me, me! A multicultural woman today.
What part of your heritage do you think is misunderstood?
I think the most misunderstood part of my heritage, and something I'm still trying to gain clarity over is the title of being "mixed". I am not one race, two, or even three. After conducting research into this, I understand that I come from multiple ethnicities. Sitting in that overwhelming amount of heritage can be lonely or confusing at times. So, doing this work was very important in gaining a sense of control over my own heritage, and the confidence to stop letting others facilitate that for me.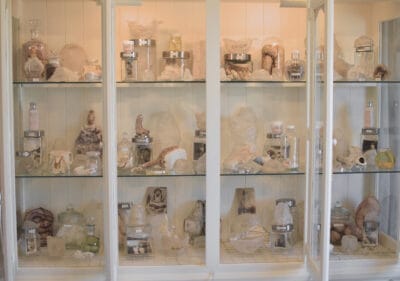 What is the greatest lesson you've learned while at OCAD?
I've learnt many quintessential lessons from the OCAD community, like the importance of infusing ones passions into everything you do. I practice cross-disciplinary exploration because of the valued learning opportunities that coincide with integrating varying realms of study. I've been taught to be fearless when trying new things and to value the essence of failure when doing so. I now understand the importance of community because it's equally beneficial to support others, growing alongside one another.
What conversations or ideas do you hope this works inspires?
I hope this work contributes to narratives on self-reflection, bodily autonomy and inter-connectivity. Inspiring others to investigate their lineages and marvel at the fascinating histories that precede our existences. I also want to spark a sense of intrigue towards interdisciplinary practices. I'm equally passionate about art and academia, and have established a process that allows me to explore both. I hope this demonstrates that labels should never confine our interests or what we aspire to create!
For more about Marli's work and upcoming events visit her Instagram: @marli.davis.art or her website.