Every woman is a woman of worth, but the honourees for L'Oreal Paris Canada's fifth annual Women of Worth initiative are acknowledged and celebrated for their exceptional contributions to society.
"Each year, we are humbled by these selfless women whose contributions unequivocally improve the lives of others and brighten our future," said Ali Fakih, General Manager, L'Oréal Paris Canada. "These women are beacons of hope for generations to come."
There are 10 Canadian women who've been selected this year, and on International Women's Day, they will be presented with a $10,000 grant that will go towards their charity. From now until March 4, Canadians can cast their vote for the 2021 National Honouree – and the honouree with the most votes will receive an additional $10,000 grant towards their non-profit charity.
We connected with the Ontario honourees to learn more about the work they do. Their responses are incredibly inspiring, and a reminder that we all have the capacity to create a positive impact by looking to our direct communities and identifying what needs to change.
Read what each of these remarkable women have to say—and be sure to vote for the cause that you believe needs the most attention and support right now.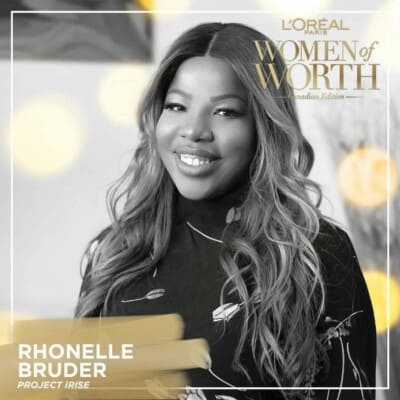 Rhonelle Bruder, Project iRISE
Project iRISE in Toronto, ON is a survivor-led organization that offers innovative skills and leadership development programs for at-risk youth and survivors of human trafficking and gender-based violence.
Why is the work you do so necessary right now?
When people think of human trafficking, they often think of the movie Taken, where victims of trafficking are kidnapped and held hostage. But in Canada trafficking looks much different than that: the majority of victims of trafficking knew the person who trafficked them, this person was often a romantic partner, a friend, and even a family member.
Because of the relational nature of trafficking, it makes it that much harder to recognize. Victims often have close relationships with their trafficker and do not identify that person as their abuser, instead, they're a "boyfriend" or a "best friend".
That's why we say trafficking "happens in plain sight" and why education and awareness are so important. But education alone is not enough, we also need to address the root causes that make youth vulnerable to becoming trafficked or becoming a trafficker, like poverty, addiction, mental illness, and homelessness. By taking a public health approach to anti-trafficking strategies, we have a better chance of eradicating this heinous crime once and for all.
How would you describe the mission statement of your organization?
We are one of only a few survivor-led organizations in not only Toronto but across Canada. We take a unique approach to working with victims and survivors of trafficking because we believe survivors are subject matter experts and are uniquely equipped to help develop policies, advocate, engage with the public and leaders in the anti-trafficking movement.
We are currently designing a Survivor Leadership program that would create opportunities for survivors to build on their leadership and professional skills. Our program is entirely designed by survivors of trafficking from inception, implementation, and evaluation. By taking this approach we not only help empower the survivor community but we are creating more professional opportunities for survivors to leverage the many skills they have.
Can you share a guiding principle that helps steer your approach to work/life?
I'm a "the glass is half full" type of person and try to focus on life positively. We often get consumed by the negative or our own failures and fail to these experiences and an opportunity for growth. So every time I feel I've made a mistake, I ask myself these three questions:
What lesson can I take from that experience that will help inform my decisions in the future?
What have I learned about myself or others from this experience?
What changes do I need to make to continue in my personal growth?
Asking myself these three questions helps me stay focused and motivate in my life and work and not be distracted by things I may not have control over.
What's a lesson you've learned through your work that you think about often?
Ask for help! When I was younger, I was hesitant to ask for help and felt I needed to figure things out myself. I saw asking for help as a weakness and assumed I needed to solve all my own problems on my own. Needless to say, this made life much harder than it needed to be. As I've gotten older, I've become less stubborn and understand the power of asking for help. Now I won't hesitate to reach out to family, friends or my community when I feel like I need a hand.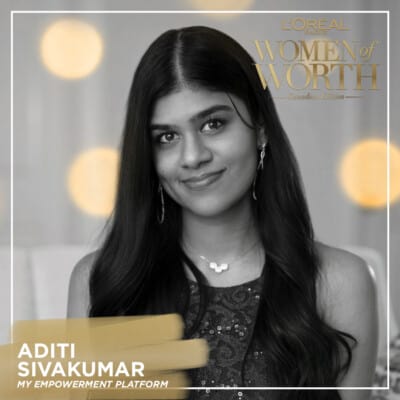 Aditi Sivakumar, My Empowerment Platform
My Empowerment Platform in Ottawa, ON is an all-encompassing website that provides tools and information about gender-based violence and resources for at-risk women and children facing violence during the pandemic. Some of Aditi's initiatives with her organization include My Empowerment Packs, which are wellness kits and resource booklets for women facing violence and youth facing homelessness.
Why is the work you do so necessary right now?
Gender-based violence is an issue that I am extremely passionate about, as violence against women is already one of the most widespread and least reported human rights violations. The secondary effects of COVID-19 (e.g. self-isolation and physical distancing) have led to a horrifying global surge in domestic violence as many women and girls are now trapped at home with their abuser. Additionally, the closure of domestic violence shelters, courts, and social services has led to additional barriers for this population to access resources and people who could help them. It has been estimated that for every three months that lockdown is extended, an additional 15 million cases of domestic violence will occur.
As with many activists, much of the work I was doing prior to the pandemic (e.g. creating and implementing programs within domestic violence shelters) had to be put on pause as per social distancing guidelines. However, I know that supporting survivors of violence has become more important now than ever. I also knew that the way I was initially doing my activism wouldn't translate well online. Therefore, I had to come up with new ways to advocate for and aid survivors of violence.
How would you describe the mission statement of your organization?
The "My Empowerment (ME) Platform" is a life-saving, live-changing web application for women and girls experiencing violence during the COVID-19 pandemic and beyond. The web application provides educational information (e.g., what gender-based violence is, why it occurs, etc.), resources for women and girls facing violence (e.g., medical, legal, and safety planning resources), and Covid-19 specific resources/tools (e.g., online/text-only crises lines, national campaigns including the signal for help campaign). The information will be provided within a Canadian context; however, it may also be applicable to different countries across the world.
Can you share a guiding principle that helps steer your approach to work/life?
"Don't wait for change, be the change" is a principle that I try to abide by in my work and life. Due to different life experiences and upbringing, we all have different social justice issues that we are passionate about, including gender equality, racial equality, climate change, and mental health. I genuinely believe that we are all capable of change in this world and have ideas/solutions that can help solve some of our communities, nation's, and world's most significant issues. I urge anyone who has an idea for change to be bold, believe in your vision, and be the change you want to see in this world. The pandemic has exacerbated many of the social inequalities that occur within society. There is no better time than now to begin implementing novel solutions because together, we can create a New Normal!
What's a lesson you've learned through your work that you think about often?
One lesson that I have learned in my work is that women facing violence and youth facing homelessness are survivors and fighters. They are some of the most courageous people in our society. They have faced extreme adversity, yet they are still standing and ready to create a better future for themselves and their loved ones. As a society and as a nation, we should ensure that this population is provided with the resources, tools, and opportunities they require to succeed and thrive.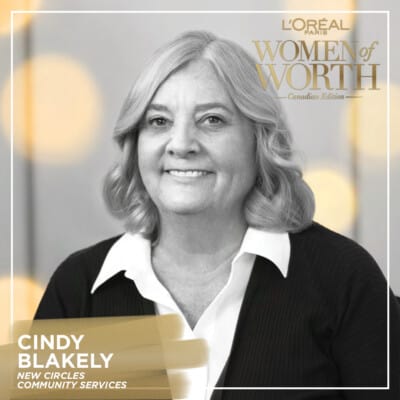 Cindy Blakely, New Circles Community Services
New Circles Community Services in Toronto, ON is a multi-tiered agency that provides essential support, including clothing, training, and settlement to newcomer and low-income Canadian families.
Why is the work you do so necessary right now?
There are so many reasons!
Broadly speaking, supporting newcomers in their journey to settle in Canada is considered essential in the 21st century. A key factor of our economic growth is welcoming immigrants into our country and helping them become part of the fabric of our workforce. Prior to the pandemic, the plan was to welcome 712,000 newcomers in 2021 and 2022. Due to the effect of the pandemic on our economy, those targets have increased to 812,000. That's a lot of people who will need support!
More specifically, our work is so essential right now because of the extraordinary challenges that the pandemic has placed on people living with low incomes, those who are newcomers and those Canadian-born. People in this socioeconomic group are more likely to lose their jobs because of precarious employment, are more likely to become ill because of their risk of exposure due to crowded living conditions or for those employed, more likely to be working on the front lines as essential workers.
Individuals and families in these situations desperately need support in meeting their basic needs and in finding new paths to employment. Thankfully, New Circles has been able to meet some of that need by providing clothing and training to nearly 10,000 people in the last year. The pandemic and the lockdowns haven't stopped us for a moment. We moved all of our training programs online last year, and during the current lockdown we've been able to get winter outerwear and clothing to the people in most dire need by doing virtual shopping appointments and delivering to shelters.
How would you describe the mission statement of your organization?
New Circles remains committed to providing clothing, support and connections to the people who need us most – safely and responsively, in any way we can, no matter what we may face as a community. All of our recipients live on a very limited income; most are new to Canada, and often refugees facing complex employment, poverty, and health challenges. The financial and clothing support we receive from the community affects the lives of thousands of people needing clothes and support services so they may live and settle with dignity. Our goal is to continue this mission and provide the support our community needs.
Can you share a guiding principle that helps steer your approach to work/life?
I think the foremost guiding principle that has steered my approach through work and life is that of personal dignity and worth. In my career as a social worker in the school system, I spent countless hours working with kids and families to help them realize their own worthiness, and found social supports to help them meet their needs so that they could reach for the best within them and create better lives for themselves.
When it comes to New Circles, every program has been built through the lens of personal dignity. It is so difficult to be in a position where you have to ask for help – in fact, that shame and stigma is what prevents so many people from reaching out for help in the first place. So it was extremely important to me to ensure that when someone demonstrates the courage it takes to ask for support, they should be respectfully welcomed and supported. I have always wanted people to feel they were receiving a hand up to their new lives rather than a hand out.
By building our programs this way, we have created a place in which people don't just receive clothing and training – we're building connections and community for the people who need us. New Circles is about classic Canadian values: helping people in need, while building tolerance and mutual understanding amongst people from different backgrounds in a meaningful, personal and profound way. It's a place where those in need can find a caring community and hope for the future.
What's a lesson you've learned through your work that you think about often?
The biggest lesson I've learned is that people are so much more resilient and brave than we realize. A few years ago, I was doing an intake interview with a client for one of our programs. She had recently emigrated from Kabul. She was excited about the future she was building for her two children, and hopeful about her prospects for work in the near future. During the course of the interview, she referenced the fact that she in fact had four children, but that two of them had died when a bomb landed on their house. I sat there stunned and we both cried. In the aftermath of such an awful tragedy, she had the grit, determination and resilience to pack up her whole life, leave everything behind and move to a country where she knew no one, in the name of a better future for herself and her family. Despite the enormous struggles she had faced, there she sat before me, smiling and hopeful and excited about the future. I think about her often and continue to marvel at her strength and courage. She is but one example of the many people I have encountered who have shown me the depths of the resilience in the people we serve.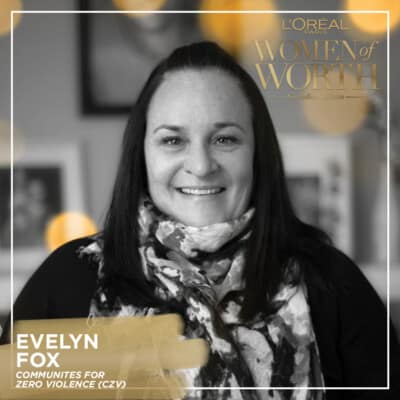 Evelyn Fox, Communities for Zero Violence
Communities for Zero Violence (CZV) in Toronto, ON is an advocacy and awareness non-profit agency that aims to take a holistic approach to connect communities in order to eradicate gun violence while supporting victims and survivors.
Why is the work you do so necessary right now?
I feel as though the work is necessary because in the past 6 years the city of Toronto has seen a steady increase in shooting homicides with no indicators of it decreasing.
For every 1 homicide there are over 100 people that are immediately affected at the very least—from immediate and extended family members, friends and acquaintances of the deceased and community members at large who knew the victim or witnessed the homicide. The ripple affect of one homicide is significant.
Toronto has communities that experience regular occurrences of shootings and stabbings that leave the community members and family terrorized and traumatized. In the past year there has been a couple of agencies started to provide community violence supports, but none of them has a peer lead model like Communities for Zero Violence. After a homicide; family members feel alone and isolated in their trauma and grief. Peer-lead support is imperative to healing.
Spreading awareness on the impacts of community violence is also very necessary because it is always viewed as someone else's problem, "it only affects low-income communities and gangs", which is not the case. Living in a priority neighbourhood shouldn't be a death sentence, or reason to accept being terrorized from those on the outside. Our communities across Toronto have been severely neglected and experience socio-economic disparities that are the creators of the violence and anyone can be affected inside the communities predominantly affected or outside of them.
The mission statement for Communities for Zero Violence is:
To connect our communities in a holistic manner by supporting victims and survivors, with an emphasis on youth as a way to eradicate violence. To raise awareness of the devastating affects of violence on family and communities by engaging all stakeholders. To bring healing and a sense of love into the communities for the betterment of our next generation.
Can you share a guiding principle that helps steer your approach to work/life?
The guiding principle for me would be unification, respect and love. When you have been severely impacted by trauma, you need a sense of safety and calmness around you to be able to properly function. I am a firm believer in the saying "be kind to everyone because you never know what someone is dealing with in their life." Your smile, your warm greeting, or small gesture could be what makes that person still have hope in the world that has been crumbling around them.
What's a lesson you've learned through your work that you think about often?
The lessons I have learned is that everyone processes grief and trauma differently and that there is no timeline on grieving the loss of one's child or loved one. To have patience and love for everyone because you might just be that person's source of empowerment, but it has to be on their time and not yours.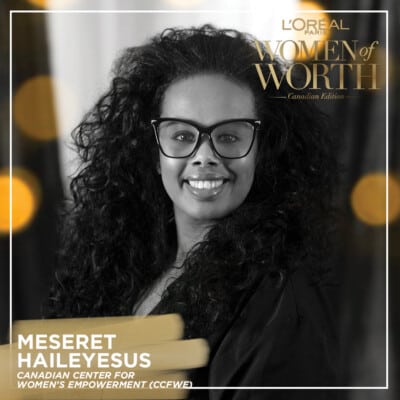 Meseret Haileyesus, Canadian Centre of Women's Empowerment
Canadian Centre of Women's Empowerment (CCFWE) in Ottawa, ON is a national organization that tackles financial and economic abuse among women and survivors of domestic violence through education, advocacy, and policy change.
Why is the work you do so necessary right now?
Hidden from outsider's eyes, Economic abuse occurs in 95% of domestic violence cases. You may not see the bruises of physical attacks.
It's a deliberate pattern of control in which individuals interfere with their partner's ability to acquire, use, and maintain economic resources. In addition to being denied access to money, prevent the victim's career advancement and sabotaging employment by making the other spouse miss work, controlling the use of property, such as a mobile phone or car, refuses to contributes to costs and child support, or generates financial costs without consent, such as fraudulently racking up credit card debt in a partner's name economic abuse can include being coerced to take on debt without knowing the consequences, or not being allowed to work or study. Even after they've left an abuser, 1 in 4 women continues to experience financial abuse. COVID-19 has exacerbated conditions for domestic abuse, trapping victims at home and stripping them of options to get help.
When women experience economic abuse within a context of coercive control then they are at increased risk of domestic homicide and suicide. 95% of women who experience domestic violence are also likely to experience financial abuse or economic abuse. Women who experience economic abuse are five times more likely to experience physical abuse and other forms of gender-based violence such as sexual and psychological abuse as economic abuse is also linked to physical safety. These dangers are increased for victims in the current environment when opportunities for reaching out to support from family and friends for economic support are even more restricted.
Economic Abuse is a critical barrier to women leaving abusive relationships. As the result, survivors struggle to manage the impacts of economic abuse such as debt, bad credit scores, lack of money, housing challenges, and poor mental health.
New policy and financial safeguards must be implemented to prevent abusers from immobilizing victims through financial control. It is vital the financial industry in Canada step up to empower domestic violence and economic abuse survivors to thrive and succeed. Over the past five years, financial industries in the UK, Australia, USA and New Zealand have changed their policies and created awareness for economic abuse as an industry and within their own business practices. We are now seeking the same support from Canadian financial institutions. Systemic changes to policies, programs and practices will both mitigate the economic consequences of abuse and promote women's financial independence.
How would you describe the mission statement of your organization?
Mission: CCFWE works collaboratively with organizations and individuals to develop a comprehensive approach that enables domestic violence survivors to recover from economic abuse. It also addresses critical gaps in policies that are preventing survivors from recovering and becoming economically secure and independent.
Vision: We envision a world where domestic violence survivors can access and receive the resources they require to develop and achieve economic empowerment, and so improve their general well-being.
Can you share a guiding principle that helps steer your approach to work/life?
To look for mentors and invest in relationships- be authentic, but see things through another lens. To embrace the opportunities that take you out of your comfort zone and learn from them, don't let anyone define who you are and what you can do. We all go through pain as human beings, we all suffer, but we have the power to turn into empowerment and incredible, unstoppable positivity. Keeping your journey productive but also fun will ensure you are motivated without overworking yourself.
What's a lesson you've learned through your work that you think about often?
Realizing where my strengths lie enables me to set concrete goals in my professional life and gives me an actionable plan to achieve them. I become more confident about my own ability to respond and deal with a crisis is a great way to build resilience for the future. I learned that all the struggles, challenges, and hard times were a stepping stone.
Every organization is deserving of the additional $10,000. Visit the Women of Worth site to vote now. Voting ends March 4th.