With several sex scenes in Below Her Mouth, producer Melissa Coghlan wanted to create a comfortable environment in which to shoot. But once she began filling the roles with women, she kept going. The result was a totally female crew, and they had a ton of fun making this film around Toronto.
We connected with a few of the professionals who worked on Below Her Mouth to find out how the unique (and totally awesome) work environment made them feel and what they hope audiences will take away from this hotter-than-hot flick.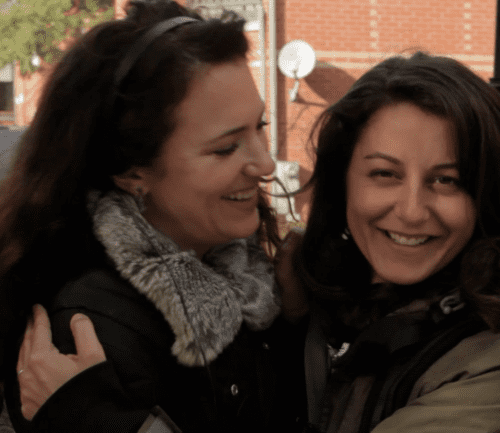 Maya Bankovic: Director of Photography
What did your role entail?
I was in charge of designing the lighting and camera angles, in collaboration with our director April Mullen, who has really strong and beautiful ideas about how she wants her films to look, and then executing the game plan for how we would achieve those things on set. I was also the camera operator, so any shot you see in the film was taken from a camera slung over my shoulder or my knee.
What was the biggest lesson you learned while working on this film?
That love takes real bravery, a kind of bravery that feels inevitable. April and I talked about these larger themes all the time, in prep and during production. Our own life experiences informed how we shot the film, how we got inside a character's head with the shots, and how to use cinematic language to tell a story that felt personal to us. So the themes of the film were inspiring bigger philosophical lessons for me.
I also learned that rain towers come with the option of either warm or cold water in them and that you should push production to splurge for the heated tank.
What did you enjoy most?
This film has many scenes in dense urban environments, which required tons of background actors, lots of set-up time and lots of coverage. Those scenes were exciting and fun to shoot, but my favourite moments in the film are the quiet ones, the intimate scenes we shot with minimal crew – just April, my camera assistant Cheryl and me in a room with Natalie and Erika, seeing where they took us and letting them exist in the story and the space.
That's the type of shooting that excites me the most because my documentary self kicks in and the cinematography becomes less about the pre-designed shots and more about feeling out the scene as it is naturally unfolding. I felt so much trust radiating from those two, and that meant a lot to me. In those moments you capture with your gut rather than with your brain.
What do you hope audiences take away? 
There's a lot about lust and desire explored in the film, but that's because this isn't a mere courtship story. It's an intense, rocky, soul-level love story. These things happen when they're not easy or convenient to justify. I hope it challenges audiences to question the systems and expectations they've set up for themselves.
I hope people don't judge the characters for listening to the call to action they both feel, and instead become inspired by the part of the human condition that fights for honesty. And I hope they like the way it was shot!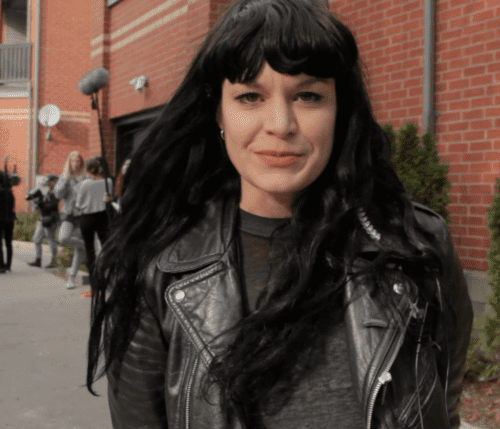 Juliann Wilding: Props Master
What did your role entail?
I worked collaboratively with the Production Designer and the rest of our Art Department creating the visual aesthetic. I was in charge of all the objects you see in the film. Anything that a character holds in their hand, like a cigarette or a backpack, to objects you see in the environment, like a curtain or pillow – those things are selected and chosen within the greater visual context of the film.
What was the biggest lesson you learned while working on this film?
How we CAN dismantle and remove the male gaze and reveal the power of gentleness, the power of vulnerability. It is a strength that is unmatched.
What did you enjoy most?
Meeting with my team each morning and feeling the trust between us that was necessary to create this project. The sheer joy and camaraderie of working each day with an intricate team of incredibly skilled women, learning from each other, from touching personal moments to the overall understanding that we all had each others' backs. Knowing that I could express my true feminine self in the work environment without being judged, threatened, or told to stop being myself. Also listening to women's voices in the walkie is so soothing.
What do you hope audiences take away?
A beautiful glimpse of the empowerment of females in control of their own sexuality, harnessing one's passions clearly and freely, enjoying and choosing sex on one's own terms.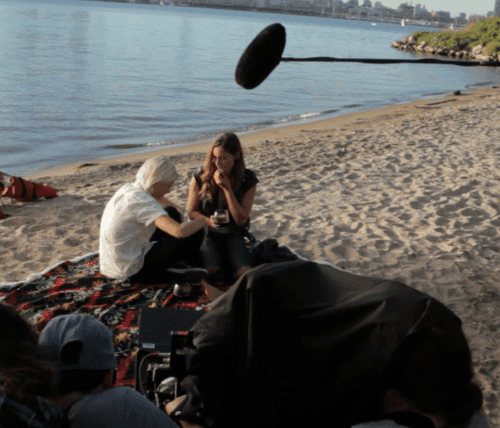 Emma Sanders Finlayson: Post Production Supervisor
What did your role entail?
Post Production Supervisors are responsible for the post-production process; they facilitate communication between the producer, editor, supervising sound editor, the film labs, VFX studios etc. Basically they make sure that every department gets their work done on time and on budget!
What was the biggest lesson you learned while working on this film?
I realized that this kind of story – an erotic, sensual love story between two women from the perspective of the "female gaze" – isn't told enough. I would love to see more mainstream films be so honest about the love between two women, without reducing them to stereotypes.
What did you enjoy most?
It was SO much fun working with a crew of women who were so passionate about this film. The dynamic within the team was so supportive and warm. 
What do you hope audiences take away?
In the current political climate, a film like Below Her Mouth takes on a really special kind of role. It is about being honest about who you are and learning not to give a fuck what the world thinks. Dallas is a feminist BADASS!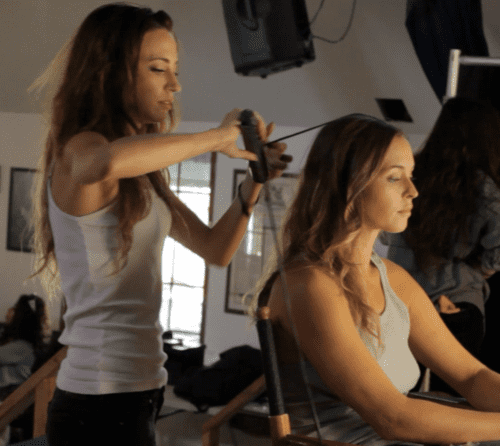 Julianne Costigan: Assistant Costume Designer
What did your role entail?
As the Assistant Costume Designer, I worked with the Lead Costume Designer to build the characters through wardrobe and accessories. I was the lead stylist on set, managing all the costumes and dressing the characters for every scene.
What was the biggest lesson you learned while working on this film?

I learned how a talented team can deliver such a strong message through creative filmmaking.
What did you enjoy most?
I loved working on a set with purely female artists – how often does that happen? Never! Getting to spend a month with all of these talented ladies, and creating a beautiful film that we'll enjoy forever, was a dream come true.
What do you hope audiences take away?
I hope the audience will appreciate the artistic message portrayed by this film and the fact that it was written, shot and produced entirely by female artists.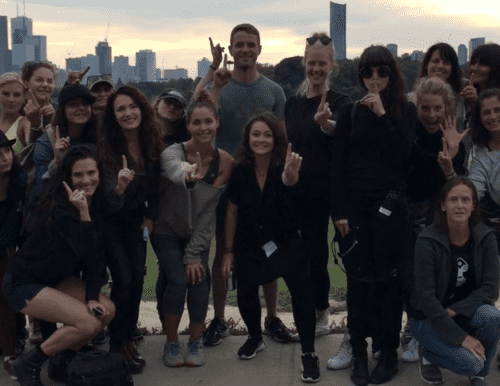 Michelle Szemberg: Editor
What did your role entail?
My role consisted of several stages that commenced concurrently with the shooting of the film. Each day, I assembled all the footage that was shot the day before. I made decisions about what angle and performance to use, as well as the rhythm and pacing of the scenes. Then I worked with the director and producers to refine and polish the scenes. In this way, we gradually sculpted the characters and story towards a final cut. A significant amount of creative collaboration went into the editing process.
What was the biggest lesson you learned while working on this film?
To trust the process even when things seem impossible. To not give up. There is always a solution.
What did you enjoy most?
Working with such amazing and talented women. Great friendships and trust were built in the editing room.
What do you hope audiences take away?
That the story is authentic and honest. One that an audience can connect with and relate to. Love is a universal subject that touches all of us. I hope the message that "love is love" leaves a lasting impression.
Below Her Mouth opens in theatres across Canada today. Watch the trailer now.