After being dumped by her boyfriend, mafia heiress Tracy Queen is desperate to extricate herself from her grandfather's crime syndicate. At the urging of a talking raccoon (yep), Tracy embarks on a new life as a sex-positive camgirl. Soon, however, she is fighting for her life against outside forces that are refusing to let go of her violent past.
"It's time for a new kind of comic book hero—an empowered woman who is unafraid of being herself, even when that means choosing pleasure over violence," says writer Lynsey G. "We need more stories about women who can be smart, successful, badass, and sexual, too." The result? An over-the-top, sex-positive, sci-fi adventure that happens to centre around porn: Tracy Queen: Volume 1.
We chatted with Lynsey this week.
SDTC: How did you get interested in sex work?
LG: I started writing for an adult magazine when I needed cash back in 2007. I did DVD reviews of porn films, and although the work wasn't always as fun as I'd hoped, it really got me thinking. Who were these people? What were their stories? There was really nobody outside of the industry writing, talking, or thinking about the porn industry as a serious topic of inquiry at that time, and I thought that was very strange. Since so many of us watch porn, how come no one was talking about it? I got hooked on the adult entertainment industry as a sociological, economic, and entertainment entity. There's a great need for the stories of sex workers in media—stories that aren't reduced to women forced into labor they despise, being used by evil men. There is so much more to the sex industry, and I've encountered a lot of it through my reviewing, interviewing, and explorations.
Where did the idea for Tracy's story come from?
I've been writing about the sex industry, particularly pornography, for over a decade as a journalist, reviewer, memoirist, and so on. During that time, I naturally developed a lot of ideas about the industry and the people in and around it. When I stumbled on the idea of Tracy's character—which was based heavily on someone I know in real life, with a few embellishments and a talking raccoon BFF, of course—I realized that she could be a vessel for me to talk about my many ideas and for the truths I had learned about over the years.
With Tracy's story, I wanted to show that the possibilities are numerous. Tracy stumbles into sex work via webcamming but discovers that she loves the work: she can be her own boss, work from home, express herself creatively and sexually, and feel empowered by doing exactly what she wants and feeling good about it. As she explores her sexuality, she branches out into pre-recorded traditional porn that she makes for herself and again discovers she loves the work.
Certainly not every woman who enters the sex industry has such a positive experience, but many do. And their stories are just as valid as the sad stories we often hear. They need to be told, preferably with talking animal sidekicks and cyborgs, of course.
What was the biggest challenge you faced in getting this project off the ground?
Graphic novels, it turns out, are a lot of work. Tracy's story, as it's written, is nearly 300 pages long, which means it needs at least 1,500 illustrations. That takes time, energy, and money. And those are the most precious commodities in the world! So I've had to be really patient with the process, inventive about funding, and determined to make it happen. I got super lucky with illustrator Jayel Draco, who is as dedicated to sex-positive visual storytelling as I am, and wildly talented, too! Together, over the course of five years, we've developed the look and feel of the graphic novel, and now we've finally released the first of what will eventually be eight volumes that comprise the graphic novel.
The other challenge was in the publication itself. We pitched Tracy Queen to many traditional comics and graphic novel publishers, but we got confused responses like, "So…let us get this straight. This is a sexy story with sex in it, but it's not an explicit erotica comic? Does not compute." It fell between the cracks of "not sexy enough" for one market and "too sexy" for others. So we decided to publish it ourselves, and the journey to publication via our company, Oneshi Press, has been quite an adventure.
What was the most fun part about writing this story?
I haven't written long-form fiction before, as I've always struggled with character development in short fiction. But Tracy became so incredibly real to me as I wrote about her. She took the reins of her own story in a way I'd never experienced before—to the point where it felt like I was just taking dictation. It was one of the best feelings I've ever experienced as a writer.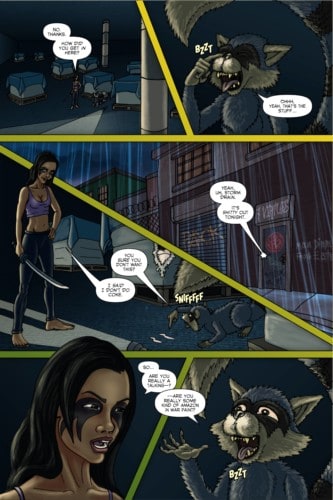 Too often, female superheroes are pushed to the side. Do you find the comic world receptive to Tracy Queen?
Comics have always been a subversive form of media, so watching the industry calcify around white, heterosexual, cisgender men as heroes for a while there was super disappointing. But that's changing. The comic world is opening up to be more inclusive of all sorts of heroes who don't fit that model.
When I started working on this book, I knew I was doing something different, and I didn't expect to "fit in" anywhere in the comic book world. But now I actually feel like Tracy is in good company with other queer, female characters of colour. Those characters are still rare in mainstream comics, but they're getting more common. And in indie publishing, where other people with off-beat stories to tell are crowdfunding and boot-strapping to make their own dreams come true, they've been around for a while. It's pretty awesome.
What do you hope readers take away from this series?
Aside from having a damn fun time reading it, I hope that readers will think more about sex work and the people who do it. We've really been fed only one story by media over the years, and that's a sad one. But there are so many others. And I hope that maybe it will pave the way for more people who have actually done sex work (I have not, aside from some go-go dancing and nude art modelling) to tell their stories and be shown the respect they deserve.
I also hope that people will remember that Tracy is full of flaws but that sex work is, for her, the most solidly positive decision she makes throughout the book. She does plenty of ethically questionable things (like building a cyborg-clone army using DNA she collects on her sets, for example), but porn isn't one of them.
Lynsey G is a writer, proofreader, editor, and publisher whose written work has appeared in Rolling Stone, Glamour, Playboy, Allure, Bitch Magazine, Refinery29, BUST, MEL, McSweeney's, and elsewhere. She is the author of the award-winning memoir Watching Porn, which chronicles her decade as an adult-entertainment journalist, and Tracy Queen, a sex-positive, sci-fi graphic novel about a sex worker with a cyborg-clone army. Lynsey is the co-founder and editor in chief of Oneshi Press and a lifelong feminist, sex-positive crusader, and passionate believer in the importance of normalizing and destigmatizing sex and sex work.