Remember Y2K? You know, when we thought the world might blow up at the stroke of midnight? Looking back, our fears about the "millennium bug" seem insignificant, silly even, compared to what we're currently living through. If you are old enough to remember singing and swaying to Auld Lang Syne on January 1st, 2000, then you'll enjoy the new Netflix film Mixtape, which takes audiences on a delightful and fun trip back to the final months, weeks, and days of 1999.
"Every generation has one of those unifying moments, and I do think we're smack dab in the middle of one right now," says Julie Bowen (Modern Family), who plays Gail, Grandma to 12-year-old Beverly Moody (Gemma Brooke Allen) in Mixtape. "This whole generation is going to remember wearing masks to school, and their kids are going to go 'You did what?' And they're going to go, 'Yeah, and we had to stay six feet apart and we had to wash our hands while singing the alphabet.'"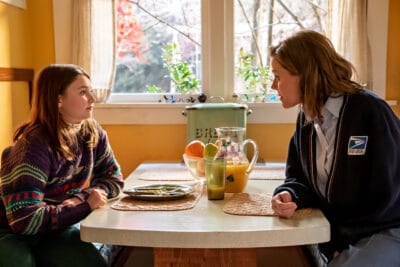 Nervous about what will happen come Jan 1st, Gail hoards SPAM in her house. As she awaits the impending apocalypse, she is also doing her best to raise her spirited granddaughter, while silently reeling in pain from the devastating loss of her daughter. Mixtape is a sweet and sincere story about adolescence, belonging, and grief. It's a vastly different role for Bowen, who most of us know and love as the animated and wry Claire Dunphy.
"I loved Modern Family. It was an absolute blessing to play one role for 11 years, but the idea of only playing one role of the rest of your life is certainly not what I thought I would do as an actor," Bowen tells us. "This was absolutely about flexing different muscles."
Bowen flexes them with ease—but this film is less about Gail than it is about Beverly, and Bowen is the first to say so. "It's their story," she says, referring to Beverley and her little girl gang. The dynamic of the three school friends, experimenting with their identity and finding their footing, is what captured Bowen when she read Stacey Menear's script. "I've read a ton of scripts and this one really appealed to me. I loved, most of all, the relationships between the young girls." It's a trio that certainly captured our hearts.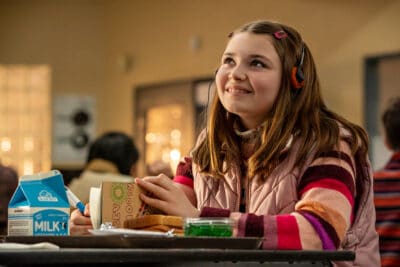 Having lost her parents as a baby, Beverly has always been curious to know more about her mom and dad. She's seen pictures and heard a couple stories, but stumbling upon an old mixtape in the attic provides an exciting and revealing look into who they were.
From the writing and doodles that decorate the case to the lyrics of each song, Beverley—along with her new friends Nicky and Ellen—study every detail. The old cassette introduces the young and impressionable crew to punk music, and they have quite a time experimenting with fashion, while also exploring the ideologies of punk.
Gemma, who is just as earnest and enthusiastic as the character she plays, tells me that her love for the 1990s didn't start with this role. "I love all my nineties music and a lot of the fashion from the nineties is coming back now too," says the 13-year-old actor. "I've always felt like I'm meant to be in this era. I've always wanted to experience the nineties and be in the nineties." Being in Mixtape allowed her to time travel, and she enjoyed seeing what life was like. "I loved it. There were no phones!"
The film is a delightful throwback, full of nostalgia that inspired a wave of memories from our youth. Fans of The Baby-Sitters Club, or the To All The Boys I've Loved Before franchise will adore, but the film's era also had us reminiscing of titles like Ghost World and Empire Records, although Mixtape is definitely G-rated.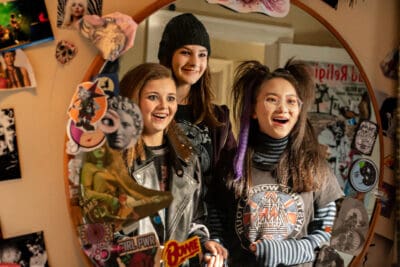 "We live in a time now where everything is very fast and accessible… with TikTok and social media. Everything seems really sexy," says Bowen, reflecting back. "It's not like the 90s were a monastery, but the idea that the highest form of pop culture art was a fuzzy sweater and dirty hair and combat boots… It made me really nostalgic for that time! Feminism was becoming hip again and entering mainstream pop culture and the idea that you didn't have to be sexy to be sexy, to claim your sexuality. Watching these girls get all into their riot grrrl punk stuff—I just loved that!" We did too.