Congrats to all the musicians who won awards for their….sorry, what? Will.i.am punched Perez Hilton? Oh…POLO punched Perez? Who is Polo? Polo at the Soho? Soho no? Caught on camera at the Cobra? He said what? He wants to impale Fergie on a stick? Perez called him a faggot? He tweeted for help and China responded?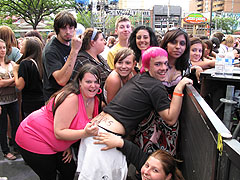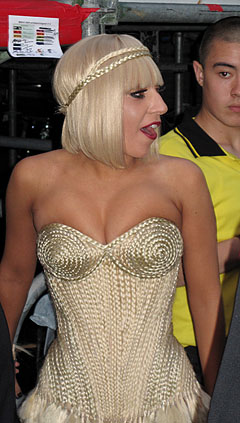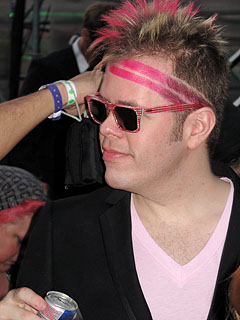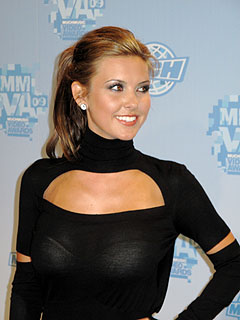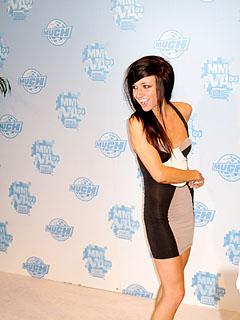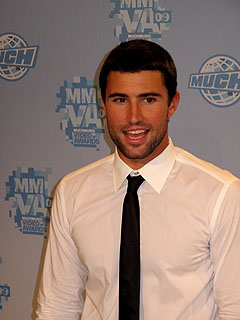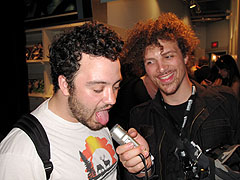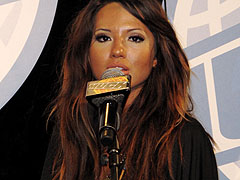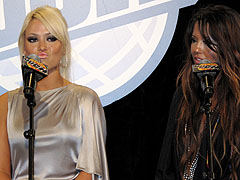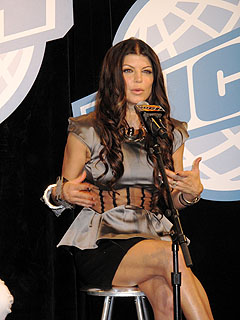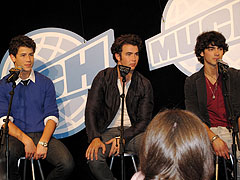 BOOM BOOM POW!
It's official, the 2009 MMVAs were single handedly hijacked by the Queen of gossip through desperate 3 am tweets and a twelve minute long melodramatic babbling rant against the Black Eyed Peas.
Woah, back it up. Let's do like Maria von Trapp and start at the very beginning.
Once a haven of mini hamburgers, free booze and lascivious adult play, the back parking lot this year was just that; no fancy white tent and no party favours. The behind the scenes glamour consisted of heavy smoking CTV staffers faded from exhaustion buckled over the wheelchair ramp, a couple of lone VIP kids with their cameras and humdrum security wearing obscene amounts of purple eyeliner. Every now and then Lady Gaga would storm through and break the wearisome scene with her blonde bob and bulldozing tits. Quick to follow was Hilton who had pink lightning bolts streaked against his forehead and an obnoxious jump in his skip.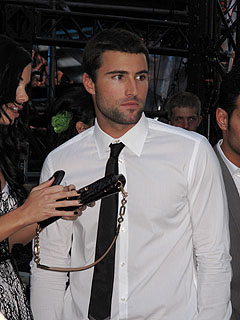 If not foolishly prancing in the paparazzi parade or winking at Brody Jenner, then I was extending my neck through chicken wire to talk up deranged tweens. Jonesing for the Jonas Brothers, they had been waiting since 6 am. In a near delirious state they had taken to signing each others bums with permanent markers.
Up in the press room, Audrina Patridge tried to answer questions. When asked if she had any secret haunts in Toronto, Patridge enthusiastically exclaimed, "OH MY GOSH, the after show, the building there…it's haunted!" The Vancouver 2010 Olympians decreed that if they had a band they would call it "The Olympians"…and that's why they're athletic. Brody Jenner said that attending Speidi's wedding "felt like going to jail" and Jonas Brothers took the last question as a "Bonus Jonas."
On a more interesting note, usually reserved for infant diarrhea, Pedialyte is making a hip name for itself as the ultimate hangover remedy. It was conveniently placed as a talking point for the likes of Tila Tequila and Bedouin Soundclash. Finally, a new spin on the party pooper! Nearly as exciting as the goo-goo-gaa-gaa lesson in electrolytes was watching Gaga's guns go up in flame. Like a virgin but on fire.
A bite of chicken, twirl of noodles and a slosh of wine – and it was time to hit the street for the after party. Confidence was quickly shattered when homeless man yelled, "I CAN SEE YOUR BUSH YOU KNOW!" So much for the $15 vintage white frock.
There was only one way to handle the throngs of MMVA'ers pressing the gates of Ultra: merci Shinan Govani. Snaking through the crowd I found myself in the depths of a very VIP-VIP affair, which means forty five minutes was pretty much confined to dry humping a wooden beam. Couldn't move for fear of losing my precious spot so just stood there getting perpetually rammed by CTV A-listers, Ivan Fecan, Dan Levy etc. The precarious position did allow for serious spying – oooh Rumer Willis smokes and Audrina flips her hair – NO WAY! Camera around neck, it would have been easy to snap a thousand dollar photo but journalistic integrity held me back. (Er…fear of being swatted by heavyweight security guard, more like.) After feeling like a knob for quite some time, I decided it was time to leave the perch and head downstairs to the air-conditioned, and remarkably desolate bar.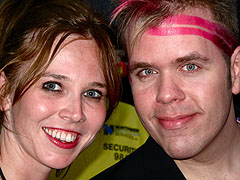 A little breather (vodka/tonic) and I was ready for more, but my ascent was jostled by a rather chaotic conga line. Lady Gaga, Perez Hilton and entourage jerked me to the side with their mad dash for alcohol or combat – not sure. Heading to door number two to avert chaos, I was stepped on by K-OS. But it was the Black Eyed Peas that had the place feeling like the Pamplona Running of the Bulls. Not surprising, I found myself literally in the gutter, so left before things got 'fugly.'
As major dailies just finished filing their big stories the climax began to unfold with 3 am tweets from a 'bloodied' and bruised Perez:
· I was assaulted by Will.I.Am of the Black Eyed Peas and his security guards. I am bleeding. Please, I need to file a police report. No joke.
· I'm in shock. I need the police ASAP. Please come to the SoHo Metropolitan Hotel now. Please.
Thank god there was someone in China who hastily came to the rescue and dialed 9-1-1.
Lessons learned: dry humping a pole has its perks, next time a bender leaves me retching – run for the baby aisle and Polo packs a punch, so reserve the photo-shopped cum drippings for recent grads from the Mickey Mouse Club.
(Or here's an idea, take a cue from Angelina or Bono and use that muscle of 10, 000, 000 daily hits for something worthwhile.)