Before meeting Winston LaRose, filmmaker Ngardy Conteh George had already heard about the legendary man, affectionately known as "Mr. Jane & Finch." Documenting the Black community for over fifty years, LaRose had an impressive archive that George was curious to see. "I had finished a short film about the legacy of Dudley Laws, a Black Canadian activist, and a mutual friend had told me about the incredible archive [LaRose] had that had never really been shown publicly. Originally, that's what I was looking to explore." But after meeting eighty-year-old LaRose, George realized that his story was as fascinating as the critical moments in history he'd captured. Thus Mr. Jane & Finch was born.
George's film began as a story of LaRose's archive, and the Canadian story of the Black community and African diaspora within it, but took a turn when LaRose entered the 2018 Toronto City Council race for Ward 7. "That changed the direction of the film, the focus was no longer on the archives, and I had to quickly let go of that and go with the strongest story."
From marching into City Hall to officially getting his name on the ballot, to engaging with young people about the power of voting, LaRose is nothing short of inspiring. "When you speak with him, you have his undivided attention. He makes you feel like you matter, like your concerns and issues matter," says George, who met a lot of adults in the community that praised LaRose for saving them in their youth. In a time when there is a general distrust in politics, where most issues ignite divisiveness, he's a beloved figure that brings hope.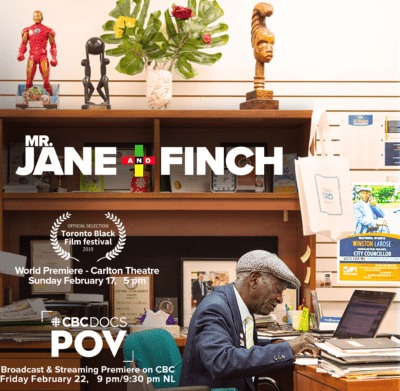 With social media constantly hitting us with distressing news headlines, it's easy to become apathetic, assuming we can't make a difference; Mr. Jane & Finch offers proof that small actions, and genuine interactions, can have a huge effect. "It's the little things that you do on a daily basis that count as much towards activism as the big, grand gestures, or big policy changes. Someone like Winston helps people on an individual basis, which is, to me, such a strong way to perform activism. If people can see that the little things add up to big things, or that the little things can make a huge difference in people's lives, that is a form of activism, of change."
From overhead panning views of lush leafy green city blocks, to up-close shots of LaRose engaging door-to-door with community members, Mr. Jane & Finch portrays a side of the notorious Toronto neighbourhood that is rarely shared in the media. "I was looking forward to seeing the real Jane & Finch, as I've never spent much time in that community prior," says George. "What I saw was a great neighbourhood with hardworking people, and not what the media shows. I wanted to shift the conversation…talk about the human beings who live there, work hard there."
It's a goal that's very much achieved; at the premiere of Mr. Jane & Finch at the Toronto Black Film Festival, many of the community was present, and shared their appreciation with George. "It tells a different story about the community that needed to be told." And on Friday, February 22, all Canadians can watch Mr. Jane & Finch when it premieres at 9 p.m (9:30 NT) on CBC Docs and CBC Gem.