On Monday, April 17, the Toronto International Festival of Authors (TIFA) will host a powerful not-to-be-missed event at the historic Winter Garden Theatre (189 Yonge Street, Toronto). Bestselling author Louise Penny will sit down with award-winning journalist, author and filmmaker Mellissa Fung for an in-depth conversation about Fung's latest book, Between Good and Evil: The Stolen Girls of Boko Haram (HarperCollins, April 18, 2023). Without a doubt, this will be a riveting, emotional, and unforgettable evening.
In April 2014, nearly 300 Nigerian schoolgirls were kidnapped by the terrorist group Boko Haram, and to this day many are still missing or presumed dead. In her book, Fung documents the shocking true stories of several survivors, as collected over four years of travel and from 100+ hours of interviews with the girls and their families. As a former captive herself – which Fung wrote about in her number-one-bestselling memoir Under an Afghan Sky – Fung shares the girls' horrific stories with great empathy. From their kidnappings, assaults and tortures, to pivotal moments of bravery and resistance, Fung portrays heartbreaking feats of strength and faith, and renews a global call for urgent action.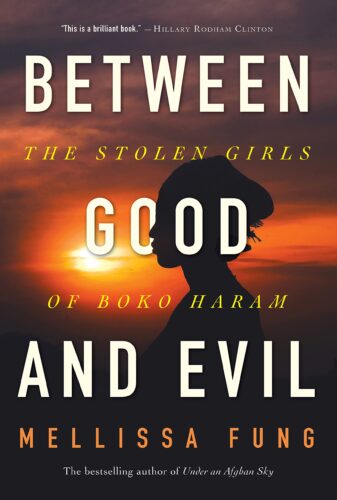 Critical Praise for Between Good & Evil:
"This is a brilliant book, an unflinching intimate history of Nigerian girls who survived capture and struggled to rebuild their lives. Rather than chronicle Boko Haram or the campaign to #bringbackourgirls, Mellissa Fung empowers the girls to speak for themselves, to recount their own fear and survival. She has given us a powerful, gripping portrait that dares us to confront horror and the stamina it takes to survive it." — Hillary Rodham Clinton
"Mellissa Fung never allows us to turn away from the pain of others. With courage, she leads us into the heart of this tragic story. With compassion, she gives a voice to the voiceless. With beautiful writing, she brings their loss into our lives, so that we may share it, and perhaps ease their suffering. Mellissa is unflinching as she goes to the core of this tragedy. And compassionate as she tells their story, giving voice to the voiceless. All done with beautiful prose." — Carol Off, author of All We Leave Behind: A Reporter's Journey into the Lives of Others
Witness true, raw and honest storytelling at its best, live at one of Toronto's most breathtaking venues. The 50-minute interview will be followed by an audience Q&A. Mellissa Fung will sign books following the presentation, and copies will be available to purchase on site from Ben McNally Books.
Reserve your spot now, or jump to our Instagram for a chance to win a pair of tickets. Head to the TIFA website for event info and ticket pricing.