Natalie Norman is a Toronto-based stand-up comedian, podcaster, storyteller and Jewess. Outrageous, witty, and often political, Natalie hosts a weekly LGBTQ+, feminist-friendly show called The Crimson Wave at Comedy Bar in Toronto; she's also the co-host of the Crimson Wave Podcast. Natalie has also performed at Just For Laughs in Montreal, Winnipeg Comedy Festival, Sled Island, Guelph Comedy Fest, Women in Comedy Fest, Pop Montreal, Canadian Music Week, Toronto SketchFest, Feminist Arts Conference, Field Trip, NXNE and LadyFest Montreal. Her debut comedy album, The Big Reveal, was released earlier this month.
We chatted with her this week.
SDTC: Describe your dream vacation/getaway scenario.
NN: LOL you know what? I don't really love leaving Toronto, but if I had to go somewhere it would be Tokyo in April.
Who/what is commanding a lot of attention in your life lately?
Let's just say my mind doesn't pass the Bechdel test.
What have you learned about yourself in the past year?
SUPER cheesy, but when someone acts rudely or inconsiderate towards you, most of the time it isn't about you—that's about them. Even though it hurts and feels bad and makes you feel like shit, IT IS NOT ABOUT YOU. I have to remind myself of this every day!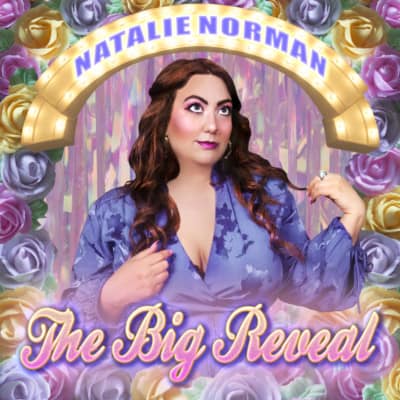 What is a fun little-known fact about you?
I genuinely love returning things I have purchased! That sounds so weird, but it brings me so much joy and a feeling of completion.
What book/film/show have you connected with recently, and what about it appeals to you?
bell hooks' All About Love. I love learning about love and all the theories around it.
What's the worst piece of career/life advice you've been given?
When I started stand-up comedy, I was told I should never ever take a break for anything—not even a death in the family. This is terrible advice. I tried to keep going after a terrible moment in my life and honestly I wasn't growing, I wasn't bringing my best self on stage, and I was unbearable to be around! Now when I need a break, I take it. Comedy will always be there.
What is your motto at the moment?
It's okay to burn bridges because I can swim!
Any plans for the summer?
My only goal is to be kinder to myself, take time for myself and stop saying yes to everything. IS THIS INTERVIEW THERAPY?
Rewind five years. What advice would you give yourself?
Not one person is worth your mental health! Look out for yourself, take care of yourself and people will understand.
What is the most courageous thing you've ever done?
I don't think anything I have ever done I would consider courageous! I guess just being vulnerable with the people in my life and telling them what I need. I feel like this should relate to my career, but oh well.
What childhood memory makes you laugh out loud?
My best friend was a broom for a good year. It makes me laugh to think about how much that broom brought me.
What unnecessary object would you love to own?
A crystal dildo… LOL why not?
What tip, technique or hack has made your life better in the past year?
Let's say praying to crystals 😉
What issue do you wish people took more seriously?
Everything!!! TAKE EVERYTHING MORE SERIOUSLY! The world is a shithole! We can change it?
What outfit makes you feel the most you?
Being naked! I know, I know, you said outfit, but being naked is definitely the most me!
Who/what has surprised you lately, and how?
I am never surprised by anything! My life often feels like the movie Groundhog Day. Maybe one day something or someone will surprise me! TBH that sounds pretty sick!
When you look back on your life, are you at where you thought you'd be by now? Why or why not?
NO. I am definitely not where I thought I would be, but that's a good thing. A lot has changed about what I want and what I find fulfilling. Frankly, what I thought I wanted now sounds pretty boring and I'm happy to trust my instincts and take things as they come.