The highly-anticipated remake of The Baby-Sitter's Club is launching on Netflix this spring, giving us entertainment to live for as we continue to endure #quarantinelife.
As 1980's kids, who grew up on the series—inhaling the books and wholly inspired to start our own baby-sitter's club— it goes without saying that we're pumped to relive our youth. But more so, we're excited to share the timeless TBC stories and lessons of adolescence with our own kids.
While we haven't yet previewed an episode, the buzz indicates that Netflix has done a thoughtful remake, ensuring that the series provides audiences with a variety of young role models to look up to. African-Canadian Malia Baker, who is just thirteen, landed the role of beloved Mary-Anne Spier, or Secretary of TBC.
Born in Botswana, Malia's family moved to Vancouver when she was just two. She had barely begun acting when Netflix spotted her talent and brought her on board. With the series being filmed in Vancouver, it was a perfect fit, and one that the young actor was thrilled to land, "I love that they have made Mary Anne a black girl! Growing up I didn't have many black girl role models on the telly that I could look up to."
A self-described equalitarian, motivated to fight injustice and create change, we connected with Malia to ask her everything from her commitment to social justice to how she bonded with her fellow cast members.
In these uncertain times, Malia's positivity and excitement offer a refreshing sense of hope. We're excited for her.
You've been acting for just over a year, what made you want to pursue acting? Who is a role model that has inspired you?
My dad has worked in the film industry for a while and hearing his stories of set and filming always inspired me. I have had quite a few role models in acting growing up and I couldn't only pick one. Eddie Murphy, Robin Williams, Meryl Streep, Will Smith, and Zendaya would top my list though!
When did you first learn about The Babysitters Club?
My mom has always referred to herself as being a Dawn, so I naturally asked who the heck Dawn was at a very young age, which led me to the spectacular Baby-Sitters Club books. All I can say is that I loved every single one and dreamed of being Mary Anne; haha, look at me now!
How did you prepare for your audition?
What I did to prepare was I actually journaled as Mary Anne quite often and I made Pinterest boards of everything she likes. I also made up a biography of her in my journal and I read lots of the books again so I could remind myself of who Mary Anne really is.
Why do you think The Babysitters Club has been so successful, as a series? And how is it being adapted so that it resonates with a young audience today?
I think The Baby-Sitters Club has been so successful because everyone can relate to one of the characters and see parts of their lives portrayed in the books. In this contemporary take the series continues to deal with real-life topics, feelings, and experiences, which makes it super relatable.
I imagine that getting to know your cast members is really important—have you done any social activities yet to get to know one another?
It's funny because since they cast us so well for our characters we all clicked right away. In the audition room, the five of us were drawn to one another so we seemed to be best friends from the very start! Even though we pretty much spend every day together on set, most of our time off set was spent with each other as well, just hanging out doing regular friend things like talking, playing games, bowling, going to the beach and exploring. I miss having so much time together!
Social justice is important to you—is there a specific issue that is driving your activism right now? A particular cause that you're most devoted to right now?
Although there are many issues that I care about, at this moment I am really interested and passionate about OWLAG (Oprah Winfrey's Leadership Academy for Girls) and what she's doing for and with them. Girls' education is so important to me and this cause, in particular, hit close to home as it's also close to Botswana which is where I was born. I hope that one day I will be a part of something as beautiful and important as this cause is.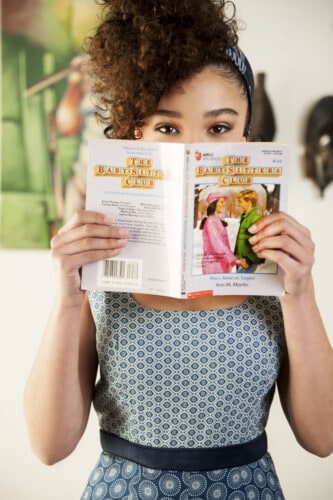 What do you love about your character Mary-Anne Spier?
I love that they have made Mary Anne a black girl. Growing up I didn't have many black girl role models on the telly that I could look up to. I remember when I was younger I used to say "Auntie" to every black woman on the screen, and even in public, because that's what we called the women older than us back in Botswana, but when we moved here there wasn't many in my community, so I loved seeing them on screen. I also think that it's amazing that they chose Mary Anne to be black because it's showing a different side to black girls which is often portrayed as being obnoxious and loud.
What excites you most about being part of this production?
What excites me about being a part of this production is all the love that I have received from the BSC fans and people who have made this possible. I have definitely made a new family and many friends and I am so incredibly grateful. I am also excited about new opportunities and the platform this will give me to spread light into the world.
When you're not acting, what activities make you happy?
What makes me happy outside of acting is helping others, listening to music and dancing. When you help others you get a lovely feeling back that nothing else can compare to and you also get to know that you did well; so really, the other person/thing helped you!
What message do you hope this show will share with young people?
I hope that the younger viewers will receive the message that you are not alone and that sometimes all you need to get through something are hugs from friends and family along the way, the courage to be yourself and to speak to your family and friends because those that really love and accept you always have your back. I also hope that the black girls watching this show will see a version of themselves on screen no matter the tone of our black skin.
The launch of The Baby-Sitter's Club is definitely something to look forward to. No hard dates have been released yet, but it's coming soon! More details on the Netflix site.