This Friday, Carly Stone's first feature film will open in theatres across Canada. While it has been about fifteen years since I've worked in film distribution, I still find it easy to spot winning films, and The New Romantic is one of them. The film is not only smart, funny, and catered to a wide, millennial audience, but it also features a heroine that is beautifully flawed and whose every move contradicts a perceived stereotype. In her late twenties, an age when most of us are still spinning circles, trying to figure out who we are and which direction to go in, Stone has cemented herself as an accomplished writer and director. Her future is BIG.
A subject that is intriguing and salacious to many, and perhaps repulsive to an equal number, The New Romantic is about student reporter Blake, played by the remarkable Jessica Barden (End of the ****ing World), who, in an effort to grow readership for her romance column in the school paper, decides to document her journey as a sugar baby (a young woman who partners with an older man to trade company and sex for gifts and money).
This past Monday, I had a rainy walk to the Elevation Pictures offices at Spadina and Adelaide to meet with Stone and find out what conversations she hopes The New Romantic will spark.
JM: Tell me about the origin story of The New Romantic. Why did you want to make a film about sugar babies?
CS: It wasn't my idea; I was hired to write it. The producer, Kyle Mann, had this idea for a female-driven comedy about sugar babies. I put myself forward and asked him if I could write it. I had a similar writing sample (not on sugar babies, but a college set, female-driven, dark comedy). And so he gave me a shot, and that's how it started.
You've mentioned that it began as a screenplay about sugar babies, but then it grew into a film about a young woman's ambition. Can you share a little bit about how that shift occurred?
I knew that in researching sugar babies, many of the women were driven by ambition, whether they wanted mentorship, or to network, get through grad school, get on their feet, get out of holes of debt. It wasn't necessarily driven by material. Some [of them were], obviously. When you can't afford stuff, stuff becomes sparklier. But it was the ambition that I connected to with these women.
How did you go about doing the research?
These women are very outspoken. The main website, Seeking Arrangement, is very forthcoming with testimonials; they're very proud of the platform, so I did it all online.
How did writing about Blake's experience mimic your own university experience?
I am definitely one of those writers that writes from personal experience, and I think that my relationship with my roommates comes through in The New Romantic; that was really fun to write. The cool thing about university, in retrospect, is that you feel like the stakes are so high, yet there are no stakes at all. And I found that really fun, looking back. I am a romantic, and being a romantic at university is totally ironic because no one wants that, or at least guys don't seem to want that. Forcing chivalry on guys in their twenties doesn't work!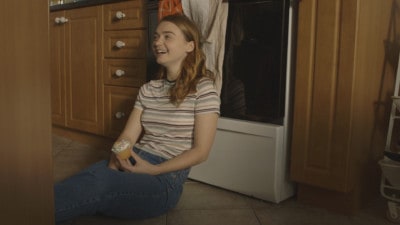 I think so much of our early twenties, especially when it comes to romance and relationships, are about trial and error. We don't know what fits yet. When I look at Blake, as a character, I see a young woman with no baseline, no reference points to judge what a healthy or quality relationship looks like. It's almost like her lack of experience means that anything can be romantic.
I didn't know where to set her up [or] what her relationship history [was]. I didn't want to make her a virgin. She definitely thinks she knows stuff, but she doesn't really.
Why did you make her a reporter?
In making the character a journalist, her curiosity could drive the story, and it made her active. She wasn't always a journalist. She started off as a total slacker/stoner, but then I realized she was too passive.
I'm always curious about how writers write. What was your process?
I go through phases. For a lot of it, [I] was holed up in my apartment. I started writing it when I had just graduated and was living in LA. Then I moved back to Toronto and was living on Queen Street and would spend my whole day in front of my computer. I was working on two other projects, too. I didn't have a day job yet. I would just write morning to night. I often wrote after 2:00 a.m. I think my most effective rewrite was when I came home from South Africa; I was extremely jet-lagged, and I would wake up at 3:00 or 4:00 a.m. and write [until] 7:00 a.m. And that was my favourite time to write. This is so boring. [She laughs.]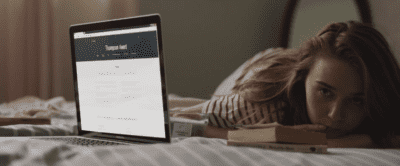 It's not! For many, writing a screenplay is a massively daunting task. I'm always curious about how writers write, and I like to imagine them in those settings, at dusk or when no one else is awake. But how did you learn to write?
When I was at Western, I was taking a comedy-writing class and Tim Long, who was a producer on The Simpsons, was friends with my professor. He came to speak to our class, and it was like a light bulb moment. I was attracted to TV writing because I was always thinking, What's a job I could have that I could do and enjoy? It wasn't like, "I have stories of my own to tell!" It had nothing to do with that. I just felt that TV writing was a job that I would enjoy and could do.
So I asked him how I could become a TV writer, and he said that I have to move to LA. I have a brother that lives in LA, and I went to visit him, and Tim brought me onto The Simpsons lot and into the writer's room. He let me sit in on table reads and coached me, and it started from there. I read books on how to do it, and I took a year off between undergrad. I just went to Starbucks every day and taught myself how to write scripts, and then I applied to film school.
Cool! What about directing? How did that come about?
After AFI (American Film Institute), I came home for the summer and was like, "I'm going to direct part of my script that I wrote for school, just to see if I can do it." I got some friends to help me—I paid them with pizza—and I made this short, which was terrible, but it had some good parts. I then cut it into a trailer that made it look better than it was, and that was my first foray into directing.
The next time was when Kyle Mann asked, "Who's going to direct this project," and I was like "I will." [He asked,] "What have you done besides your pizza project?" He fronted a little short for me to direct, to show investors that I could handle it, and I directed that short, and the next thing was the feature.
Wow. That's pretty amazing. So what did you enjoy most?
I think being able to stand behind every single decision. From the words to the music to the angles, to the poster—everything. It was a very creatively satisfying project.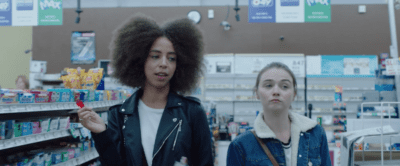 Biggest lesson learned? Or most difficult challenge?
Everything was challenging. But I think the biggest lesson was how awesome it is to lean on your team when you hire the right people. Your team members can elevate the project so much. I don't think I could've known that before, and I couldn't have done this alone. It was such a collaborative effort.
If I had never directed a feature film and was offered that opportunity, I think I might have a hard time stepping into that role. How did you do it?
I have no idea. It felt very natural. I think it has to do with playing with my dolls when I was little. That's all I did, and that's what directing is like. That's all I wanted to do when I was younger, and when I'm on set, it feels like I'm in touch with my child self.
How would you describe your directing style?
Confident, but gentle. I gave a lot of freedom to my actors.
What about Jessica Barden? Did you know you wanted her from the get go?
We sent the script to her agency years ago, and her agent reached out and said, "I think I have someone who'd be perfect for this!" And Jessica came on board right away. She was on board two years prior to when we began shooting.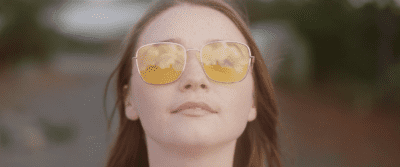 What was she like to work with?
She's awesome. Very smart, very funny, very original. She has a great range. We had a great shorthand; we could communicate really well, sometimes without speaking. She surprised me a lot. It was an amazing experience.
What conversations do you hope audiences will have after seeing The New Romantic?
Before it came out, I thought people would debate the climax. What is assault? Where is the line? And I think that's interesting because that is the debate taking place right now. It's such a polarizing topic, but it's an important topic.
Bold, intelligent, complex and totally relatable, The New Romantic defies many of the typical college-aged rom-coms that come out of Hollywood, and that's thanks to Carly Stone's youthful, refreshing and wise perspective. Soft spoken, reserved and young, she's the opposite of what we're used to. And we're so ready for it.
The New Romantic releases in theatres across Canada on October 19. Watch the trailer now.