It's the big question of the moment…what are you doing for New Year's Eve? This year we have the added pressure of a decade. Yikes – this is stressful! (however, not as stressful as when we all thought the world was going to blow up and computers would eat us in 2000)
No messing around – plan ahead because we all know the feeling of minus horrendous, no kiss and no cab….it's enough to jump start a full blown emotional breakdown.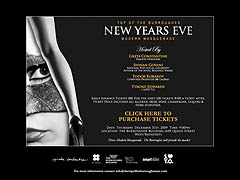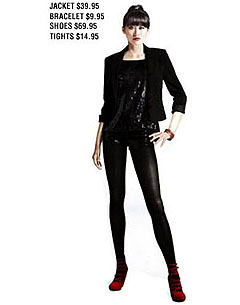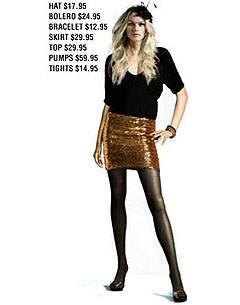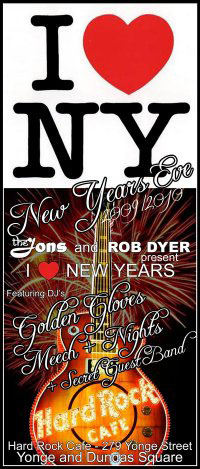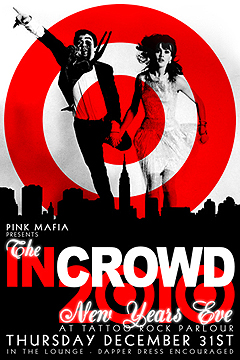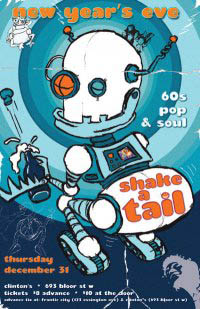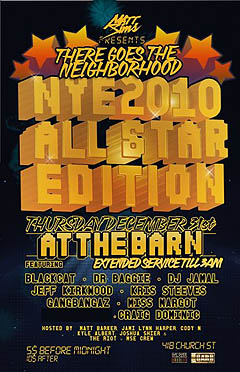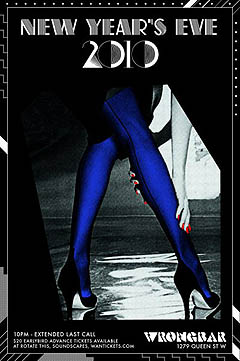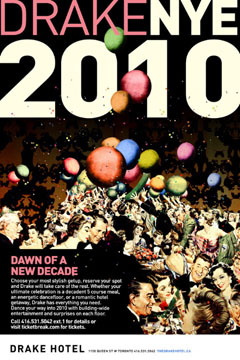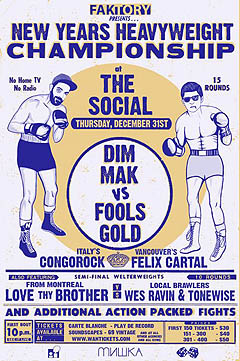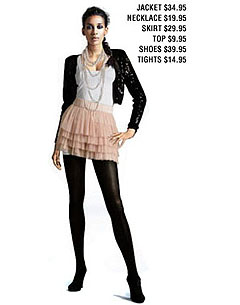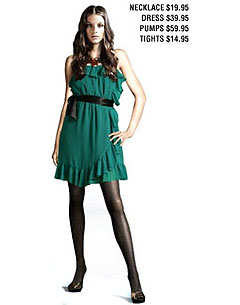 Things to consider:
1. Will there be cute boys and/or girls to kiss? (VERY IMPORTANT!)
2. Will the bar be well stocked? Or will it be a crammed disaster, run out and leave you scooping up forgotten beers?
3. Is the venue memorable/unique?
4. Music? At the strike of midnight will I feel like I'm having an orgasm…'cause that's how I want to feel.
5. Will I get stuck in negative 20 weather with no transportation at 3AM and be forced to slip and slide in three inch pumps crying from wind blown eyes and having to go pee in an alley? (Don't go there!)
6. How much is this shindig going to cost – I best be getting an obnoxious horn blower and party hat at the very least!
7. What do I wear? Oh oh – we can help! Enter our H&M – A Holiday Gift Just For You Contest! (SO INCREDIBLY FUN! Build your own head-to-toe look in the H&M Fashion Studio – Shedoesthecity and H&M will choose the best outfits and award $200 gift cards to top designs from Toronto, Vancouver & Montreal – ENTER NOW….best procrastination ever – like playing paper dolls…scroll down for deets.)
New Year's Eve! THE PARTIES
Casa New Year's @ Casa Loma
Casa Loma (1 Austin Terrace), 9pm-2am
$75.00 early bird
Music by DJ Vaneska
It's the first time in almost a decade that the City of Toronto has allowed Casa Loma to serve until 2am. There will be full access to the castle, including the Great Room, the Library and the Conservatory. Plenty of romantic make-out spots…and you can dress up 'cause this is a semi-formal affair.
Stoli Presents Top of the Burroughs Modern Masquerade
The Burroughes Building (639 Queen St. W.), 9pm-3am
Hosted by Greta Constantine, Shinan Govani, Todor Kobakov, Tyrone Edwards, Marcello Cabezas
These guys know good music: DJs Sebastian Grainger, Scott Cudmore, Stuart Berman & Ian Worang
$100 open bar ticket (Rotate This & Soundscapes), including all alcohol (beer, wine, champagne, liquor) & hors d'ouevres
Hmm – this looks amazing!!
THE TOP OF THE BURROUGHES NYE
Purchase Tix: SOUNDSCAPES- 572 College Street (Little Italy) Toronto
ROTATE THIS – 801 Queen Street West Toronto
PLAY DE RECORD – 357A Yonge Street Toronto
Masquerage @ St. Stephen's Church (103 Bellevue Ave. @ College)
Another masked event – this time in a place of worship.
10pm-11:30am ..that's a looong time! Your entire life could change.
$20 in advance, $30 at the door
$ DJ's Torro, Rynecologist
Reassess your morals, fake your identity and most importantly prepare for the loss of dignity.
FACEBOOK EVENT PAGE
I ♥ New Years Presented by TheJons & Rob Dyer
Hard Rock Café Upstairs Lounge (279 Yonge St.), 9pm-3am
This will be the place to go if you are under 25 and want to just give 'er. FUN – is the ultimate with TheJons.
FACEBOOK EVENT PAGE
In Crowd Thursdays Presented by Pink Mafia
While the upstairs may be a Lady Gaga – Jay-Z dance-off, downstairs by the fire the cool kids will be ringing 2010 in like it's 1966.
Tattoo Rock Parlour (567 Queen St. W.), 10pm-3am
$35 (Tattoo Rock Parlour or Ticketmaster)
Motown, Soul, R&B, Funk, Brit Pop
Great Gatsby Ball @ The Roosevelt Room
If you are looking to start 2010 in class – look no further. If you have fancy friends pouring in from NYC and LA looking to dresss up and get down – reserve your spot now!
The Roosevelt Room (2 Drummond Place), 7pm-3am
$45 early bird tickets (9pm), $65 prix fixe dinner (7pm)
Roaring Rock, Retro, Top 40, House
25+
Shake A Tail New Year's @ Clinton's
For the a retro gong show – hit up this sloppy dance floor. You'll slip on slush, crash on a couch and make out with the same guy that all your friends did last year. Good times – always.
Clinton's (693 Bloor St. W.), 9pm-4am
$8 in advance, $10 at the door
'60s pop & soul
FACEBOOK EVENT PAGE
New Year's Eve 2010: There Goes The Neighborhood All Stars @ The Barn
The Barn (418 Church St.), 9:30pm-4am
$5 before midnight, $10 after
Featuring DJ Jamal, Jeff Kirkwood, Dr. Baggie, Gangbangaz, Blackcat, Miss Margot, Kris Steeves, Craig Dominic
NYE @ Wrongbar
Wrongbar (1279 Queen St. W.)10pm-3am
$20 early bird (Rotate This, Soundscapes & wanttickets.com)
Hosted by Pink Mafia and Special Guests TBA, Featuring DJs Barletta, Nasty Nav, Torro
FACEBOOK EVENT PAGE
NYE 2010: Dawn of a New Decade @ The Drake
The Drake Hotel (1150 Queen St. W.), 7pm-3am
Let's be honest – The Drake knows how to throw a party. Whether playing it swanky in the Lounge, booking a five-course meal to remember or getting down in the underground – you will have a great time. Elise LeGrow, DJ Benzi & Your Boy Brian in the Underground, DJ Patrick Pentland (Sloan) in the Lounge.
Bang the Party
The Boat (158 Augusta Ave.), 10pm-4am
Grind, jump, swagger, shake, boogie – just bang the 'effing party!!

$15 all night
With DJs Andycapp, Pooyan, Dirty Dale & Rod Skimmins
The Faktory presents NYE Heavyweight Title
The Social (1100 Queen St. W.), 10pm-3:30am
Battling the best against the best – expect hell to be raised at The Social

$30 for the first $150 (Vintage 69, Soundscapes)
Heavyweight Championship Bout: Felix Cartal vs. Congorock (15 Rounds)
Welterweight Bout: Love Thy Brother vs. Wes Ravin' & Tonewise (10 Rounds)
FACEBOOK EVENT PAGE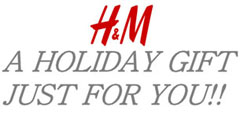 We have teamed up with H&M to bring you a super fun contest. Here's what readers are saying so far:
"I love this contest, it brings me back to playing with Barbie's only WAY better clothes!"
"This contest plays to my secret online dress-up obsession."
"Thanks for helping me procrastinate the day away!"
H&M's online Fashion Studio lets you pick a model and dress her up choosing from a multitude of H&M tops, dresses, skirts, stockings, shoes, purses, sparkly bangles, feathered hair clips – whatever you like! Honestly, this is addictive. Once you have decided on a killer outfit – save it to your desktop – send us a photo and you could win a $200 H&M gift card. SEE FULL DETAILS HERE
Looks coming in so far have been described by readers as:
"She's a ballerina meets Studio 54…and totally recession proof…I love her!"
"Rocker Styles!!"
"…my Sunday afternoon on Queen West look…exactly what I'd be wearing if I owned this awesome stuff!"
What are you waiting for? You could own all this stuff!
There is no shortage of parties happening from now until NYE – make your outfit now!