Love Hard has all the makings of a holiday classic: mistaken identity, jerks you're forced to be festive with, last-minute cross-country travel, lost luggage, awkward carolling, a scrooge-like boss, and a sexy bar night that quickly unravels into a sloppy mess. But it's also a film about finding love, hot cocoa by the fire, and all the sappy and cozy things we cling to this time of year. "I read the script and it made me laugh out loud, and made me cry in the end. It struck a chord," says lead actor Nina Dobrev (Run This Town, xXx, Perks of Being a Wallflower). "I think it's very relatable."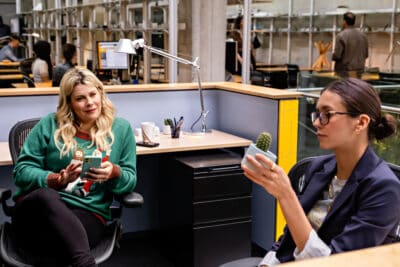 Nina stars as Natalie, a writer in LA with a popular column about dates gone wrong. A la Carrie Bradshaw, we watch as Natalie types and deletes stories about her love life. Filmed twenty years after Sex In The City, Natalie's dating life doesn't start with a chance encounter, or a lively conversation at a cocktail party, but on her phone, often late at night in bed, when so many of us lie in the dark, aglow from our screen, scrolling and swiping, on repeat.
After dozens of disastrous dates, Natalie finally finds a guy she clicks with. Smitten, she decides to surprise him for the holidays, only to discover that she's been catfished. Drama and havoc ensue… around the Christmas tree, of course.
"There are small white lie catfishing scenarios and then full-blown different human being scenarios," says Nina, who dislikes the superficiality of dating apps, and understands why people embellish their online personas. "Everyone is insecure and everyone wants to find love. When I help my friends create their profiles, I always suggest and urge them to put all of their personality into it, not just mirror selfies."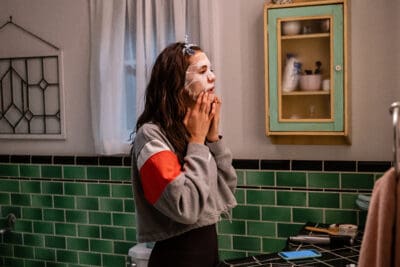 We first met Nina when she was just a kid on Degrassi: The Next Generation. We interviewed her on the Sky Yard at The Drake Hotel just before she made the move to LA. She was still a teenager, and now she's in her thirties. Many life chapters and major career milestones have happened since then. "In my twenties, I felt like in order to succeed I had to be perfect. I was very hard on myself, and I expected perfection for myself. It made life very challenging, as I would constantly disappoint myself and set people up to disappoint me. But as I got older the more I realized that not only will no one else ever be perfect, but I'm not perfect. That was definitely Natalie's journey, she kept looking for perfection around her, but she didn't stop to look at herself. It's not about finding the perfect person, but about finding the perfect person for you," she says, sharing relationship advice that has served her well, "My mom once told me, you have to be with someone long enough to find out what their flaws are and then decide whether those flaws are something you can live with or not."
In Love Hard, we get to know the insecurities and flaws of all the characters. While Nina takes the starring role, the supporting cast of Jimmy O. Yang (Crazy Rich Asians, Space Force), Charles Melton (Bad Boys for Life, The Sun is Also A Star), and Harry Shum Jr. (Crazy Rich Asians, Glee) help bring the laughs. Jimmy's performance is especially noteworthy.
Like all beloved holiday classics, Love Hard comes with nicely wrapped messages about learning to love imperfections, taking risks, and giving love a chance. "If there is anything the pandemic has taught us, it is to live in the moment," says Nina, who was grateful to take a break from reality to make this film. "I wanted to laugh and I knew that the world also wanted to laugh, and find an escape. I hope it's the kind of film that you watch and rewatch, like what you do with Christmas movies every year."
Love Hard is now playing on Netflix.