Toronto Fringe Festival is a trove of incredible theatre. We've chosen some of the best playwrights and directors from this year's festival to find out what makes them tick, and what you can expect to see this year. 
Arianne Shaffer is a performer and writer who received the Ontario Arts Council Word of Mouth Grant in 2012 to write A Lover Improper, which she performed a segment of at the CBC All Things Told Show in 2016. She is the star of a recently released web series, North of Bloor, a regular contributor to Raconteurs, and shared insights about the impact of storytelling at TEDxOCADU. We caught up with her this week.

SDTC: What's your play about?
AS: A Lover Improper takes audiences through my global pursuit for big love and tiny spoons. The performance is divided into four acts – body, sex, love, and pleasure – offering an authentic recounting of things I've lost and (re)discovered: pounds, virginity, confidence, minds, trauma, faith, and mojo. It is part confessional, part comedy, part overshare, and all true stories from my life.
What led you to come up with the concept?
When I first had the idea for A Lover Improper, it was going to be a book of essays about all the improper lovers I've had over the years: right man, wrong country; right man, wrong time; wrong man, right sex; right man, right values, no sex; etc. I showed some of the drafts of these essays to a friend who suggested these stories would be better told on stage. The idea sparked with me and I continued to run with this idea of what an improper lover is and found it was, in fact, about much more than the men from my past.
I had been reading endless long-form 'feminist' articles about single women in their thirties who had "figured it out" – so many of these overly intellectualized missives ending with women finding husbands. The hetero-normative, wedding-industrial-complex, creepy Stepford-wife-infused media was beginning to enrage me.
I had grown tired of stories about women my age all ending with the bright goal of finding a husband. There seemed to be something so innately 'improper' about that, yet I'm a woman who loves to be in love. Go figure. These pushed the lover improper notion of me to further wonder about stories of single women in their thirties that didn't end at the altar. What happens to women when they ache, love, cry, fuck, work? What about subtlety, longing, spirituality? Where were those stories?
What's more, part of my rage and inspiration stemmed from the continued depiction and objectification of women's bodies. I believe we are not finished telling stories about our bodies and how much work it is to live in them in this strange world. As women, our bodies are endlessly harassed and scrutinized. This show is also a response to that.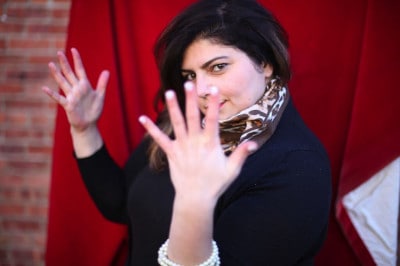 What was the most challenging aspect of this project? Most rewarding?
The highlight of working on this show has been my collaboration with the show's director, Adam Lazarus. Not only is he a seasoned and award-winning theatre expert, but he also became what I'm calling my Theatre Chaplain. Adam has this incredibly unique way of drawing out stories in me with kindness, and just enough push for me to stretch way beyond my comfort zone of riffing into a mic. He understands subtlety and spirituality, which are both key ingredients to my show. And he is a comedic genius. We laugh a lot during rehearsal, and when I cry during certain stories, he reminds me of my commitment to vulnerability. Working with Adam has been the best reward I could have asked for.
The ego is the only real challenge I've had to grapple with while working on this show. Self-doubt, comparison to others, you know, the usual ego demons. I started working on this show over four years ago. My creative process sometimes moves at a glacial pace and I tend to need a lot of space and quiet to let my best stories come to the surface. Seeing it all come together under this incredible Fringe umbrella has been an exciting challenge to finally put what I've been working on onto the stage.
What do you want audiences to take away?
Fringe is an incredible, democratic space offering artists a fair chance to share what they've been working on. Storytelling is about making ourselves really vulnerable and my storytelling is about infusing this vulnerability with comedy and the occasional discomfort of sharing stories about things we often don't talk about in the comedy/storytelling world (death, prayer, loss, etc.). This permission to be vulnerable is always a needed one and my greatest hope for the audiences that see my show is that they walk away and tell the person they are walking with a story about their lives that maybe they haven't shared before.
Do any aspects of the play resonate with you personally? 
I am currently based in Toronto where I spend my days working to transform the field of philanthropy and my nights performing true stories that have happened to me on many a varied stage. Storytelling – and A Lover Improper in particular – is a natural culmination of my passions, my history, and my commitment to making vulnerable and private moments comedic and relatable.
This show is deeply personal to me, because it's not a play. It's not fiction. That's the incredible joy about this storytelling format. True stories that have happened to you. That's the rule, and the one rule I abide by in my creative work.
A Lover Improper opens Wednesday June 29, 2016 at 10:00 p.m.  It runs Friday July 1, 6:30 p.m.; Saturday July 2, 3:15 p.m.; Sunday July 3, 8:00 p.m.; Tuesday July 5, 3:15 p.m.; Wednesday July 6, 8:15 p.m.; Thursday July 7, 1:00 p.m.; Saturday July 9, 9:45 p.m.
All shows at Theatre Passe Muraille Backspace, 16 Ryerson Avenue at Wolseley St., near Queen and Bathurst. Buy tix here.