The Bag of Toronto is the easiest and safest way to support local businesses in your neighbourhood this holiday season.
The initiative started in the spring, when the grassroots organization launched with A Bag of Bloor, and has now expanded to include several other west-end neighbourhoods. Residents can now choose a Bag of Toronto, loaded with goodies, from five locations: Bloordale, Bloorcourt, Ossington, Queen West, and College Promenade.
Get it for yourself, or surprise friends and family with a super fun bag that allows them to sample the best from the blocks.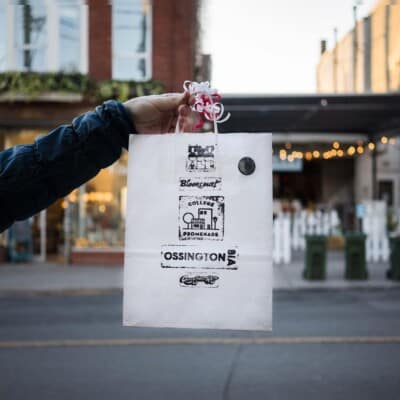 Each bag will be filled with 5-7 items from a variety of shops and restaurants. Paradise Theatre, Maker Bean Cafe, Pause Beauty, Wise Bagel, Afrobeats Kitchen, Bar Neon, Style Garage, Giuletta, Prairie Boy Bread, and Bar Isabel are just some of our local favourites taking part in this super cool initiative. If you want to see which businesses are taking part in your community, click the "In the Bag" tab, and you'll see a breakdown of each neighbourhood.
Aside from the joy of receiving a care package full of beautiful and delicious local offerings, the Bag of Toronto donates all profits to local charities, and partnering vendors pay no fees. What's also smart is that you pick the bag, choose delivery date from 4 weekends, and they will drop it off to your home, or a loved one's, making this a super safe way to support local.
We love everything about it! Get your order in now, because they've already sold 250 in the first week of pre-sales. Congrats to the amazing team behind this who really figured out a clever way for Torontonians to support the local businesses they love.