Fuck the scented candles and gift cards; let them know you mean it by giving them the gift of multiple orgasms, quality time, and feel-good relief. (Or gift yourself!)
Having partnered with Womanizer™ and We-Vibe® this past year, we had the pleasure of testing out a beautiful selection of toys. We've narrowed it down our favourites:
Womanizer™ Premium (best of the best)
Womanizer™ DUO (dual stimulation with Pleasure Air™ Technology)
Womanizer™ Liberty (Perfect travel companion)
We-Vibe® Sync™ (cosmic purple) – Best couples vibrator
Moxie by We-Vibe™ (panty vibrator)
Melt by We-Vibe™ (Pleasure Air for couples)
They are all tremendous, but to help you find the perfect one for you (or your lover) we've created a lil' fun come-on-let's-cum quiz.
Who are they?
A. A goddamn sex goddess!
B. Confident, self-aware and at their best when fully satiated.
C. A curious and cautious minx who intrigues you to no end.
D. A caring, generous lover who loves to laugh and stay connected.
E. An independent & daring risk-taker who never stops surprising you.
F. An adventurous life partner always willing to experiment.
What are they like, sexually?
A. With a bedside drawer overflowing with sex toys, they are a bona fide connoisseur of all things pleasure.
B. They treat your body like it's an all-you-can-eat buffet, and certainly aren't shy about sensory indulgences.
C. They are discrete with their desires, and surprise you with their naughty ways.
D. They love a shared experience, and maybe a little role-play.
E. For them, the thrill comes from getting outside their comfort zone. They are a rebel at heart.
F. They love being surprised, and want to explore fun with you by their side.
When do they like to orgasm?
A. For them, Sundays are for coffee and orgasms. With or without you. All over the king-sized bed, or with legs akimbo in the tub.
B. They aren't shy about asking for what they want—and where they want it. Orgasms are a priority, and they'll schedule the time.
C. When you least expect it! They're full of surprises.
D. As a long-distance lover, they want you to heat them up from afar.
E. In plain sight, but you'd never know it.
F. Life is busy, but they've booked a week away to spend with you, and on you.
The message you want to send with this gift:
A. Woman, you are magnificent, and I want you to know just what you're capable of feeling.
B. I want to fill you up, and pay attention to every part of you.
C. Here's something fun I thought you'd appreciate, and I'd love to be invited to watch you enjoy it.
D. Even if I'm not right beside you, I"m always with you (and ready to orgasm when you are.)
E. I love your slutty side.
F. Life is short, let's be daring and adventurous, together.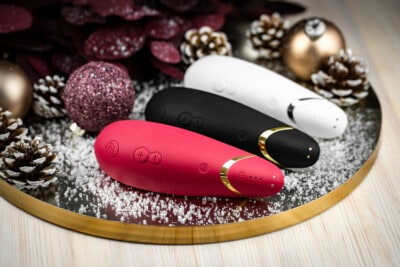 Tally the results…..
Mostly A's: Womanizer Premium
This is Pleasure Air™ Technology at it's finest. Silent, sleek, and can be used in the bath, for hours. The BEST.
Mostly B's: Womanizer DUO
DUO delivers the perfect blend of clitoral and G-spot stimulation. DUO's clitoral stimulator uses Pleasure Air™ Technology while your G-spot is being massaged with the perfectly curved and powerful vibrator.
Mostly C's: Womanizer Liberty
With a stylish cover and six levels of stimulation, the Liberty guarantees pleasure in every place on the planet. Discrete and easy to pop in your purse, along with other travel essentials.
Mostly D's: We-Vibe Sync Couples Vibrator
Touch, tease and turn each other on from anywhere. Download the free We-Connect™ app and play together, even when you're apart.
Mostly E's: Moxie by We-Vibe Panty Vibrator
Hands free vibrations that tease your sweet spot. No one will know, unless you want them to.
The only Pleasure Air™ stimulator designed for couples with pulsating waves and gentle suction that feel unlike anything else.
No matter what life throws at us this new year, everyone still needs-wants-deserves to get off, and we know how to make that happen in the best possible way.