There's nothing quite like the experience of going to a drive-in theatre — warm summer nights, double features, and everyone watching from the comfort of their own car. While unfortunately there isn't a drive-in theatre open in Toronto anymore, if you venture out a little further there are some hidden gems scattered across the province. 18 of Canada's 43 remaining drive-in movie theatres are in Ontario!
This summer, catching a movie outdoors is at the top of our bucket list — whether it's in a city park at the Toronto Outdoor Picture Show, or a little further away at one of these Ontario theatres.
Find somewhere close to you and cruise on over to enjoy a film under the stars. Here are a few of our favourites.
Starlite Drive-In
The Starlite Drive-In in Grand Bend opened in 1955, and is one of Canada's oldest operating drive-in theatres. It has two screens and can hold about 250 cars. Lightyear and Dr. Strange 2 are now playing. See what else is coming, including July titles. Tickets are $12 for an adult double feature.
36752 Crediton Rd, Grand Bend
Muskoka Drive-In
The Muskoka Drive-In was originally opened in 1952. It has two screens that sit on a large rock formation that towers above the drive-in lot. A very unique drive-in setup. They only take cash and don't permit any outdoor food, but they allow leashed pets! Whose dog is itching to watch a new release? Make a plan.
1001 Theatre Rd, Gravenhurst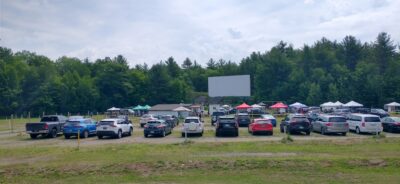 5 Drive-In
The 5 Drive-In opened in 1964 as a single screen drive-in theatre and is now a triple-screen drive-in theatre with the capacity for 1000 cars, one of the largest drive-ins in Ontario! They're open 7 days a week and will be showing some of the summer's biggest titles.
2332 Ninth Line, Oakville
Mustang Drive-In
Mustang Drive-In in Picton is a dual screen drive-in that's been around since the 50s! They charge by carload and you can contact them if you'd like to host a private event. Mustang also has a location in London that can hold up to 800 cars, and a single-screen drive-in theatre in Guelph.
1521 Prince Edward County Rd 1, Picton
2551 Wilton Grove Rd, London
5012 Jones Baseline, Guelph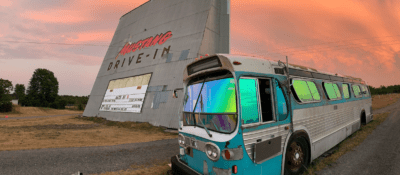 Sunset Barrie Drive-In
Of all the drive-ins, the Sunset in Barrie seems to have the broadest selection of films. You're sure to find something that you (or your little one) is excited for.
134 4 Line S, Shanty Bay
The Boonies Drive-In
The Boonies Drive-In is located near Windsor and is one of the newest drive-in movie theatres in Canada having opened in 2014. Upcoming films include Where the Crawdads Sing and Uncharted.
4625 Richardson Side Rd, Tilbury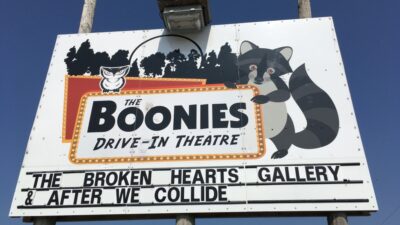 Hanover Drive-In Theatre
The Hanover Drive-In Theatre opens for the 2022 season on June 24 with a double-feature showing of Jurassic World: Dominion and a new adaptation of Stephen King's classic thriller Firestarter. If you'd enjoy a long night under the stars, they have been known to show triple features and even "Dusk till Dawn" shows with 4 movies!
033277 County Road 28, Hanover
Stardust Drive-In Theatre
Located a short drive from Newmarket in the town of Sharon, Stardust is open in the evenings 7 days a week and offers three screens. They've got the blockbusters for all ages lined up already, we can't wait to see what's playing as the season goes on.
893 Mount Albert Road, Sharon
Port Hope Drive-In
About an hour's drive from the city, Port Hope's drive-in theatre is only minutes from the lake. Catch double and sometimes triple features at this classic theatre that's been open since 1947! They have some buzzy new releases on their summer slate, including the Elvis movie and Jordan Peele's new horror flick Nope.
2141 Theatre Rd S, Cobourg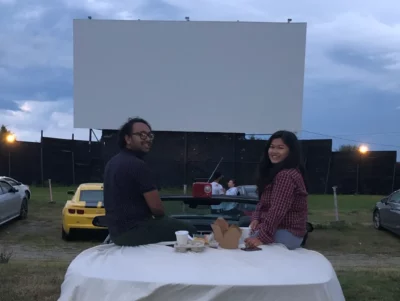 If your town isn't close to a drive-in, you can also check out Metro's Retro Drive-In movie nights this summer. Pop-up drive-in theatres will be set up in various Metro parking lots across Ontario, including Etobicoke, Pickering, Whitby, Mississauga, Hamilton, London, Barrie, Newmarket, Peterborough, Ottawa, and more. They will be screening throwback films, as well as hosting pre-show musical performances and a marketplace for local vendors. Dates for Orangeville (for a screening of My Girl) and Sault Ste Marie have already been announced for early July.