How badly are you craving a collective movie viewing experience? Between the gorgeous warm weather and the gradual easing of lockdown measures, we're dreaming about summertime—hitting a drive-in is on the top of our bucket list.
Did you know that Ontario makes up 16 of the 37 remaining drive-in movie theatres in all of Canada? Find somewhere close to you and cruise on over to enjoy a safe and socially-distanced film under the stars. Here are a few of our favourites.
Ontario Place Drive-In
Ontario Place Drive-in is Toronto's only remaining drive-in movie theatre. Located at the foot of the lake, enjoy your film with a breeze. Upcoming titles include Pulp Fiction, Ferris Bueller's Day Off, The Goonies, and more! There is something for everyone. 955 Lake Shore Blvd West, Toronto.
Starlite Drive-In
The Starlite Drive-in in Grand Bend opened in 1955, and is one of Canada's oldest operating drive-in theatres. It has two screens and can hold about 250 cars. Peter Rabbit 2 plus Jumiji The Next Level are now playing; see what's coming, including July titles here. Tickets are $8 for an adult double feature. 36752 Crediton Rd, Grand Bend.
Muskoka Drive-In
The Muskoka Drive-in was originally opened in 1952. It has two screens that sit on a large rock formation that towers above the drive-in lot. A very unique drive-in setup. They only take cash and don't permit any outdoor food, but they allow leashed pets! Whose dog is itching to watch a new release? Make a plan. 1001 Theatre Rd, Gravenhurst.
5 Drive-In Movie Theatre
The 5 Drive-in opened in 1964 as a single screen drive-in theatre and is now a triple-screen drive-in theatre with the capacity for 1000 cars, one of the largest drive-ins in Ontario! We're loving the nostalgic programming that includes Top Gun, Jurassic Park, and Jaws. 2332 Ninth Line, Oakville.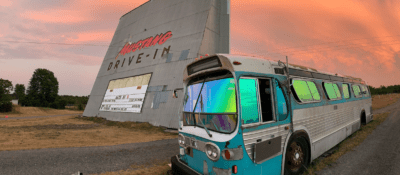 Mustang Drive-in, Prince Edward County
Mustang Drive-In in Picton, Ontario is a dual screen drive-in that is open during the summer months. They charge by carload and you can contact them if you'd like to host a private event! What a fun night in such a beautiful location. Upcoming screenings we'e pumped for include Zoolander and Footloose. 1521 Prince Edward County Rd 1, Picton.
The Mustang Drive-in, London
The Mustang Drive-In in London originally opened in 1950, is open seasonally, and can hold over 800 cars. They've got blockbusters lined up for all ages. 2551 Wilton Grove Rd, London.
Sunset Barrie Drive-In
Of all the drive-ins, the Sunset in Barrie seems to have the broadest selection of films. From Tracey Deer's award-winning Beans to Paw Patrol: The Movie, you'll find something that you (or your little one) is excited for. See the full schedule here. 134 4 Line S, Shanty Bay.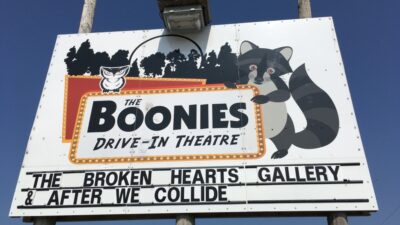 The Boonies Drive-In
The Boonies Drive-In is located near Windsor and is one of the newest drive-in movie theatres in Canada having opened in 2014. They only accept cash at the admission booth but they accept credit and debit cards at the concession area. Upcoming films include Tom and Jerry and Godzilla vs. King Kong. 4625 Richardson Side Rd, Tilbury.
We look forward to sharing a laugh or cry with a live audience.