There is a 24/7 magic show happening in my yard. Myself, Baby Boo, Rocky and the robins are front row guests; we concur that the marvellous garden production changes and improves daily. Oooooohhhhhh! Ahhhhhh!  Intrigued? Aspiring green thumbs, read on!
In the early spring, I was asked by Miracle-Gro to test out their Flower Magic: A fail-safe way for new gardeners to add a little colour to their balcony or yard. We were given the Flower Magic Shaker that contains 29 types of flower seeds.
Just after Baby Boo was born, we poured our Flower Magic mix around the garden. My son and the seedlings are about the same age, five-weeks-old. In that short time, the seeds we tossed on the ground have begun to show green. They are currently 1-3 inches high, and we can't wait to see the flowers make their appearance in the upcoming weeks. As the summer pushes on, the flower bed will bloom and grow, giving us something to look forward to all the way to August.
While I was pregnant, I had a vision of my newborn son sitting peacefully in his stroller while I putted around the garden, listening to birds chirp, taking breaks to sip homemade lemonade. I quickly discovered that my dreamy picture was entirely unrealistic. Truthfully, I rarely have a moment with both hands free, never mind getting them dirty in the garden! As it turns out, Miracle-Gro Flower Magic is about as much as I can handle this year, in terms of backyard transformation. It's nice to know that while I may not have energy to do much yard work, we will still have a sprinkling of flowers, m-a-g-i-c flowers no less.
Check the Love The Garden site for more info on all Miracle-Gro products and find out where the nearest store is to purchase Magic Flowers for your back yard.
Aaaand, if you're currently using Miracle-Gro Flower Magic, we want to see your results! Share your pics with us using the #flowermagicCA hashtag!
CONTEST
We're giving away an AMAZING Miracle-Gro starter kit, which includes a HAMMOCK (!!!) and SO MUCH MORE:
•             NEW Miracle Gro flower magic                (pink + white mix) •             Embossed watering can •             Water-repellant indoor/outdoor blanket •             Outdoor drink ware collection •             Durable, insulated and waterproof picnic basket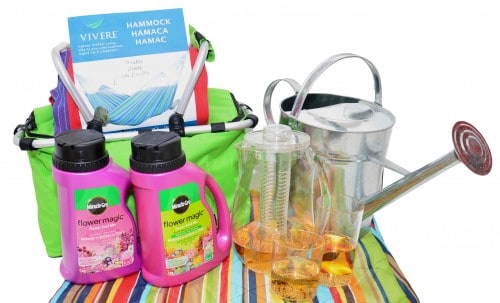 Enter by tweeting: "Dear @Shedoesthecity, I want to transform my garden with #flowermagicCA!"
  Contest is open to Canadian residents only. Winner will be notified by 4pm on June 10th, 2014.  
Miracle-Gro Flower Magic retails for $15.99 (MSRP) at leading home improvement centres including Canadian Tire, Home Depot, Rona and Lowes; major retailers such as Loblaws, Walmart, Shoppers Drug Mart, Target and Costco stores; as well as independent gardening centres.