Jane's Walks are an amazing, free way to explore your city, and gain a greater understanding of your urban environment. This weekend, all over the world,city dwellers will participate in walks! We picked our top choices for Toronto, Montreal and Vancouver, but there are long lists of amazing strolls going on in each city. Get excited to learn something new about the place you call home!

TORONTO
1. Returning to Nature in Your City Saturday, May 4th, 10 am
Bike to the Brickworks and enjoy a 2 hour walk with lots of greenery and gorgeous views. Led by Evergreen staff, this meandering nature walk will hit the Moore Park Ravine and up through North Rosedale. If the weather is nice, then we imagine this to be a pleasant reminder to just how lush and peaceful parts of downtown Toronto are.
2. Fields of Dreams in Jane & Finch Saturday, May 4th, 11 am
A few years back, I went on a Jane's Walk at Jane and Finch, and it completely changed my perception of this neighbourhood. With all the news headlines, the only thing that may come to mind when you think of this part of town is violence. Take this walk and you will be in for a surprise. Route includes an 8 acre organic farm, heritage farmhouse, old barn and fields into Blackcreek ravine.
3. Reggae, Rap's and Randy's Sounds and Spies of Eglinton West Saturday, May 4th, 12 pm
Mmmm….I love a walk with food and tunes. Head to Eglinton West and get a history of Toronto's vibrant reggae scene while tasting some of the best jerk chicken and Jamaican Patties around. Old school barbershops will also be a highlight on this walk.
4. MURDER in the Annex! Saturday, May 4th, 1 pm
UTS students do a historic tour of murders in the Annex neighbourhood. The Annex is always beautiful for an afternoon walk. Grab a David's Tea and get spooked by high school students. Following, go for your own stroll around the tree-lined streets with gorgeous mansions.
5. High Park Labyrinth Sunday, May 5th, 2 pm
If you were already considering heading to High Park to check out the Cherry Blossom festival, then go a little earlier or later and you can also get lost in a labrynth. Maybe bring a picnic?
6. Layers of Kensington Sunday, May 5th, 3 pm
The sounds, smells and tastes of Kensington always make for a perfect way to end the weekend. Take this walk for some thought-provoking discourse surrounding the history, growth and socio-economic changes of this vibrant neighbourhood and then grab a beer at Ronnie's Local or a slice at Wanda's Pie.
It was really hard to narrow the picks down to my top five, go here and see all the walks you can participate in this weekend.
~ Jen McNeely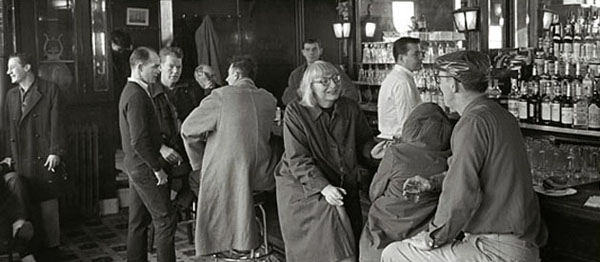 MONTREAL
1. A Community Mobilized for Social Housing: Can We Speak Louder Than A Condo? Sunday, May 5th, 1:30 pm-3pm, English
This walk takes place in the Cote-des-Neiges/NDG community of Mountain Sights, and it will highlight the neighbourhood groups who have struggled for years to demand social housing in this area. In a community previously known for gangs, drugs and violence, these citizens have worked hard to improve their neighbourhood. But frequent applications for affordable residences have been ignored by the city in favour of condo development. This walk will give you a chance to learn about the activism of housing groups in this area. Starting point: Namur Metro Ending point: Namur Metro
2. The Infringement Walking Tour: Exploring Anglo Montreal's Longest-Running Cultural Feud Saturday, May 4th, 4 pm- 5:30 pm, English
Local writer Marianne Ackerman describes it as "anglo Montreal's longest running cultural feud." When a bunch of artists were kicked out of the Fringe Festival ten years ago, they started the now-international infringement movement. This walk will feature experimental street theatre in bars, alleyways, theatres and parks around the Plateau. Starting point: Bar Bifteck, 3702 St-Laurent Ending Point: Barfly, 3702 St-Laurent
3. Pioneers of the Picket Line: History of Women in the Labour Movement Saturday, May 4th, 11 am-12:30 pm, English
With a focus on the work of Madeleine Parent and Lea Roback, this walk will chronicle the efforts of the women who fought for women's rights and the modern labour movement in Montreal. Starting point: Corner of Prince Arthur and Clark, in the park Ending Point: Parc des Ameriques, St-Laurent and Rachel
4. Meadowbrook Urban Nature Walk Sunday, May 5th, 11 am-12:30 pm, Bilingual
Tour the neighbourhood surrounding the Meadowbrook Golf Course and the homes and gardens in the area. Starting point: Corner of Chemin Cote St Luc and Westluke Ending point: Same
5. Discovering Jewish Plateau and Mile End Sunday, May 5th, 10 am -12 pm, Bilingual
Explore the 100 years of Jewish history in Mile End and the Plateau. The walk will tour temples, businesses and cultural institutions, and talk about the historical and literary figures who have defined the neighbourhood. Bring your smartphone or tablet to interact with the Interactive Museum of Jewish Montreal. Starting point: Bagg Street Shul, 3919 Rue Clark Ending point: 4690 Hutchison St.
For more Jane's Walks in Montreal, go here.
-Haley Cullingham
Vancouver
1.) Successful Garden Alternatives, Saturday, May 4 at 10:00am. A lawn or backyard isn't the only way to have a garden in a big city! This Walk will take you through 15 blocks of alternative gardening approaches when living in an urban landscape. The two Walk leaders rent a plot at the Vancouver City Hall Community Garden, so you know they know what's up.
2.) Take a Walk on the Wild Side – Wreck Beach, Saturday, May 4 at 10:00am. Yes, it's possible you'll see some naked people. But you'll also learn a lot about Wreck Beach's natural, geological, and political history! See resident and migratory birds, learn how native Musqueam and early pioneers used plants for medical purposes and fishing, and find out what local threats are harming the area. It's recommended that you bring water and a light lunch, because there will be a break along the way. You'll also encounter some steep trails with uneven and slippery surfaces, so make sure to wear sturdy shoes!
3.) Personal Geographies: Sharing Our Stories of the City, Saturday, May 4 at 3:00pm. This unconventional Walk lets the participants create and decide what stops you take. Walking through Gastown, Chinatown, and Strathcona, you are encouraged to share your memories and stories connected to the city and its landmarks—big or small. Creating a sort of collective geography as you continue along, the Walk is designed to let you see the city through the eyes of those around you. The route will be decided the day of the Walk, so if you've got a neighbourhood spot you want to tell a story about, don't be shy!
4.) The Trees of Thornton, Sunday, May 5 at 10:00am. Right in front of the train and bus station at Main and Terminal, Thornton Park is also an arboretum (tree museum!) housing species from all over the world. Aside from exploring the park's nature, you'll learn about its history—from being a side of the old Westminster Bridge before and a False Creek landfill during WWI, to being a centre point in the middle of a train shipping and warehousing district, up until its present-day incarnation as a beautiful nature space. You'll also discuss what might be in the park's future. There are a lot of other great Walks happening in this neighbourhood, so you may be able to catch more than one!
5.) An Alternative to the Broadway Subway, Sunday, May 5 at 10:00am. This Walk is actually a bike-only tour, so bring your wheels! The tour takes you on the route of a possible Light Rail Transit system that would run along Broadway. The system is being suggested as an alternative to the Broadway Subway plan, which is currently under discussion. The ground level Light Rail would be cheaper and faster to construct than a Subway, but would it be better in the long run? On the tour, you'll talk about the pros and cons of this alternative idea.
For a full list of Vancouver Walks, click here.
~ Sara Harowitz