The art that is emerging from this difficult chapter will outlive us to tell the story.
OCAD University may have closed its doors, but the artwork being created by the student body is as strong as ever. The images below share a small sample of work that has been created in response to the pandemic. Each of these pictures are affecting in their own right, but to view all of them at once, to absorb a variety of perspectives on this crisis quickly, is both immensely powerful and absolutely fascinating.
"They had very little access to art supplies and no access to studios. They had been physically separated from their classmates and faculty… However, one week after the shutdown, we began to see unbelievable art by our students being posted on Instagram," says Illene Sova, Ada Slaight Chair of Contemporary Drawing and Painting. "Shockingly beautiful pieces that directly responded to the new and surreal world that COVID-19 has created. Our students' resiliency and creativity in the artworks were breathtaking in their scope."
The artist statements as interesting as the art. Go to the OCAD InStudio site to view more works that have been created in quarantine.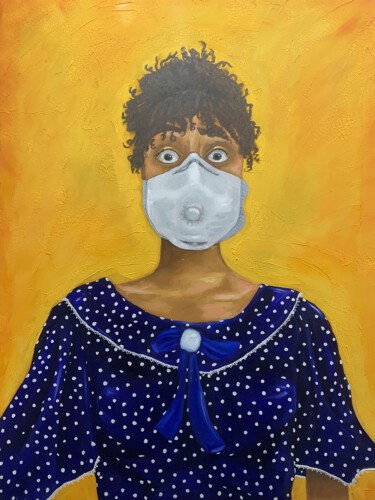 Ashley Waithe (first-year student) – Quarantine Self Portrait – oil and crackle paste on canvas, 38" x 50"
"COVID-19 is rapidly changing the way each person goes about their day, from being required to wear a mask to being asked to not leave the house. These protocols, as well as my own personal anxiety of the world crumbling, inspired the channeling of my fear into this. I decided to rethink my self-portrait into how I see myself and how others would be seeing me at this time, with not being able to see my full face behind the mask. The fear in my eyes is the only visible aspect of my face."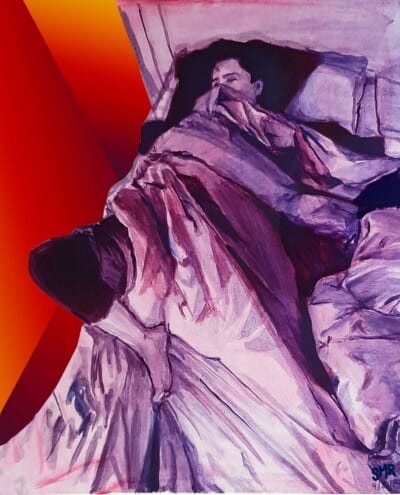 Susana Mingram (first-year student) – Sleeping Through It All – oils on canvas and Photoshop, 16″ x 20″
"What I've been enjoying the most during this COVID-19 lockdown is definitely sleeping. However, I also know that I could spend my time more wisely and stop being so lazy. Hence, I portrayed this picture of me in purple to represent the comfort and laziness I feel whenever I am in bed. The walls are coloured with a gradient of warm colours to represent the potential of being productive in the space around me, and not stay in bed. I did this digitally because it relates to my relationship with technology in these weird times."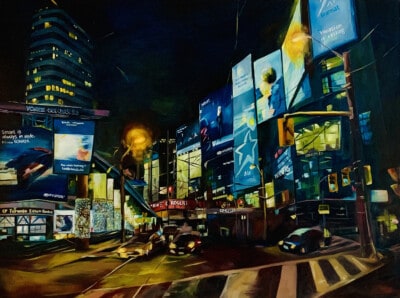 Sophia Kyungwon Kim (first-year student) – The Screen Age – oil on canvas, 48″ x 36″
"In this pandemic, I'm staying at home with three children, keeping social distance. Looking after three children who don't go to schools, I have two different feelings about the screens. I appreciate the convenience and usefulness of them, but also feel scared that perception through the screen replaces the five senses of being human. I feel like screens are gradually taking over the real world. For an expression of these feelings, I was reminded of Yonge and Dundas Square, which is the most flourishing and bustling place in Toronto. Intensive social isolation has made this street empty but full of colorful screens, just like our solitary life in a great city. As the scene seems to imply our life in 2020, I painted it in traditional way like contemporary history painting."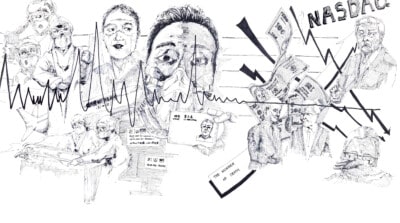 Arthur Zhang (first-year student) – The Real Virus – pen pencil and marker, 1.0m x 0.45m
"In the spring of 2020, the COVID-19 virus had spread for four months and caused tens of thousands of deaths around the world. However, many people are not able to get deserved treatments in time because of absurd reasons. Due to "existent divergences", some governments are not capable to do something to control the spread of virus. The elite, such as the president who wants to reopen the whole country to stop economic crisis and some American senators who hid the truth of the pandemic in order to sell their stock, should be responsible for this crisis more than the virus. Our society just like our body, needs an "immune system". This "real virus" killed much more people than COVID-19 did."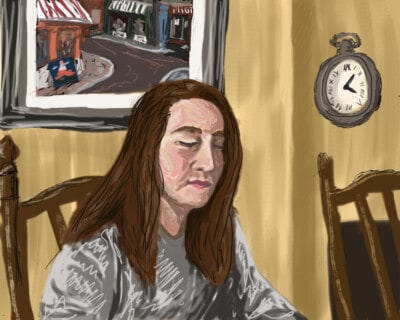 Andrew Ireland (third-year student) – Working from Home, digital painting, 2000 pixels x 1800 pixels
"Working from home is a piece made in response to the changing conditions of work, socialization, and relationships during our time in quarantine. It is a live model session done through a zoom call. For my partner (the subject of this piece) the pandemic meant a shift from working in an office space, to working at home. The digital element represents how I had to go from working in a studio to doing work at home with much less space to paint. All of our quality time together is now through video chats, and this holds true for many relationships, friendships, and families as well."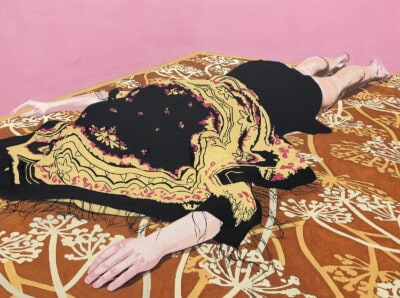 Tania Costa (fourth-year student) – Untitled – oil on canvas, 48″ x 36″
"I spent the first week of quarantine creating this piece for my thesis final. With a slight emphasis on pattern repetition and minimal colour use, this image depicts the weight of tradition, identity, and emotion on the female form. In many ways, this work also represents my emotional state during these unprecedented times."
Even in these Covid days, when there is less hustle and bustle than normal, it's rare that we stop to really think about what is happening around us. Sometimes it's too painful to do. Quietly viewing these works was not only an interesting exercise, but a helpful one.
Check out more student work on the OCAD site, maybe it will inspire you to try to process your own feelings through art.