Attention all foodies! President's Choice is stepping up their gourmet game in a big way. The popular chain has launched their new PC® Black Label Collection, and it is anything but ordinary. The line brings an array of fine foods and flavours from around the world right to the grocery store. During the Toronto FOOD & WINE Festival (which ran from September 18-20), I was invited to attend Diner En Noir – a five-course meal, featuring various Black Label products. With the promise of food prepared by all-star chefs, I dusted off my purdy party dress, food-bribed asked a strapping young gentleman to accompany me in all things delicious and headed to Evergreen Brick Works for a night of indulgence.
Once inside the beautiful Holcim Gallery, we were seated at a harvest table, and told that in addition to tantalizingly displaying the new PC products, each course would be paired with a wine from a Canadian or international winery. (I assume that the exact same sentence is used when entering the pearly gates of heaven.)
After some delicious appetizers, gin-based refreshments and charcuterie boards (which apparently men cannot resist) had been consumed, it was time for the courses to begin. The menu went a little something like this:
Ontario Heirloom Beet Salad
pulse vinaigrette, Ontario goat cheese, shaved empire apple
presented by Michael Steh, Chase Hospitality Group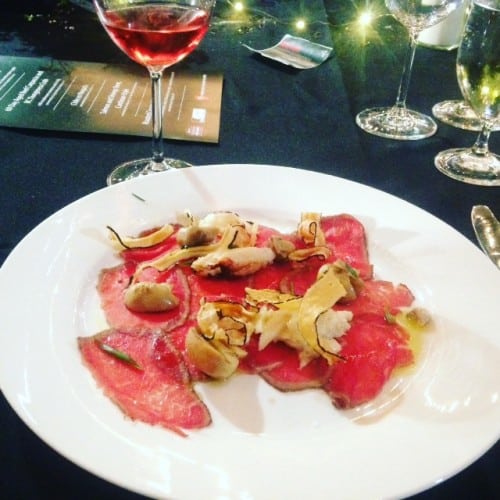 60 Day Aged Beef Carpaccio and BC Dungeness Crab
with mushroom conserva and salsify
presented by Craig Harding, Campagnolo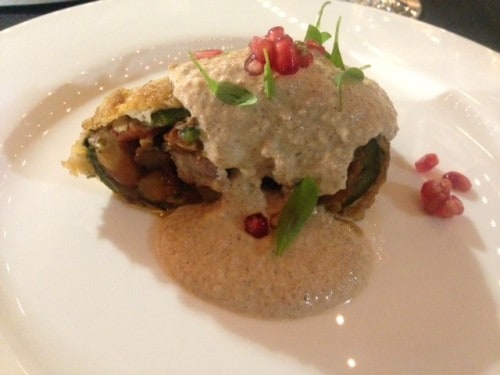 Chile en Nogada
presented by Elia Herrera, Los Colibris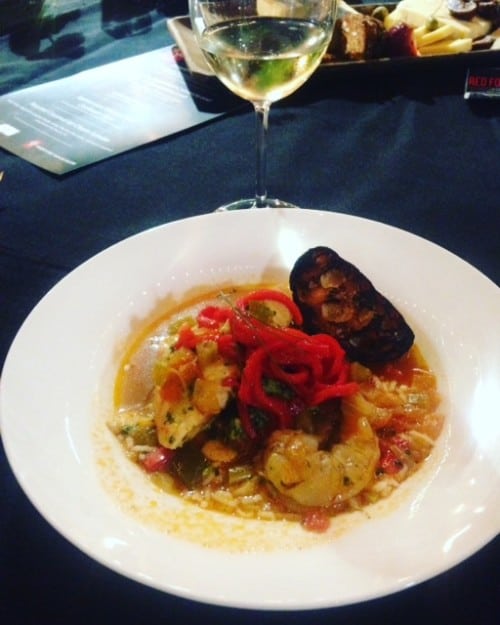 Salmon and Shrimp Stew, Carribean-Style
presented by Rick Moonen, True North Salmon Company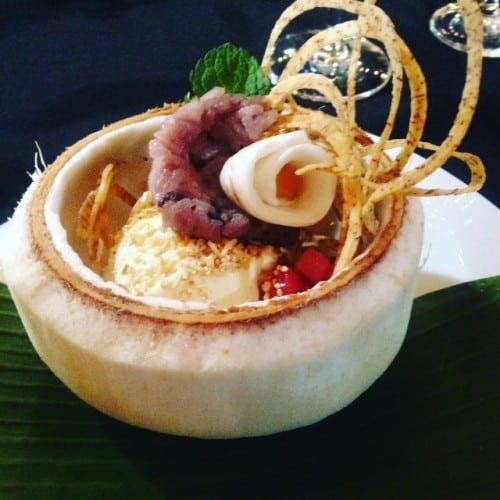 Roasted Coconut Ice Cream Sundae
with taro fritter dipped in sesame seeds, sticky Thai rice two ways and served in a coconut
presented by Nuit Regular, Pai
Sound delicious? It was. And as if that wasn't enough, guests were also sent home with various Black Label products that were featured throughout the evening. Items such as lemon-citron infused olive oil (which I have already cooked with twice), Thai rice, lambrusco grape condiment, Nero di seppia (pasta with cuttlefish ink), olives and grilled and marinated mushroom halves (which I may have eaten straight from the jar – no shame). This new line from President's Choice is worth checking out. Gourmet flavours at discount prices is truly hard to beat. Your taste buds, wallet and Instagram account will thank you.