In the fall of 2016 I packed my bag and got on a direct five-hour flight to Costa Rica. I was granted an amazing opportunity from rock-it's Deb G. when I needed it the most: I would attend a one-week yoga retreat at Anamaya Resort on the tip of the Nicoya Peninsula, and report back to SDTC.
I've been practicing yoga for about ten years now but have taken a more serious interest in it the past year, as a tool to help deal with some bad life stuff. Ommmmmmmm.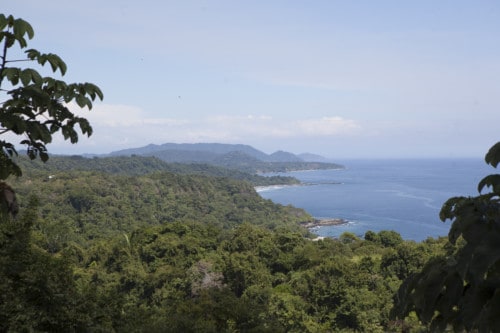 Anamaya is paradise. The roads to get there from the airport were bumpy, but when you finally reach the top, you're welcomed by the staff and handed a fresh, organic, ice-cold smoothie. You walk past the two-level saltwater infinity pool into a jaw-dropping panoramic view of the jungle and the Pacific Ocean.
It's hard to describe with words and photos alone, but it feels as though you're on top of the world and snuggling with the universe. Everywhere you look is spilling over with exotic wildlife, like capuchin monkeys and blue iguanas. And the view – OMG.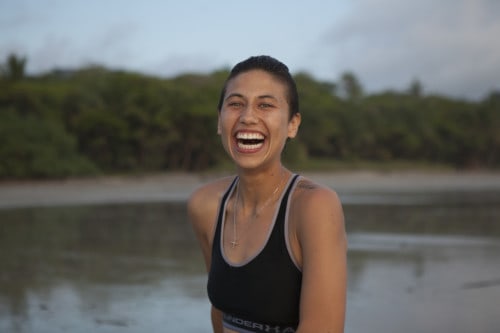 Two open air-studio spaces is where the yoga – and magic – happens at Anamaya, with stunning views to soothe you during your practice.
On our first night we shared our personal goals for the retreat at a Welcome Circle. Meeting the people at the retreat was one of the best parts of the whole experience. We came together as a diverse group of like-minded individuals from the United States, Canada and Europe, and by the end of the week, we felt like one big family.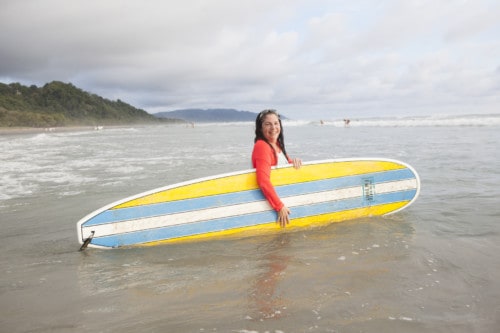 Every morning we would meet for a class taught by the amazing Leah Johnson and her assistant Amee Blank Willoughby, both from Denver, Colorado. Leah kicked my butt in the best way possible. Her classes would force me to shed whatever skin I brought with me that morning that was no longer helping me, sweat it out and leave it all on the mat. Doing yoga outdoors in the tropical heat released those deep layers of tension and stiffness that photographers often carry in their bodies. Sweat, baby, sweat!
In the early evenings we would meet again for a more calming, restorative, yin-type class in a studio that faced the jungle. Between our two daily yoga classes, some attended holistic workshops with lots of activities offered (e.g., surf lessons, zip-lining over forest canopies, dance & cooking classes, and hiking to the nearby Montezuma waterfall). Or you could slide into a lounge chair by the pool, stare off into the horizon, and absentmindedly eat local dark chocolate and sip wine.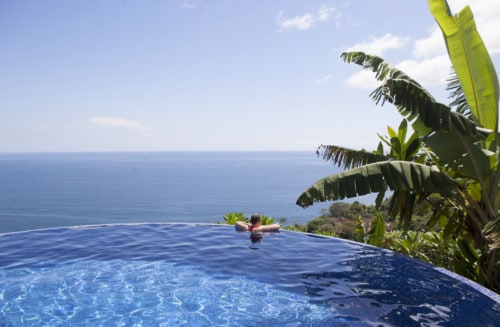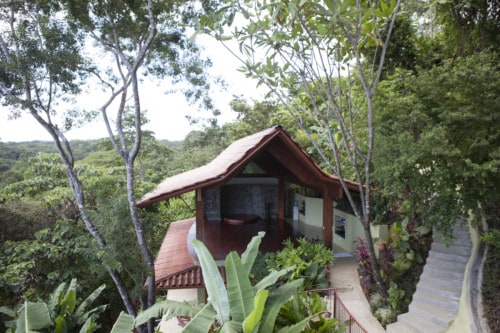 Anamaya has many delightful Spa Treatments with incredibly talented healers, ranging from massages to Reiki to Watsu, a gentle massage done in the nearby ocean tide pools. (I did a Cranial Sacral & Oriental Head Massage with the amazing Dianne.)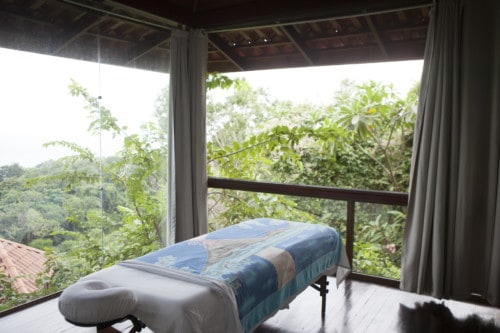 I can't finish this article without mentioning the four-letter word that starts with F. I'm sure my other retreat mates would agree it's worth praising: the FOOD! The food at Anamaya was the best and made me feel the best. Every day we were treated to three meals, plus dessert and a few snacks throughout the day, with fresh fruit and granola always available.
Anamaya gets their food from their nearby farm, Rancho Delicioso. Everything is fresh, organic, gluten free and mostly vegan, with just the right amount of cheese and meat indulgences if you wish to partake. Eating organic for one week made me feel so good that I am trying to keep up the habit as much as I can at home.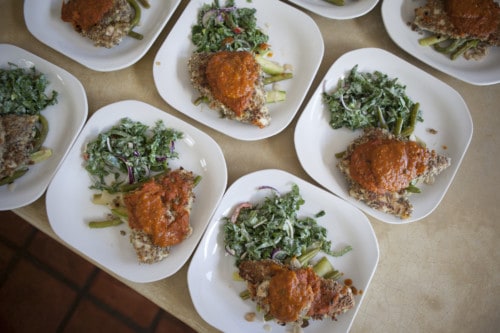 On our last night we were treated to a beach bonfire, incredible feast and talent showcase, with fire spinning, dance and acrobatics. I had the time of my life at Anamaya and I can't wait to return someday. My yoga retreat started off my travels in Costa Rica, which I continued on with, but nothing else for the rest of my trip came close to matching what Anamaya has to offer.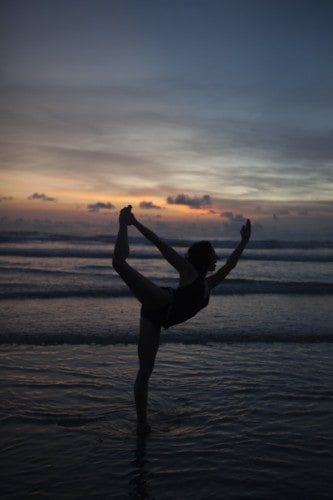 Click any image below to view gallery.