We sent photographer Tiana Smith to the CNE for opening weekend with a clear assignment: capture the joy and the fun! The pics she snapped are full of beautiful smiles and do a wonderful job at reflecting the magic that is The Ex, as experienced by people of all ages—friends, couples, families… EVERYONE!
Are you drawn to the fairground for the thrilling rides? Or are you more curious about the wacky food? What we always look forward to most is the bright colours, the magnificent people watching, and just walking around to take in the vibrancy of the scene—the glowing lights, the whirring sounds, and the laughter.
Tiana caught so many enchanting moments, where people were bursting with excitement, happy to be exactly where they were. We also love how she captured the nostalgia factor, from the retro signs to favourite treats like snow cones, cotton candy, funnel cake and popcorn.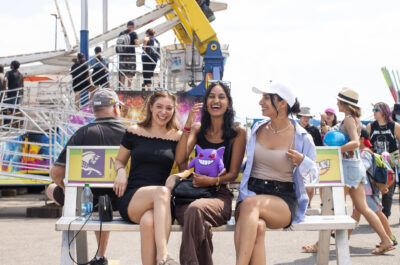 If you haven't yet made it down, the CNE is running until September 5th! Take a spin on the new 34ft tall Double-Decker Merry-Go-Round, which offers sky-high views of the midway. This weekend (Aug 25-28), feast the world at the Food Truck Frenzy, with 20 vendors offering global fare from perogies to Egyptian street food, Caribbean roti to pho dumplings. For a trip back in time, join the CNE Ghost Walks to learn about the fair's haunted history and legendary spirits. If you like dazzling lights, stick around after sundown for the nightly drone show! There's so much to see and do this year.
To purchase tickets, ride passes, and for more information on discounts and promotions, go to www.TheEx.com