Bring back the drunken panda bears! Open the gates and let the animals dance! Blow up a gazillion red helium balloons and let the roller derby chicks fly down the candy aisle because this year's Powerball, benefiting the Harbourfront's Power Plant Gallery, was themed THE BEST OF….or the ball that started it all.
Why? Because it has been twelve years since the inauguration of this fabulous soiree. There is no real rhyme or reason as to why the number twelve equals the best of, but we didn't question it, we just arrived ready to party harder than ever.
Photography by Lynsie Roberts http://www.lynsieroberts.com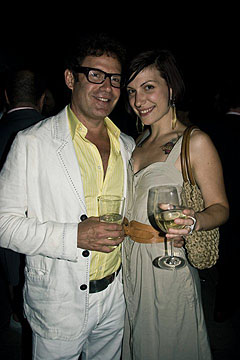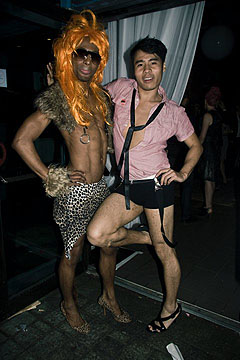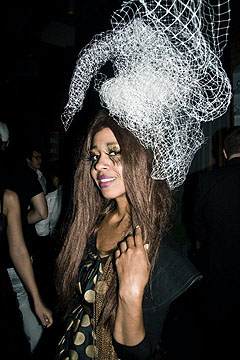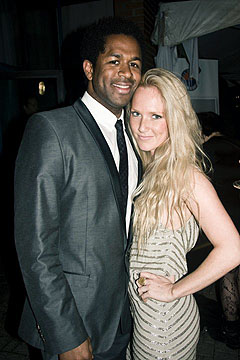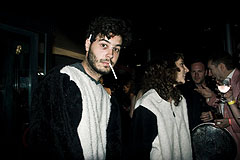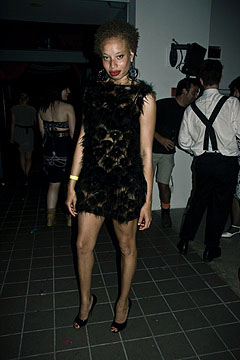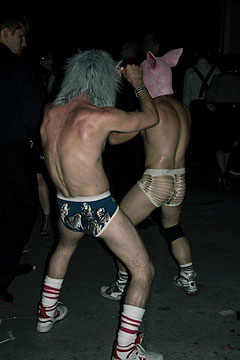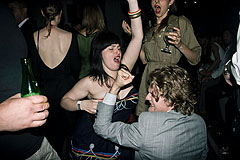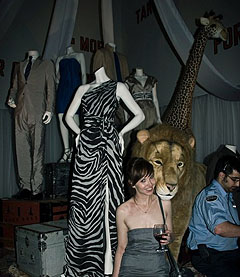 We considered dressing like that 1970's Sesame Street pinball number song that crescendos to twelve but that proved too difficult. Then we thought we'd build a kind of cape out of egg cartons, but figured it was too similar to last year's PC paper bag. Wanting to do something artsy, and at our wits end, we took a piece of cloth from the yard and tied it in a knot. That was a poor decision.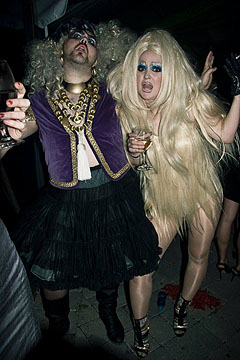 Posing Drag Queens blocked the doorways, Robert Lantos puffed a giant cigar, MTV's Dan and Jessi ran through the narrow halls avoiding Bay St. paparazzi, Jaclflash-turned-Jaclife's Jaclyn Genovese flipped her long blonde locks, and catwalk connoisseur Stacey McKenzie showed us some leg as we snaked our way through the maze of pink feathered boas.
Packed, wild, boisterous and big – one room felt like a gay Lord of the Flies type rave while the next was more an uninhibited BMO holiday rager. Like a game of survival, every once in awhile we'd spot an actual artist. (In our own minds, this meant we were winning.)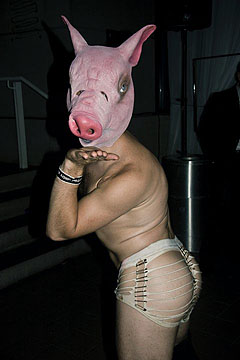 After creating a scene at the AGO's Massive Party!, Nadja Sayej and her Art Stars crew weren't granted media access to the Powerball, but we spotted her inside the tents, supposedly after this rant she had about the Toronto art scene.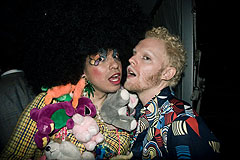 Yes, it's crazy, but what truly distinguishes the Powerball from other fundraisers? Carnal lust. Last year there was oral sex caught on camera in the outdoor sauna and this year while my husband was standing at the urinal a strange man inquired:
"Can I blow you before you finish?"
No thanks, but we do appreciate the outlandish behaviour.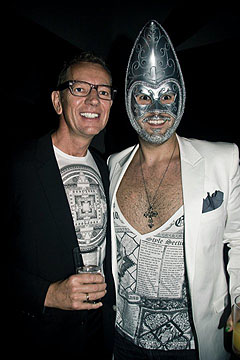 There's a reason why those $175 tickets sell out. It's not just an event but a sinful carnival…..in the name of art. Here's to a dirty dozen.