How do you go one louder than decadence? Is it possible?
Boasting a theme of Decadence, Power Ball last year smelled of sex, money and booze. Swap money for pork, throw in a 1970's caravan and a dirty hot tub full of the promiscuous Kings of Queen West and you've got one louder: T-R-A-S-H.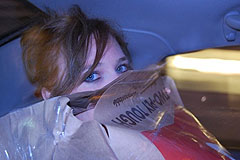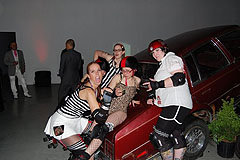 DERBY GIRLS ON A RUSTY CADILLAC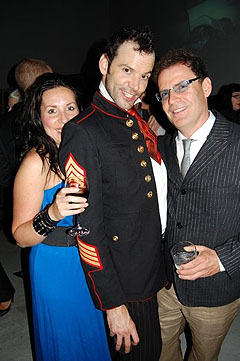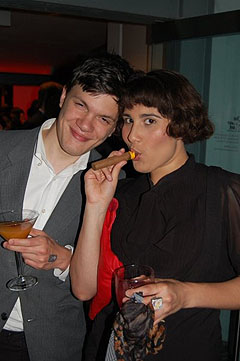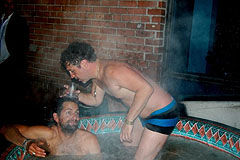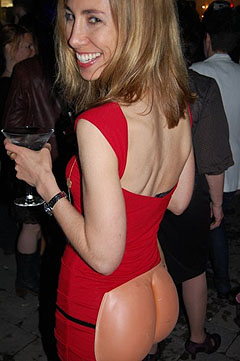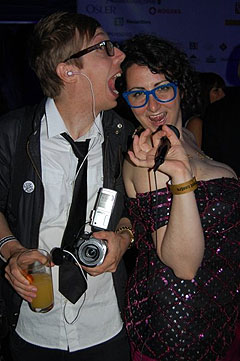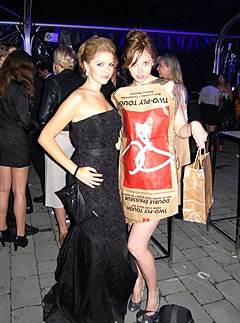 Ainsley Kerr goes louder by dressing to the nine.fives.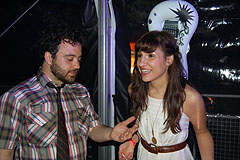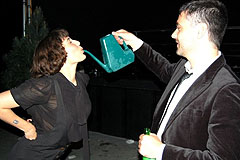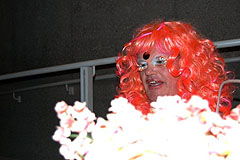 Instead of choreographed burlesque and whimsical acrobats, there were rough and tumble roller derby chicks who tore around on dusty skates nearly knocking over a somewhat misplaced Robert Lantos. For $160 the straight laced Leslieville blonde did not find the grilled cheese appetizers kitschy but cheap. I can't say I had the same resentment towards the low brow snack but was slightly taken back when a used thong got tossed in my face.
Castor's camper van became a breeding ground for Lord of The Flies mentality; Bay Street bankers and gallery owners took turns jabbing for chunks of cooked flesh from a wide-eyed piggy crucified on a giant stick.
A simple black cocktail dress just wouldn't do – so I opted for the President's Choice outdoor waste brown bag. The reaction ranged from "You are a leaf blower's wet dream" to "What were you last year, PC Decadent Chocolate Chip Cookies?" to the unimaginative; "Please explain." Although the cab ride was a little stiff and tricky, bragging about the $3 design was far more gratifying than showing off some shiny new Louboutins. And no, I don't work for President's Choice, but when compared to the Metro Our Compliments number – it was clear which one offered a more flattering silhouette, and plus the PC font is practically Oscar de la Renta.
What was not fun about the outfit? Hipster paparazzi thought it would be hilarious (?), artistic (?) to torch it on fire with a cigarette lighter. In a near fiery moment, I had to rely on party mode defense number one – throw red wine. The stain was most deserved.
Richard Lambert, owner of the Social, held court in the hot tub and occasionally got up to stroll to the bar in wet knickers. Meanwhile, drunk twenty-somethings took turns stirring the hot coals and playing a rather dangerous truth or dare.
I tried to get my fortune read by dragged-out Andrew Harwood but instead he deliberately smashed a glass on the floor and blasted hairspray in my mouth. He was more than happy to dole out his psychic hogwash to artist Luis Jacob and mega movie sales agent/art collector Charlotte Mickey. Slightly miffed, I expressed that I had been bumped from Harwood's line twice. Exhaling a ciggy he said:



"Honey, you are white, free and twenty one…you are fine."
Content with my forever 21 cast, I hit the dance floor and was:
A: Rubbed up against by a naked bum
B: Choked by the spout of a beer watering can
C: Handled like a bag of backyard waste
D: All of the above.
The correct answer is D; it was time to go. To 7/11 that is, where the best art happens …at least at 2AM.
The half dozen late night drifters echoed a similar sentiment "Woooah…you are tripping me out…" One man was happy to reach for the largest bag of potato chips he had ever seen, "Just what I was looking for…I'm so hungry," attempting to latch on to my bag. Sorry Sir, but you have me mistaken for a Lay.
Was it one louder? Yes it was.
Weekend Ideas, Parties & Art Happenings!