Power Ball XIX: Stereo Vision, presented by MaxMara, is going down THIS THURSDAY at The Power Plant Contemporary Art Gallery. If you're a newbie, let us fill you in: this is Toronto's wildest fancy schmancy art fête known for its over-the-top art installations that rupture every room. Lucky for you, there's still time to buy tix.
Get ready to explore the waterfront gallery where you will be transported into a series of hidden worlds and parallel universes. (Oooooh, what does this even mean? We envision technicolour tunnels that lead to…open bars.)
Go full tilt and get in on the VIP experience by The Drake that kicks off at 7pm. Mexico City-based architecture and design studio Pedro & Juana will create an environment to introduce the Stereo Vision theme. Drake Catering will complement and enhance the performance with an innovative menu that reflects the alternate realities presented throughout the event.
Beyond the art, the food, the libations, and the Lake Ontario breeze, this is a party that always showcases the boldest in Canadian fashion design, but you can also get away with wearing, let's say, a PC Paper Bag. (Pic below from Power Ball 2009, when I had no money to splurge on a dress, so I did the paper-bag princess thing.) (It was fun until I nearly caught on fire.)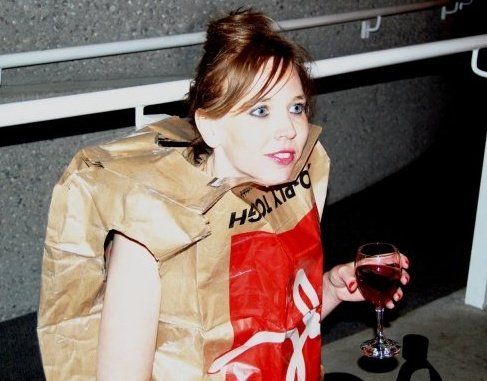 Of course, if you're looking to aim a little, Gracie Carroll of the Chic Canuck put together a killer list of homegrown designers for a little #PowerBallTO costume inspo.
GOOD TIMES, people. GOOD TIMES. Don't fuck this up: get yer tix now. More party deets here, in case I haven't sold it to you.