Pride Month is here, and with it comes a slew of fantastic speakers, events, dance parties, panel discussions, screenings, show-tunes karaoke and more. We're featuring exclusive interviews with those helping make Pride 2016 the best one yet.
Judy Virago is a Toronto gender performance artist originally from New Zealand. Judy is a member of House of Filth (a popular collective of drag queens/performers in the city). We caught up with Judy to find out what she has in store for #PrideTO.
What can we expect from your Pride numbers this year?
The usual tawdry, tacky, pop-cultural abortions wrapped in smut, sequins and sucralose that I've been peddling for years, darling!
The House of Filth has a number of great events in store: we're co-hosting a drag/dog show called Doggie Show with Bath Salts and the Luminato Festival on Friday June 24th at the Hearn Generating Station. We've got our annual House of Filth Family Showcase on Monday June 27th at the Beaver, which is by far our busiest Beaver night after NYE. And of course, this year I'm hosting Alternaqueer on the Budlight South Stage on July 1st and opening the evening with a Trash Cabaret. Be prepared for food and fluids flying off the stage. Then I'm closing up Pride by taking over Sinful Sundays at Cherry Cola's with the rest of the House of Filth for a rock-n-roll draglesque cabaret.
Will you be sticking around after your shows? Any events/talks/people you're looking forward to seeing?
I'm really looking forward to aQUEERium at Ripley's Aquarium on Sunday June 26th. I'm super excited to see Vag Halen perform for Alternaqueer, and Viktoria Modesta on Saturday July 2nd on the Budlight Southstage for Lez Get it On!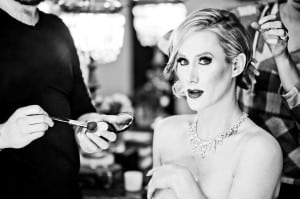 What's next for you after Pride? How do you recover from all the work, play and excitement?
Maybe head away on vacation. Maybe a staycation by the pool. We'll see how messy my room gets.
What do you love about Canadians?
They'll always leave the last piece of a shared meal, which leaves it open for me. Kakaw! Oh, and their generally progressive, inclusive politics, overall friendliness, high level of talent and low level of pretension. I live in a bubble of good people, but I'm sure there are plenty of terrible Canadians out there too.
What is your musical guilty pleasure?
Katy Perry (*hides face in shame/pride*) .
Fill in the blank: Sexy is ______
Idiosyncratic.
What do you want to happen for trans people in 2016?
I would like for us to get to a point where being transgender is no longer sensational, where trans characters on TV are just characters, not simply featured for their gender variance. I want trans people not just to be accepted, but integrated. I want to see trans protections legislated not just in Canada but also around the world.
What word or phrase should we all use more? 
"You're welcome." I think a lot of people feel uncomfortable about being thanked and brush it off with phrases like, "No problem." Recognize that you've done something someone else appreciates and that your time has value.