Pride Month is just around the corner, and with it comes a slew of fantastic speakers, events, dance parties, panel discussions, screenings, show-tunes karaoke and more. We're featuring exclusive interviews with those helping make Pride 2016 the best one yet.
Teddy Syrette will be speaking at Human Rights Panels: Trans Rights in the New Generation. Teddy is a two-spirited genderqueer activist hailing from Batchewana First Nation, Sault Ste. Marie.
SDTC: You're a two-spirited genderqueer activist. Can you explain what that means?
TS: I identify as a two-spirit person because I identify as queer and I'm First Nation. I'm also gender fluid, which means that my gender identity and gender expression is always fluctuating. Two-spirit is a term by First Nation folks who wish not to identify by using western concepts or constructs when talking about their sexuality and gender. Two-spirit is also encompassing of not only sexuality and gender, but also of community, cultural practices and spirituality. It can also be political, because it is a term of reclamation of what was lost during colonization and impacts of residential schools and the 1960s scoop. Queer folks were here before first contact, and it was homophobia, biphobia and transphobia that assisted with the assimilation process of my people.
I've been a social justice activist ever since I was a youth. I volunteered at powwows at Rankin Reserve of Batchewana First Nation and also the Shingwauk Residential School Survivor conferences at Algoma University. My grandmother, Elizabeth McCoy, was one of the founding members of the Sault Ste. Marie Indian Friendship Centre and we were close. She taught me what it meant to stick up for others, and for myself. She loved her community and I admired her with all my heart. Her passion for life and social awareness is reflected in me and the work I do in queer and Indigenous communities.
Can you describe when you first realized you were two-spirited?
When I was fifteen, a friend told me that I could go to powwows but couldn't take part in them because I was gay. Not being raised nor taught through that traditional lens, I had no understanding of why this was a thing. I got very angry, because I always wanted to learn more about my heritage as an Ojibway person. But being told by someone whose family had a lot of power in the community, my naivety figured that what they told me was true, until a non-Indigenous person told me about 'two-spiritness' five years later. I was reluctant to believe them, because if it were true, that I could be First Nation and gay, then how come people in my own community treated me differently? I still feel uncomfortable sometimes when I'm in certain social settings. I've been tokenized before for being 'that' person, even by my peers, but now I question everything. Because you don't know what you're looking for until you start asking yourself those questions.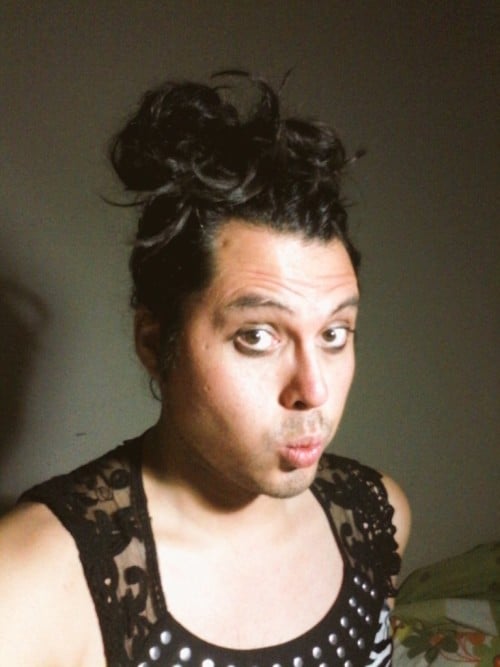 What did that feel like?
It was exhausting, but it felt so encouraging to work through my trauma. I faced aspects of racism and homophobia as a young child, by my schoolmates, community members and even within my own family. It took a long time for my mother to understand who I was, and the work I wanted to be doing; however, I think she took it harder when I told her I wanted to be an artist. "Not my son!" "Why me, Lord?" and "How could you do this to me?" were some examples of what she said when I told her that I wanted to write and do theatre. Which wasn't so bad, because when I told her I was gay she asked if it was a phase and told me not tell my father.
Today I work at Egale Canada Human Rights Trust as their Two-Spirit Projects Coordinator and Facilitator, which is my dream job. At fifteen, I knew about Egale and wanted to work with them someday doing queer-indigenous advocacy, and now I am.
You're based in the Sault area. I know that it isn't always thought of as the most progressive place in Canada. How has it been for you personally?
It has always been a bit tough growing up in the Sault, I won't lie. Even though Sault Ste. Marie prides itself on being the 'friendliest city of Algoma,' it is technically the only city of Algoma. I faced racism and homophobia all my life there. Even as an out and proud person, doing advocacy and social justice, I'd still get followed into certain stores or be called a 'faggot' from passing cars.
Has the Sault come a long way from where we were fifteen years ago? Of course. Do we have a long way to go until we are inclusive and as progressive as other cities? The answer is a resounding yes. And it isn't that hard to be kind and respectful of others. Folks just need to stop being buttholes towards each other. And to get over the fact that not every neighbour is going to look like you, act like you and have the same viewpoints as you.
What do you want young people to take away from your talk at Pride?
I want people to walk away knowing that not every gender fluid person is transgendered. I'm not transgendered; I just like to look and feel pretty.
What pronoun do you prefer?
I am open to any pronouns, so he/him, she/her, they/them. But folks can call me a unicorn too, since I think I'm pretty magical.
What is one surprising fact about yourself you'd like to share?
I do a lot of community outreach, attend many social events and love delivering keynotes and workshops, but I can be devastatingly shy. Knowing that I have to talk with someone one-on-one (besides doing an interview), I get very anxious. It is common for me to find quiet time and disengage from what is going on, because I live in my head too much. Sometimes I'm on my phone, and folks think I'm doing something on social media or answering messages, when really I'm just using it to deflect any social encounters with other people. I love my solitude, which probably explains why I'm single. Yeah, let's just say that's the reason why I'm single. Cool.