This is not my first rodeo (I mean, Pride). It is, however, my first Pride with a wife. The difference is bigger than I anticipated.
Marriage was never something I planned on. As a kid, I never dreamed of being a bride. I consistently responded with sarcasm to adults' invocations that I would "change my mind" when I "met a man and fell in love." I never did. It was never in me to do so.
Love, for me, was no option. Despite being bisexual in terms of attraction, it took me years to realize that romantically, I'm gay as hell. I like men; I love women. It has always been thus – my girlhood friends' crushes on boys felt like a personal betrayal to me, a gruff tomboy without a subtle bone in my body.
My love for my fellow girls and women never turned romantic until I was much older – as a young person I was distinctly aromantic, attracted to men but spurned by them romantically for being too much – too fat, too loud, too opinionated. Being a fat straight woman is hell; finding love among a group of people socialized to find your body loathsome is a bleak prospect indeed. In some ways, it might have been easier. I never had to realize I was unable to love a man because I never found one to love me in the first place.
Dyke was always a nasty word; lesbian an insult hurled around high school locker rooms. I didn't identify with those words and so never felt the need to defend myself against them.
I shaved my head two days before the start of high school and was called all kinds of slurs to my face and behind my back. I'd shrug and insist there was nothing to it; if I liked women I would simply say so.
Years would pass where I blithely insisted that "I wished" I could date women, it would be so much easier, men were awful, etc. But I never tried. I didn't have those feelings in my heart. My heart was a still-walled up palace I hadn't dared to venture into.
By the time I met my wife, I had given up on romance. I had channeled all my energy into intense girl friendships and a near-constant sense of impending betrayal by my more romantically inclined friends, straight and queer alike. I was always the third wheel and had come to accept and even embrace that role.
I was aghast at how breathless she made me. Our courtship was fueled by long nights talking, carefully avoiding crossing the line that could ruin our blossoming friendship with a romantic or sexual misstep. By the time we got to what we now call our "first date," I had crashed on her couch with increasing frequency, both of us hoping the other would bravely make the first move.
Bravely, because neither of us had ever been in serious relationships before. We were each a kind of lone wolf who didn't expect or intend to find a life partner.
When we did finally kiss, everything that would come thereafter was sealed. The metamorphosis from unwittingly closeted to tentatively bisexual to full-on married queer was as natural as breathing, as swimming in body-temperature water. I was awake and alive to feelings I hadn't dared to feel.
Coming out at age thirty was an interesting place to land. More than a few straight men on the outskirts of my existence chuckled knowingly over it. Of course I was a dyke. Of course I was so miserable. Of course it explained so much of my political beliefs, my antagonistic attitudes, my very being.
Long-time friends (not the real ones, of course) churlishly extorted me with "I told you so." But they hadn't told me so. They'd only suspected that my lack of romance was an indicator that I was different from them. No one told me shit. I was an island with no lines in or out. My wife is the first person to make that perilous journey across shark infested waters. For that, I am humbled, and grateful, and above all, deeply, helplessly in love with her.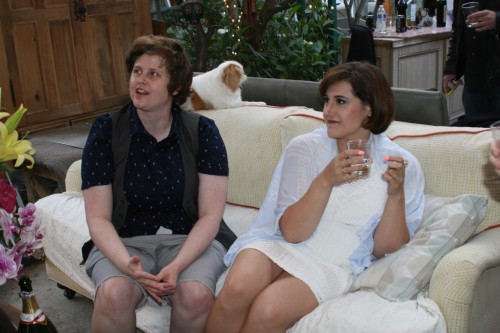 Coming out is different for all of us, and I too have played the all-too-knowing straight person who knew someone was queer. Nowadays I look on those moments with a mix of disgust and self-pity. That kind of smug knowing comes from a place pitted with deep, unmoving self-hatred. Outing someone is a kind of violence that a fully hetero cis person may not really be able to comprehend.
Pride is a place of resistance – a place where we demand the space to live and breathe freely, to love openly, and to be accepted in the way that straight people have always just been. No matter how long it takes us, eventually we all find our home in a very loosely gathered community that gets lumped in together as "not straight."
When we were engaged, there were times where people would hear me say "fiancé" and assume I was marrying a man. I would rarely correct someone so desperate to believe I was straight. I would let the lie rest.
When I travel with my wife, I find myself protecting us, this little family we've built. Some places, I am careful to not announce her as my wife. Some places, we don't hold hands or kiss. Some places, we let the hotel clerk announce us as "sisters" or "friends" and give us a "free upgrade" to two queen beds rather than one. They think they're doing us a favour. Sometimes, they might even think they are saving us from ourselves.
We may have Pride, but many people still would prefer we didn't. Knowing that is harrowing, but it is part of the burden of loving in a world that hasn't fully caught up yet. All we can do is love, and share our love with our chosen family of queers and weirdos. All we can do is hope it gets easier, quieter, to be ourselves.
This year, my first Pride as a wife with a wife, I can fully say for the first time, I am whole, not for having found another person, but for finding myself.
A safe and happy Pride to all of you.