What is the meaning behind a veil? And what do our assumptions about veiled women say about us? Mariam Magsi's MFA thesis project, Purdah, examines veiling – burqa, niqab and hijab – through a feminist lens.
We asked Mariam about Purdah, her work and her life.
SDTC: Tell us a bit about your background.
MM: I was born and raised in Karachi, Pakistan, and moved to Toronto in 2004 to do my undergrad at the University of Toronto. I am currently doing my Masters of Fine Arts in the Interdisciplinary Art, Media and Design program at OCAD University.
My mother, Adeen Taji, is a published poet and deeply involved with the audio composition of ghazals, a poetic form with rhyming couplets set to musical notes. Her written works have been sung by classical ghazal vocalists in Pakistan and India. I was encouraged to paint, photograph, write, play the piano and read for pleasure from a young age. My father, Nawabzada Tariq Magsi, is a politician and an agriculturist. From him, I get my passion for politics, history, nature and land.
My maternal family moved to Pakistan from India during partition in 1947. My paternal family belongs to the Magsi tribe in Balochistan and originates from Iran. My ancestry celebrates a Sufi-Islamic, Punjabi/Baloch heritage that is centuries old.
What/who are your influences?
Growing up in Pakistan, I was exposed to the works of incredible artists such as Sadequain and Ismail Gulgee. As I expanded my photography practice, I came to learn and love the works of Nan Goldin, Vivan Maier, Diane Arbus, Shirin Neshat, Lalla Essaydi, Guy Bourdin and Cindy Sherman. For performative and interactive works, I am particularly drawn to Marina Abramovic and Ai Weiwei.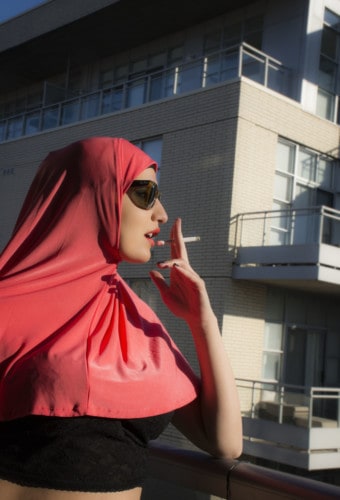 What's the story behind your Purdah series?
I was documenting everyday scenes on the outskirts of Karachi when I took a photograph of a family crossing the unpaved road. The women of the family were veiled with burqas from head to toe, which is a common sight there. As I studied the image in my studio later, I was intrigued by the embroidery on the burqas and the rhinestones on their heeled shoes.
I found myself conversing with and photographing veiled individuals consistently after that encounter, manifesting a large database of sorts. I procured a few veils for myself embarking on an artistic and social investigation, collaborating with individuals who lent their bodies and narratives to the project enriching it with unique stories and perspectives.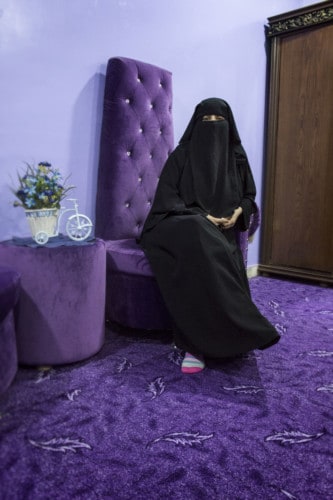 Purdah, the word itself, is derived from Persian and is also used in my mother tongue, Urdu. It signifies to isolate oneself or seclude others, to wear enveloping clothing and/or to veil. The word also signifies curtains in the literal sense.
Purdah is the overarching umbrella concept of the project under which I record the diversity in the readings, meanings and interpretations of veils associated with Islam, while studying their social, historical and gendered contexts, through a postcolonial, intersectional, feminist lens. Using travel-led, ethnographic research methods, I have ventured to Pakistan, Morocco, Dubai and Muslim-populated parts of Toronto to obtain narratives, photographs and videos of individuals that engage with veiling.
The participants who have generously lent themselves to the project are diverse with complex, nuanced lives fighting against a specific set of hegemonies and patriarchies within their own communities as well as the globe at large. When veiled Muslims get herded into boxed in, narrow categories of oppressed vs. liberated, these rich narratives and diverse perspectives are completely lost. Feminist Chimamanda Ngozi Adichie comes to mind when she says:
"The single story creates stereotypes, and the problem with stereotypes is not that they are untrue, but that they are incomplete. They make one story become the only story."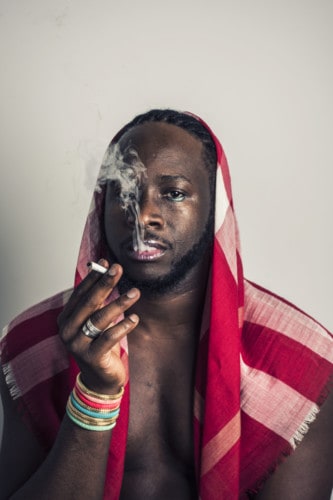 What can we expect to see at your Purdah thesis exhibition?
Purdah showcases the ethnographic process work in one gallery, celebrating the diverse richness of the participants through large prints installed alongside text interviews. The images and text create a tension. Visitors to the gallery may look at a portrait of a young twenty-something covered from head to toe in a niqab and impulsively feel the need to categorize or stereotype her, but the text, which is extracted from in-person interviews with the participant, tells an unexpected and unique story. In this case, the niqab-wearing individual has fought the patriarchal structures within her family in order to pursue higher education in the medical field. While her views may not align with western, hegemonic feminism, space needs to be created to respect and appreciate her struggles and her feminism. After all, is inclusivity not the defining role of postcolonial, intersectional feminism?
Exiting this space, visitors to the gallery will walk through a vinyl installation that consists of multiple burqa-clad individuals. This piece is a political response to President Donald Trump's preposterous and insulting proposal to track Muslims through a registry. The piece is titled "The Registry."
The final component of the exhibition is a collaboration with Swiss/Canadian artist and designer, Camal Pirbhai. Pirbhai is a genius with textiles and who better to work on a conceptual burqa and purdah with than one of Canada's renowned designers? We are activating the space with a burqa-inspired viewing station that will invite viewers to look at two visual projections on opposite walls through the fragmented lens of a mesh that serves as a screen, directly influenced by the mesh that goes over the eyes on a traditional burqa. There will be a sound installation in this gallery as well.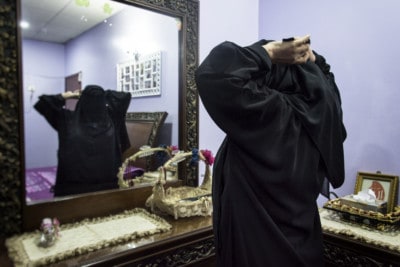 What did you learn during this process?
While investigating veils associated with Islam, I came upon information related to familial ancestry that I was not aware of prior to this project. My great-grandmother wore a burqa yet commanded her family with matriarchal strength, running a twenty-five-bedroom mansion in pre-partition, interior Punjab. She smoked the hookah on a nightly basis and offered her prayers and slept on a wooden pedestal erected at the centre of her home. My maternal grandmother also wore a burqa.
My grandfather, Chaudhry Saab, a soldier in the British army did not endorse traditional practices such as veiling. He led a westernized lifestyle influenced by friendships with British and German settlers and though he asked [my grandmother] to remove her veil on multiple occasions, she refused. He disliked the practice so much that when they travelled through the streets of Lahore in his Volkswagen, she was asked to sit in the backseat so as to not be seen next to him in her burqa.
My mother veils her hair with hijab and my sister has an on-and-off relationship with veiling her hair. Within my own family, the histories and narratives involving purdah are intricate and complex.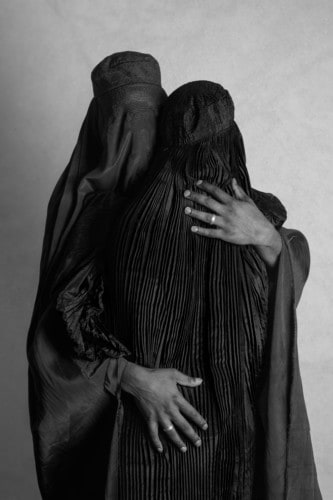 What's the response been like?
The response, thus far, has been overwhelmingly positive. One of the photographs from this body of work ("You may veil us, but you will never dictate who we love") won an award in the Single Images and Peoples Choice categories at Pride Photo Awards, Amsterdam. The photograph was also sponsored and printed on a billboard in Amsterdam, accessible to the public at large. The photograph depicts two veiled individuals embracing each other.
Photographs from the series have also been published in Of Note Magazine, New York. I had the honour of talking about the the project at Pen and Brush Foundation in New York as well as New York University.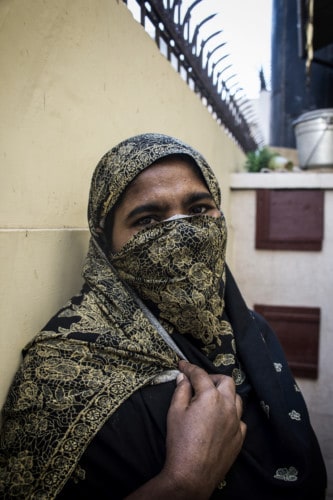 What has been the biggest issue you've contended with in your artistic practice?
It is not easy to problematize and critically investigate a topic such as veiling, which is associated with Islamic tradition and practice. Scholars like Fatima Mernissi, Reza Aslan and Dr. Homa Hoodfar have time and again challenged Islamic religious and cultural patriarchy by dismantling the origins of certain practices, such as veiling, that have come to be tied up with Islam. Within Muslim sects there are wide disputes and debates about whether veiling is Islamic in origin at all. I delve into the disputed history of purdah in my thesis before shifting focus back to what purdah signifies in contemporary society after having gone through centuries of orientalizing evolution.
The backlash, though limited, is not pretty. Critiquing or problematizing the subject matter of veiling makes some people uneasy so they lash out with threats, behind anonymous profiles via social media. I collaborated with Toronto-based models on a photographic piece for Dark Beauty Magazine and the entire series had to be removed due to the threats aimed at the models. The challenge then is not to give in to fear and continue working on a subject matter that is culturally and religiously sensitive, politicized and extremely relevant to our times.
What do you have planned for 2017?
2017 has been an exciting year thus far. I just wrapped up a group show entitled "The (Un)Othered Body" curated by a fantastic artist, Esmaa Mohamoud. I have a performance piece coming up at the AGO on March 2nd, part of First Thursdays: Still Nasty, and organized by the AGO in partnership with OCAD University. In April of this year, Purdah will be on display to the public. I am excited to share two years of ethnographic material and research recorded in various countries alongside conceptual interpretations of purdah.
I am also working on a documentary, The Butterfly People, co-directed with Toronto-based Eric Chengyang. The film records the lived experiences of Canadians diagnosed with Epidermolysis Bullosa, a rare, genetic skin condition. We are hoping to have the film out to public screenings and festivals this year.
What should we be paying more attention to? 
Shirin Neshat is giving a talk at the University of Guelph on March 8th. Neshat is a shining example of an artist working in collaborative and cross-disciplinary streams. I look forward to hearing her speak about the evolution in her work from photography to video art and opera.
One of my favourite South Asian authors, the internationally acclaimed Mohsin Hamid (The Reluctant Fundamentalist, Moth Smoke), will be at the Toronto Reference Library discussing his latest book, Exit West, on March 20th.
Every. Now. Then: Reframing Nationhood opens at the AGO on June 29th. What a diverse and beautiful lineup of artists: Camal Pirbhai, Esmaa Mohamoud, Camille Turner and more. I can't wait to see what they have in store for us.
Last but not least I am impatient to attend Infinity Mirrors, an exhibition that celebrates the evolution of immersive works by Yayoi Kusama at the AGO.
Follow Mariam on Instagram, Twitter and tumblr. Purdah runs at OCAD Graduate Gallery (205 Richmond St) from April 18th to 21st. In addition, her work will be also featured at AGO's March First Thursday: Still Nasty this week.