Last week, we gave you the
deets
on how to plan the perfect escape to South Pond Farms in Kawartha Lakes. Now we've had a chance to chat and get up-close and personal with South Pond founder and owner, Danielle French. Danielle is a mother of four daughters, all of whom have curated this lovely and sucessful family business.
SDTC: When you first set out to look for a property, how did you decide on Bethany Hills?
DF: We often drove through the area on our way back from the lake – a place we had earlier in our lives that was very special to us. I loved the landscape and saw a For Sale sign on a rambling broken down house on a beautiful piece of land.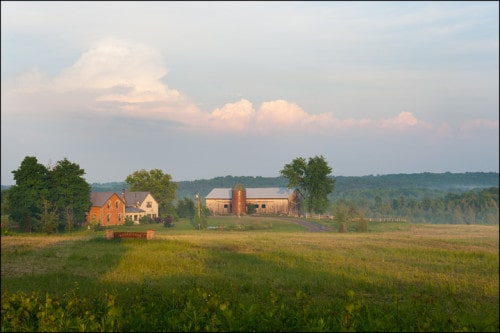 Can you share with us your culinary journey, how you became so talented in this field?
My mom taught me to cook. She is German and has also spent a lot of her youth during and after the war in England and in France. She taught me about making do with what you had in the kitchen and also about more classically prepared food. My mom was also ahead of her time in cooking only with what was seasonal. She would drive four hours to New York City to buy french roast coffee but she would never buy strawberries in the winter or prepare food that was out of season. I was also influenced by my grandmother on my dad's side who moved with my grandfather onto a 100-acre fruit farm and were virtually self-sufficient. She cooked only on a wood cook stove; they grew everything they ate; they had milk from their own cows; she made bread and pie every day; she persevered all fall for the winter months. I loved going to their farm as a kid because I loved their way of life.
Where did the concept of South Pond come from? How did you decide to combine hospitality with the arts?
Once the barn was restored, calling it South Pond seemed to just make sense – the pond, which is fed by an in-ground stream and attracts all kinds of wildlife, is quite simply on the south side of the barn. The barn is the main feature of the property with the ceramic silo in front and is the where people want to be married, where celebrations happen, etc. Really though, it is the land that takes centre focus with the rolling hills, the light on the crops, the vista – it becomes a landscape painting right before your eyes. I thought it might be a nice idea to use the land as a backdrop to display art so Art in the Fields was born!
Inside the barn, the acoustics are really perfect. Several years ago I had asked my friend Mayumi Seiler to play with her chamber music quartet and it was magical. Birds flying in and out, swallows nesting on the outside of the barn and her music just filled the space. I decided that thereafter whenever I would have any dinners inside, I would offer live music as well and so far, I believe people appreciate that experience.
What are the most significant changes in your daily life, since uprooting from Toronto and starting South Pond?
Firstly, learning to live with nature. Realizing that there many things that you do not have control over and require you to go with the flow. Weather, what type of season it will be – both of those things have a big impact in the country and despite all the ways we want to control our lives, both of those we can do nothing about. Secondly, being a fair a drive from anywhere. You think a lot more about getting in your car to go get something when the closest distance from a restaurant or store is twenty minutes. I don't eat out very often; I realize that it's hard to be anywhere that is as beautiful as it is here and the food is most always better here at the kitchen table. Lastly, being happy with my own company has been a big change because I don't have that socialization like I used to have. I have certainly learned to enjoy the peace and quiet.
How old were your daughters when you all moved to the property, and how do they help contribute to the running of South Pond?
My daughters were 5-11 when we moved up from Toronto. When I started South Pond they were a bit older – the youngest was 8 – and they have all embraced what I do – what we do. They have all contributed in significant ways from helping to serve our dinners to working in the kitchen. Now my eldest daughter, Carlyle, runs the bar, has started a bee apiary, and is also taking an active role in the financial side of the business. My second daughter, Grace, is more the urban girl but she helps in the office and also has been at the farmers' market selling our jams and other products. Olivia has always helped out in the kitchen and now grills appetizers by the pizza oven during events. Aubrey Rose was called "the secret weapon" of South Pond by a guest; she sets up tables, helps serve, makes pizzas – she is pretty well everywhere. I think they have an appreciation for running a business, and I know they are proud of me and of themselves and their roles here.
What does your typical day on the farm look like?
In the spring a day is a lot of outdoor chores; stacking ten chords of wood, getting the property ready in the gardens, painting, repairing, planting, and every year we have taken on a significant amount of capital work. For example, this year we had our own tables and linens made, adding new equipment, etc. It takes time and a lot of physical energy. We also started a new business in the winter months – Farm Flavours – which is making our own spice blends from our own herbs. We spent many hours over the winter planning that project, which we are excited to formally launch in the coming months! In the summer it is starting the outdoor wood oven for baking bread and pizzas early in the day, checking the chickens to make sure they haven't been eaten by the coyotes, letting Millie the goat and her friends out to graze, making chutney and other preserves, meeting with brides and planning events. It is a full time job not only for me in the summer months. In the fall, we wind down and plan workshops and next year's menu and events and then possibly, take a break!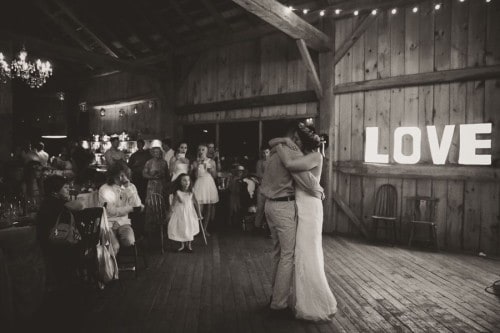 What do you love most about life at South Pond?
I love looking out at the most beautiful view every morning and afternoon, watching the light change during the day. I love the quiet, and I love that my girls have this experience, too. I know they can always make the choice to be in an urban environment and to travel, but to live here is something that is a hard choice to make once you are launched in the urban experience. At least they can take this part of their lives with them as a backdrop to their new world when they leave home – knowing that there are people like farmers who work really hard at making a living, that the weather dictates all that we do, that sometimes the power goes out for a long period of time and we don't suffer because we heat with wood, can cook our food from the cook stove, and can find water from the pond if needed. That this self-sufficiency is a good thing.
What advice do you have to other women who are looking to do a complete 180 with their life?
I think that the middle part of my life, my fifties, have absolutely been the best part of my life. Of course, I loved having my babies, having the luxury to be part of their young lives, but this part of my life has been the most empowering. I wasn't sure I could do this, and some days I'm still not sure, but taking a chance, a risk, trying out something new and fulfilling some of my creative side has been so rewarding. I like to tell the girls, too, that they can do anything that they set their minds on, they need to accept failure, work hard every day, try to learn something new and accept that they don't know everything! Be open to change and being reliant on yourself is a good goal.
What daily ritual gives you immense pleasure?
Walking around the property and watching. Drinking coffee on the porch in the morning. Sitting out by the herb garden when the sun goes down and on a hot day on the north porch with a glass of wine and just listening to all the sounds of the fields.
What foods/dishes do you enjoy most in summertime?
Fresh tomatoes and basil when it's available, greens of any kind dressed simply with lemon and olive oil, grilled meats and vegetables on the fire, of course pizzas from the wood fired stone oven, hickory smoked chicken on the green egg with bourbon glaze, interchanged with ribs on occasion, fresh peas with new potatoes and butter and chives. Basically anything out of the garden, with a little garlic and butter and fresh herbs.
Often used as a site for weddings, workshops and acommodations, South Pond is located in between Lake Scugog and Pigeon Lake, in Ontario's beloved Kawartha Lakes region. For information on how to book your escape to South Pond, visit their website.