In 2018, when Torontonian Kelly Fyffe-Marshall was exiting an Airbnb in Rialto, California, an onlooking white neighbour—seeing Fyffe-Marshall and three other Black women carrying full suitcases—assumed she was witnessing a burglary, and called the cops. What followed was a traumatic experience of sirens, police cars, accusations, interrogation, and intimidation. It's not how the group of creatives imagined their trip ending.
The situation is similar to
Chris Cooper's Central Park birding incident
, as in Fyffe-Marshall's actions did not warrant suspicion; both were targets of anti-Black racism. The
New York Times described the scene
before the 911 call as precisely what it was: "an entirely routine moment". Until it wasn't. Because of racist thinking, four Black women exiting a home—on their way to the airport—erupted into a scarring event, that has forever altered their lives.
Being a filmmaker, Fyffe-Marshall was compelled to process what she'd experienced on film. Black Bodies recently premiered at TIFF; the evocative short won over audiences and critics, and received the prestigious Changemaker Award. Presented by the Shawn Mendes Foundation, and selected by TIFF's Next Wave Committee, this award honours a Festival film that tackles issues of social change.
We caught up with Fyffe-Marshall to discuss the lead up to making Black Bodies and her artistic process.
What was it that made you decide that you needed to make a short film in response to the AirBnB incident?
After the incident I felt a lot of trauma, but I also felt responsibility. So many Black folks around the world experience these traumas everyday and don't have the platform I do. As an activist it is important for me to speak up and advocate for those who can't. I turned to my art which has always been a great way to process, to move through things and release, while allowing me to stand up for my community. Komi and Donisha were present during the incident and being able to heal with them was also very important, Komi is a first time actor, who used his spoken word to paint a vivid picture while Donisha channeled all the Black women who have lost partners to police brutality.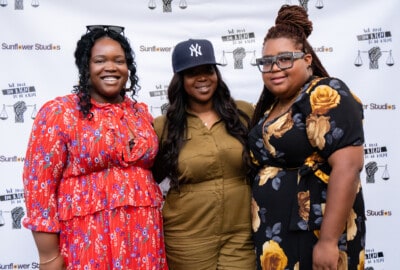 Black Bodies looks and feels like theatre. Can you briefly share how you approached the creative direction of the film?
I approached this film with feelings first. I thought about all the emotions I felt during the incident, and everything I wanted people to know about being Black and we channeled it into the film. Watching Black Bodies is an experience that evokes your senses similar to theatre, I used two main pillars to convey my message: the beautiful imagery lensed by Jordan Oram and the poignant poetry by Komi Olaf.
What did it feel like to have your film selected to premiere at TIFF? How did you celebrate?
Having my film at the Toronto International Film Festival was such a great accomplishment, especially as a Toronto filmmaker, hometown recognition always feels so great. My team and I love to pop champagne and the pandemic didn't hold us back, we were able to have a Covid friendly gathering and celebrate with those closest to us.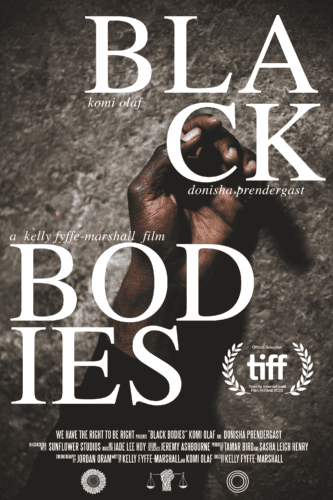 Did making this film help you process the trauma caused by the event? Would you describe it as healing?
Making art has always been a source of healing for me, it allows me to have hard conversations and share messages of healing for the viewers. I love to create work that incites conversation and pushes us to create real change. This film allowed me to start the healing myself, but also for my community which is also my intention.
What do you think was the greatest lesson learned from making Black Bodies?
I wouldn't say it was a lesson, but more a confirmation, making Black Bodies confirmed the importance of my community within my art practice. Making a film for the community and by the community was very important to me. All the performers, the clothing supplier, the crew have been impacted by the themes of Black Bodies. So many people take stories from communities and don't do anything to give back but my team is about so much more and has created systems to make sure that community impact is built into all our projects.