Beloved Toronto Raptors in-game host Kat Stefankiewicz is one of is one of over 40 notable Canadian names and brands to join the Designing Minds fundraiser in support of Holland Bloorview Kids Rehabilitation Hospital and New Start Foundation for Addiction and Mental Health.
The fundraiser pairs local personalities with adored fashion designers who submit one-of-a-kind items for a silent auction. This year the group was tasked with making head-turning masks, which the public can bid on between April 26th and May 2nd. Kat was paired with Considerate Goods and together they created a mask that shares Kat's passion: basketball! We would've never thought that in 2021 we'd be wearing a basketball net on our face, but these designs turned out to be really cool and we're considering a competitive bid.
All proceeds from the auction will benefit and provide funding for initiatives and programs to support child and youth mental health initiatives within each organization: Holland Bloorview's Facing Your Fears program and the New Start Digital Youth Intensive Outpatient Program (IOP). "With many sources of mental health support—through schools, clinics, and behaviour programs—disappearing, many families are turning to us for help," says Sandra Hawken, CEO, and President of Holland Bloorview Kids Rehabilitation Hospital Foundation. "The COVID-19 pandemic is having a severe impact on the well-being of children and youth—but for children and youth with disabilities, the risk of mental illness is 2 to 3 times more."
From on-air hosts to award-winning actors and influencers we can't get enough of, we love seeing how the city has come together to support kids, and the mental health programs that Holland Bloorview has created are like nothing else in Canada. Designing Minds is one way we can help them help the families they service; we know they are getting kids and parents through the toughest of chapters and saving lives.
We connected with Kat to find out why this cause is close to her heart.
Why was being part of this initiative important to you?
The importance of mental health has been something I have advocated for many years. With the pandemic amplifying mental health challenges, this opportunity presented another way of providing a voice for that – a voice through art, colour, and community that allows us to speak about the difficult things in a space that feels safe. I believe in transparency and bringing comfort and strength to others through shared experiences, and with a new awareness of prioritizing mental health at this time, what a wonderful initiative to do so. I have worked with children and young adults as a teacher, coach, and mentor and believe in providing them with the education and reassurance that expressing your emotional state, on both good days and bad days, is important, brave, and admirable. Designing Minds is supporting that something needs to change for our youth to have not just a platform for better communication when it comes to mental health, but access to treatment and support.
How has this past year made you rethink mental health?
Alongside many, the pandemic has had a hand in realigning my priorities in life, and that action was fuelled by the heartbreak, stress, and burnout that appeared due to this time. The importance of mental health remained the same in my life but taking action was the difference-maker. To not just recognize pain or struggle but to make it of importance and immediately do something to change its direction. That certain responsibilities, commitments, even emails could wait because my mental health and that of my loved ones came first. To initiate and put forth conversation about mental health and shed the stigma. Building a safe space where all feelings are valid with friends, family, and my community online has been incredibly powerful through this time. I believe in the snowball effect, that when you share your story, someone else will feel safe to share theirs too.
What issue, in your opinion, still needs more attention, when it comes to mental health?
People have been taught to deflect emotional pain instead of feel through it, and this is often due to what we have learned from the ones who have raised us. We can recognize generational and cultural patterns but choosing to change them moving forward is where our energy should land. I do believe the conversation about mental health still has room to grow. We are getting there with a shift from suppressing feelings being a strength to vulnerability being a strength, and the more we use our voices, the more voices there will be.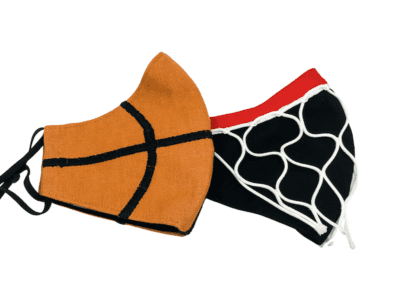 Can you share a little about the creative process behind your amazing masks?
I collaborated with the extremely talented Canadian designer Anela from Considerate Goods. In a time when we aren't able to do all of the things that bring us joy, it has been a wonderful challenge to find alternative ways to feel it still. As someone who has been surrounded by the basketball culture for years and knows firsthand how passionate the Toronto community is for the game, these masks share that statement. It's been a wonderful opportunity to tie multiple things I care about all together, all thanks to a designer with a cleverly creative and big heart.
Wherever you are, you can join the silent auction starting April 26th. Beyond masks, there will be jewellery and fashion available to bid on. For more information on this amazing virtual fundraiser, head to the Designing Minds site.