Opening at SummerWorks on Saturday, August 9, Complex is a play from writer Rebecca Applebaum set in Toronto's Chalkfarm towers. Developed as part of the fu-GEN Asian Canadian Theatre's Kitchen Playwright unit, Complex weaves themes of race politics and mental health together through the math lessons U of T student Sarah gives to her young tutee Darren, a teenager growing up near Jane and Wilson. The play speaks to the experience of living in areas of the city that are at once demonized and mythologized. We spoke with Applebaum about the process of writing the script.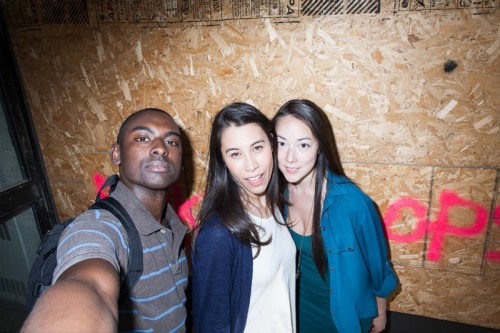 Writer Rebecca Applebaum (centre) with actors Mazin Elsadig (left) and Emily Piggford.
SDTC: Do you think art, through the empathy it can instill, is one of the best ways to tackle issues like those that serve as themes in the play?
Rebecca Applebaum: I think that art and theatre can give us the opportunity see ourselves in others in a way that can really open up and shift our perspective of who we are and how we relate to one another. It can be really powerful. Personally, I love getting cracked open and having my insides shift when I'm in an audience.
SDTC: What was the writing process like for you?
RA: I've written this play in spurts over a bunch years. I started writing it while I was a member of fu-GEN's "Kitchen" Playwrights unit. I happened to be interning at a theatre company that did theatre for social change. So it came out of conversations I was having there as well.
Playwriting for me is really a back-and-forth process between working at home alone and bouncing it off others and seeing what works and what doesn't. Working with actors while in the process of writing is awesome and always feels like a huge privilege. They give me so much.
SDTC: Take us through the motions of getting the play put on: What were some great triumphs and challenges?
RA: I'm so proud of what we've been able to accomplish in this production in such a short amount of time.
I think one of the amazing things about this show that people wouldn't know is that most of us have never worked with each other and many of us were complete strangers a few months ago. I had never met [director] Chris [Stanton], Chris had never worked with any of the actors, and none of the actors knew each other at all. It's really inspiring to see how open everyone is. And it's so fun. Everyone just loves what everyone else is bringing to the table.
SDTC: What does this story say about the city we're living in right now? 
RA: Toronto is a city that is becoming more economically polarized by area. It's just a fact. There's the higher-income, service-rich downtown and the lower-income, service-starved inner suburbs. So the play takes place in the context of that fact.
In a way, I see the play as a bit of an allegory about how these different areas relate. Sarah is fascinated with Chalkfarm, it's reputation and it's association with gang violence to the point of it becoming a fantasy that she's very attached to. I think for those of us who don't live in the inner-suburbs, these violent images and narratives can be fascinating as well. But as result, we risk losing sight of other stories and experiences.
SDTC: What is a moment in the play that you really love? 
RA: I have a bunch, but I really like the magic that Chris, the creative team and the actors have infused into the play. When Sarah goes to Chalkfarm by herself at night, we're thrown into a very detailed landscape that lives somewhere between reality and fantasy. It's so full and yet it's made up of very simple elements and zero dialogue. I love it.