It's the Year of the Monkey and Luckee by Susur Lee is serving up three fixe-prix menus designed to celebrate happiness, good fortune, prosperity and wealth! Every dish is created with special symbolism from Chinese culture in mind, and they all sound delectable: from Fresh Oyster Shooters to Yunnan Fried Vermicelli with Crab Meat to Lobster Yi Mein. Each menu ends with a Chinese New Year Dessert Platter. The special menus run until February 21st at Luckee. In the meantime, you can try your hand at Susur's own Fortune Chicken Recipe. Gong Hey Fat Choy!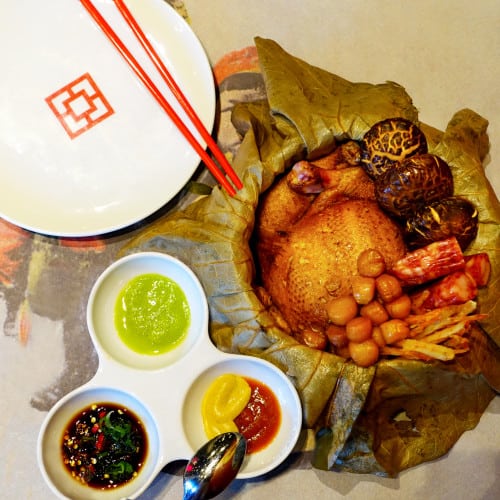 Fortune Chicken Recipe
Quantity: 2
Yield: 4 portions
Preparation: 30 min
Cooking 3h: 45 min
Ingredients:
60 ml salt-reduced soy sauce
60 ml Chinese rice wine (see note)
454g or 1 whole Cornish hen, deboned and split in 1/2
260g ground chicken
180g glutinous rice (see note)
2 dried lotus leaves (see note)
60 g dried shiitake mushrooms
30g dried shrimp
80g foie gras pate
50g chestnuts
10g piece ginger, diced
60g lap cheong (see note) (Chinese red sausages), finely diced
30g spring onions, chopped
30g coriander, chopped
60g dried scallop
Instructions
Marinate the chicken and soak the glutinous rice overnight. Combine soy and rice wine in a bowl. Pat chicken dry with paper towel. Place in a bowl and rub skin and cavity with soy marinade. Cover and refrigerate overnight. Reserve 60 ml of marinade. Soak glutinous rice overnight in enough water to cover by 10 cm, then drain and cook. Soften lotus leaves in hot water for 40 minutes and the mushrooms for 30 minutes. Drain. Discard mushroom stems.
To make stuffing, steam lap cheong for 10 minutes or until fragrant and drain on top of paper towel to remove oil and allow to cool.
Mix ground chicken, diced mushrooms, spring onions, coriander, lap cheong, ginger, chestnuts, dried shrimp and reserved marinade until combined.
Mix rice and dried scallops together until combined.
Place in the centre of 2 lotus leaf, ½ the rice mixture, then ½ the ground chicken mix. Place ½ Cornish hen on top and fold lotus leaf to enclose, tie with butcher twine and then repeat with other half of the Cornish hen.
Preheat oven to 200°C. Wrap lotus with tin foil and bake in oven for 1 hour.
Notes:
• Shaoxing is from selected supermarkets and Asian food shops. Substitute dry sherry.
• Glutinous rice and dried lotus leaves are from Asian food shops. Lotus leaves are used to impart a subtle earthy flavour to fillings.
• Lap cheong is available from selected supermarkets and Asian food shops.