Blackout: The Musical takes audiences back in time to explore that unforgettable summer night in 2003 when the lights went out across Ontario, and all along the northeastern seaboard.
Nigerian-Canadian actor Yemie Sonuga was just thirteen when the infamous blackout occurred, and living in Edmonton—far away from the chaos—but clearly remembers the headlines, and the conversations that followed. For the last few years, Yemie has been a fixture on Broadway, gaining notoriety through several productions including
Lion King
and
Book of Mormon.
She's thrilled to be back in Canada to perform the role of Pandora in
Blackout: The Musical
, which is part of
Canadian Stage's Dream in High Park
.
If you lived through that frightful and freakish moment in time, you likely have vivid memories too. What do you remember? A conversation with a stranger? Wandering the pitch black streets? A worried call to a family member?
Blackout: The Musical will transport you to that sticky and scary night of August 14, 2003. Watching a stellar cast band together in the dark will spark interesting conversations about connection and how we come together in a crisis.
While nearly twenty years ago, there are many parallels between that experience and the pandemic era we are currently living through. We connected with Yemie to discuss the thought-provoking performance.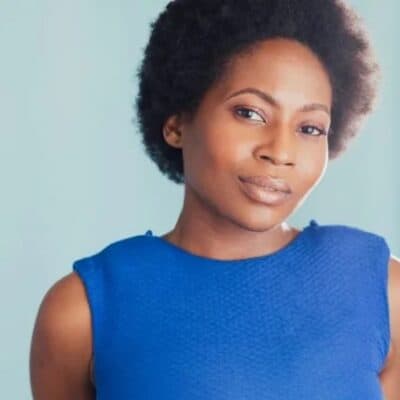 What feelings / mood do you feel the team has tried hard to capture in Blackout?
Blackout the Musical is a compilation of three stories that take place on the first night of the Toronto Blackout. To me, the most significant element portrayed is humanity. Blackout is one of the most authentic pieces of theatre I have seen and experienced as a performer and observer. Everyone has worked hard to capture the human need for connection and understanding, even in the darkest of times. It is a feeling we have all experienced, particularly over the past 17 months.
What, in your opinion, are the parallels between that event and what we are currently living through?
From what I understand, there was considerable panic and fear during this time. There was also patience, understanding, kindness and true Canadian spirit that the rest of the world finds so charming. The pandemic is very similar in this way. Not everyone has been on board with the protocols or been happy with the process, but there is still a clear sense of community amongst us. This pandemic has made the world pause and see how 'other' people are treated. It has brought light and understanding to people's struggles and helped shape how we measure what is deemed essential or of value. I think the parallels can be found within the reaffirmed importance of taking care of one's physical health, connecting with family and friends, addressing mental health issues, and building a global community that embraces differences in race, gender and sexuality. Life is not guaranteed. I would love to take this opportunity to tell you to take chances, live in your truth, be brave and trust your gut, laugh as much as you can. Spending time by water is healing, and whenever you can, give yourself a little pause (blackout) and a break for rest. You are deserving.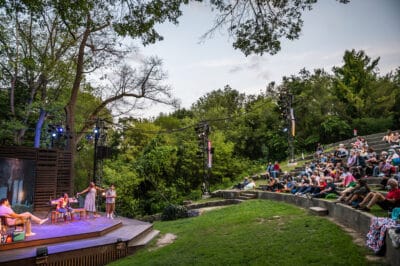 Can you give us a teaser re: the kinds of songs we can expect to hear?
The songbook for this show is electric. Anton Lipovetsky, the composer and lyricist, has written these pieces with a quality that reflects Canada and Canadian music. There is an essence of homecoming from the composition to the lyricism. Blackout has the ability to shift the way audiences see Canadian musical theatre, and its value. When Toronto audiences come to see Blackout, I think they will be pleasantly surprised at how intrinsically 'Toronto' this show is. It's modern, fresh, and exciting. So get ready to feel all the feels, rock out, and have fun!
What does it mean to you to be part of Dream in High Park this year?
This is my third Canadian production, and working with Musical Stage Company in collaboration with Canadian Stage very special to me. It's been ten years since I've been back to Canada, and this show has been the most wondrous of homecomings. I feel grateful for this opportunity in sharing this story as a part of Dream in High Park. It is a dream to be a part of the first theatre production with live audiences in 17 months!
What about this project do you love most?
I adore playing the character of Pandora. I feel intrinsically connected to her. I love that she's honest, truthful, and vulnerable. It is not often I get the chance to play a role like this as a Black woman. I love showing up as Pandora fully, without being stereotyped or expected to sound like anyone but myself. This role has been so freeing. Playing truth will always be liberating, and that freedom has allowed me to breathe in my humanity. We have been given space as actors to embody these roles, explore, and be creative. Every night I get to surrender myself to Pandora. I feel truly blessed to get the chance to tell this story.
Blackout will be on stage in High Park until August 15. Get cozy under the stars and take in this fascinating piece of theatre! Reserve your spot now.