If you enjoy the amazing seafood cuisine at Rock Lobster restaurants (and who doesn't?!), you'll be happy to know that Matt Dean Pettit—owner, founder, and chef behind Rock Lobster—now offers some of his famous food exclusively at Sobey's grocery stores. That's right. We're talkin' takeout lobster.
Appropriately named Matty's Seafood, take-home options include two popular menu items: the famous Lobster Roll ($11.99) and the East Coast Chowder ($8.99). To ensure extra deliciousness, Matt and his business partner Blair MacKinnon have vacuum packed the lobster separately from the bun—no sogginess, no problem!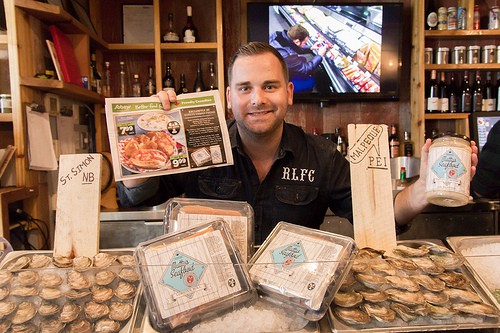 Matty and co. threw a party at their Queen West location to honour the Sobey's launch of their seafood treats, and we couldn't resist going along. Guests were treated to not only his lobster roll and East Coast Chowder, but lobster mac n' cheese (drool-worthy), oysters and some yummy beverages of the alcoholic variety. To wet one's whistle guests were give the option of a Rock Lobster Caesar (you haven't lived until you have had a Caesar with a lobster tail in it) or a delicious pint of Samuel Adams beer…or in my case, both of these drinks. I have no shame.
The night brought out foodies, fans, and even some local celebs (we spotted Anthony Farnell fighting the winter weather with some hearty seafood). The packed house and energy of the patrons proved that the people of Toronto love Rock Lobster and its mouth-watering food. Matt's kind and honest words during a grateful speech proved the feeling is mutual.
What started as a pop-up restaurant has now expanded to two restaurants (one on Queen West and one on Ossington), take-home food at 12 Urban Fresh Sobey's across the GTA, and even an upcoming cookbook. Rock on, Matty. Rock on.
Follow Nicole on Twitter @NicoleRashotte