Toronto author Samantha Bailey's debut novel Woman On The Edge was an instant bestseller. In her new psychological thriller, Watch Out For Her, releasing April 26 by Simon & Schuster, Bailey gives suspense fans another gripping and satisfying page-turner.
The fast-paced novel takes place in Vancouver and Toronto, and follows a family that is being haunted by a needy babysitter. Just about each chapter ends on a cliff-hanging note that will have you hungry to keep going, making this an exciting book to devour. Expect to lose sleep.
The heart-pounding suspense is what hooks, but Bailey also pays close attention to her characters, carefully showing how unhealthy family dynamics drive our actions, and how quickly a picture-perfect household can implode. In Watch Out For Her, the author explores the overwhelming feelings of anxiety and paranoia that can come with motherhood. And if not treated, how quickly these dark thoughts can consume our imagination, ultimately pushing us to do things we normally wouldn't do.
Curious to know how she maps out her chilling and unpredictable plots, we connected with Bailey to ask about Watch Out For Her and her process for writing thrillers.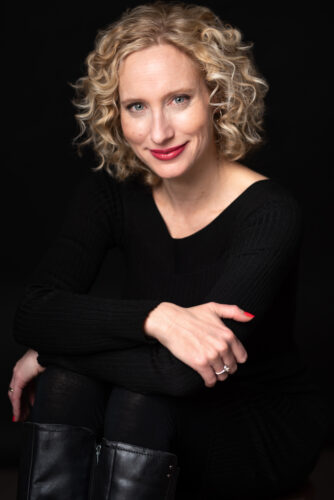 You have a knack for writing spine-chilling thrillers. Where do you think this stems from?
Thank you! I've loved twisted stories for as long as I can remember. I'm actually a very positive, upbeat person, but I'm a Gemini, so I'm also fascinated by the dark side of people and life. I love psychology, so to delve into the complicated, messy, and flawed aspects of people and relationships is very compelling to me.
When you begin to write a novel, where do you start? With a character? A crime? A setting?
I usually start with the premise. I need a solid idea that gives me that excited flutter in my chest then I begin sketching out the characters, their arcs and motivations and move on to the plot beats, twists, and clues.
In Watch Out For Her, you explore a mother's paranoia and anxiety. What made you decide to examine this? Was it from personal experience?
I am an admittedly overprotective mother and a worrier. While I'm not as anxious as Sarah nor am I a voyeur, I do have quite a few of the same fears. Sometimes I wish I could watch the people who watch my children, but I never would. I write about fear to help deal with my own, and to make my readers think and feel, to entertain and scare them.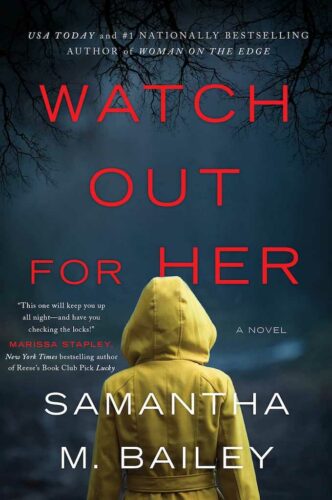 Suspense is something you do very well. What's your best advice for writing a suspenseful novel?
I appreciate that very much because I've learned so much. Writing for me is a constant work-in-progress. My best advice would be to let the characters lead you. Listen to them, follow them, accept when they do things you might not have expected or wanted. It's something I still need to make sure I do, as well.
When are you most in your element, as a writer? What part of the process lights you up the most?
Writing for me is like breathing. It's a compulsion, my passion, and what drives me. I think I'm most in my element very early in the morning, at 4 or 5 am, when it's dark and quiet, and everyone else is asleep, and it's just me and my words. Every part of the process lights me up and wrenches my soul in equal measure.
What feeds your creativity?
Music is definitely where I get much of my spark. I usually listen to 90s grunge/alternative and hip hop before I begin writing for the day — hard drum beats and raw, powerful lyrics. But books, people, and simple day-to-day conversations feed my creativity, as well.
Do you spook yourself? Wake up having nightmares while writing? What is it that spooks you?
I do spook myself! I dream about my characters and stories, and I have very vivid dreams. I don't often have nightmares, but my dreams feel so real that I wake up thinking I'm in the middle of one of my scenes. It always takes me a minute to realize I don't live in a book.
Watch Out For Her releases April 26th. Find it wherever books are sold.