Toronto Burlesque Festival celebrates its ninth year July 28-31. Founder and Executive Producer Sauci Calla Horra is a social worker by day…and a burlesque performer by night. She basically needs to keep her real name a secret because she often deals with forensic psychology cases. We caught up with Sauci this week and found out how she keeps all the plates spinning for Toronto's sexiest festival.
SDTC: Are there any similarities between your day job and your job as founder of a burlesque festival?
SCH: During the day, I work in community mental health, so in general, there are more differences than similarities. When things get stressful running the festival, I always remind myself that it's a show, it's entertainment. Yes, it's important to put on the best show possible for your audience, but no one is going to die or spend time in jail or a hospital as the result of a decision I make.
The main similarity between the two is my approach to my work. Always be respectful to the people you work with; you get more bees with honey than vinegar; be accountable for your actions while maintaining compassion towards yourself; and an amazing paradox – stay true to your vision and know when you need to let go as you've done all that you can. A festival is always bigger than its parts, and while careful planning is key, something will always go wrong that you don't expect and there are limits to what you can control.
What led you to start this festival? Are you surprised with how much it's grown?
My inspiration was the first New York Burlesque Festival in 2003. My troupe, Skin Tight Outta Sight, were the only international performers and the sense of community among these US performers who came from coast to coast was truly inspiring. There was a very tiny burlesque scene in Toronto at that time, but this led to the founding of the Toronto Burlesque and Vaudeville Alliance. I always knew I wanted to do a festival, but the timing didn't seem right until 2007, after the successful run of the Spiegel Tent 'n Tavern at Harbourfront. This showed there was an audience for this kind of performance. It was becoming obvious that burlesque was more than a passing fad and the number of interested performers was growing.
We started a committee of performers and producers in Toronto to run the first festival in 2008. It was terrifying but ultimately successful. Our initial goals were to bring the best in international talent to teach and perform, inspire our local performers, develop networks for local performers to meet others and travel, and to show our audience the best burlesque in the world. Since then, Toronto performers have joined the ranks of world class and we have become a destination for burlesque, with multiple shows happening every week.
How would you describe the Toronto burlesque scene in 2016?
It's diverse. If someone goes to see a performance, they should know that as in any other arts scene, some shows will "touch" you and others may not be your thing. Quality varies, though in general I believe it's quite high. You can go to small intimate shows at places like Cherry Cola's and The Painted Lady or large scale shows at Revival and The Great Hall. There are punk rock shows (personally, I believe neo-burlesque is rooted in a punk rock DIY ethos), classic shows that are reminiscent of golden age Hollywood, political shows and nerdlesque shows, to name a few. You will see many different body types and you can even see shows featuring all men. Some performers have very strong theatre and/or dance backgrounds. There's a lot of comedy. The Toronto scene is funny, sexy, often shocking and usually, very friendly and warm.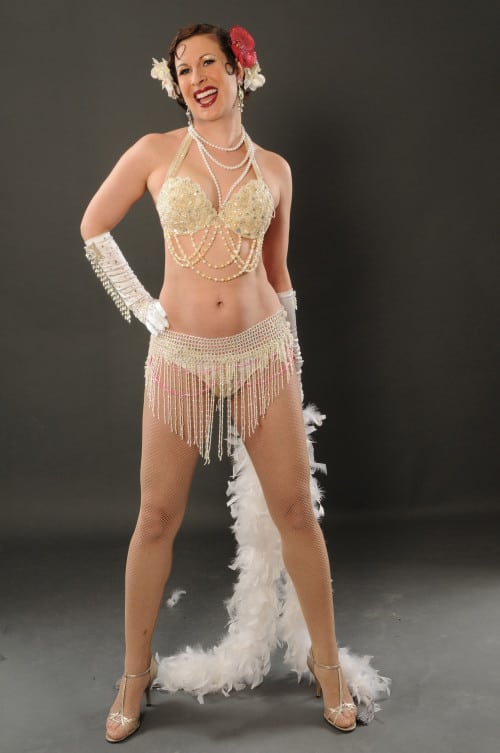 Which performers are you most excited to see?
This is a tough question as there are so many! We always choose our headliners with great care and I love the 2016 line-up. Dirty Martini, Medianoche, Jett Adore and Ray Gunn are among the best in the world and I know Toronto will lose their minds when they see what they have in store for us. Dahlia Fatale from Chicago and Rubyyy Jones from the UK are doing some amazing political burlesque on Friday and Sunday. I'm excited about Seattle's Jacqueline Hyde, a winner of the Crystal Corset award, being on our stage with a very sultry number for the Saturday Glam-A-Ganza. Sassy von Stradler from Minneapolis is also performing an amazing act incorporating acrobatics in that same show. Teo is a world-class aerialist who will be performing on Thursday night for our opening bash. Red Rum, a group act from Chicago, may ruffle some feathers on Friday. I love burlesque that is challenging! Locally, Zyra Lee Vanity, Betsy Swoon and Regina Dentata are some of the sexiest newcomers I've seen lately. It's such a joy to see the newer performers develop their style and confidence. I have to stop now or I'll name all 65 performers!
Any trends in burlesque that you're loving? Or hating?
I don't like it when performers don't connect with their audience, keeping that "4th wall" up, or when professionally trained performers believe they're automatically better than those with more grass roots backgrounds, who had to teach themselves in the beginning. Performers today have an advantage that the neo-burlesque scene has already been created. They don't have to invent it and fight in the same way to legitimize burlesque. There are mentors to connect with, many different shows to go to and lots of people teaching what they know.
I also feel very sad when burlesque performers try to legitimize what they do by distancing themselves from women working as strippers or in the sex trade. Yes, what we do is different now, but we need to remember that the burlesque dancers we base our art on were the strippers of their day and they were marginalized. As neo-burlesque becomes more mainstream, we need to make sure we don't lose the roots of it, that glorious energy that's punk rock, sex positive, queer and accepting of diverse body shapes and sizes. Related to this is the way today's burlesque performers are becoming more racially diverse and talking about their experiences openly, given that performers of colour in the past either had to "pass" or were thrust into eroticized roles.
Why should people come to this festival?
The Toronto Burlesque Festival always blows my mind, and I'm a pretty tough judge! I may be biased, but I believe it's one of the best of its kind in the world. Every show is curated very carefully to ensure the best performances for our audience. We have different themes for each show to suit different tastes, or you can choose to see everything with one of our weekend passes. We also have "Burlesque University" with classes from our headliners where you can learn from the very best. Our festival is a great introduction if you've never seen burlesque and it's also perfect for long-time fans.
Where else will you see a show that's sexy, funny, clever and challenging and that encompasses dance, song, aerials and striptease, performed by over 60 world-class artists of all genders, shapes, sizes, colours and sexual identities, from all over North America? We're also friendly and smart, and love meeting our audience at our after-parties. I hope you will come out and say hello!