I first came across Scaachi Koul right here on this site. She Does the City ran a series on female journalists and Koul was kind enough to share her experiences for Bylined: Women in Journalism.
I didn't know who she was (which is not a reflection on Koul's career but rather on the fact that I often live in an internet- and media-free cave for months at a time), but something she said stuck with me and I would find myself periodically thinking of that thing "the girl with the good hair said on SDTC."
She wrote: "You don't owe anyone shit," and if those aren't words to live by, I don't know what are. "Just because someone is talking to you does not mean you owe them an answer. This is true of daily interactions, of fighting on the Internet with strangers, of having to justify your life or your choices."
"You don't owe anyone shit" is a mantra the author, journalist and BuzzFeed Canada editor has probably had to repeat to herself often over the past year. Koul, who was already in the public eye thanks to her excellent writing in The New Yorker, The Hairpin, The Globe and Mail and The Guardian US, hit headlines in February of last year when she tweeted a call out for submissions. She wrote: "Would you like to write longform for @BuzzFeedCanada? WELL YOU CAN. We want pitches for your Canada-centric essays & reporting," followed by a second tweet reading: "@BuzzFeedCanada would particularly like to hear from you if you are not white and not male."
To many people, the tweet would seem fair in an industry where women and people of colour are still shamefully underrepresented, but Koul's affirmative action immediately caught the ire of many people online. Koul must have foreseen the backlash because she promptly tweeted: "IF YOU'RE A WHITE MAN UPSET THAT WE ARE LOOKING MOSTLY FOR NON-WHITE NON-MEN … I DON'T CARE ABOUT YOU … GO WRITE FOR MACLEAN'S."
What happened next was a gross display of Internet trolling, a free-for-all of racialized hate speech and a barrage of messages threatening sexual assault, murder and even dismemberment. It wasn't long before someone tweeted the story to Milo Yiannopoulos (who people call a "provocateur," but what they really mean is that he's a misogynistic, racist, shit-stirring hate-monger who recently had to resign from his job at alt-right Breitbart News after a video surfaced of him saying that sex between adults and children could sometimes be consensual).
Yiannopoulos has become the unofficial leader of the men's rights movement and, unfortunately for Koul, his followers descended upon her Twitter account with a tidal wave of hatred, anger, racism and misogyny. In the end, Koul did something that would seem unthinkable for a millennial writer and media commentator: she deleted her Twitter account.
It's an experience Koul writes about with clear-eyed honesty in her book of personal essays, which was released in Canada last week. One Day We'll All Be Dead And None Of This Will Matter is a collection of ten personal essays that range in topics from a shopping trip gone terribly wrong to navigating the world as a brown woman to the trials and tribulations of growing up as a first-generation child of Kashmiri immigrants. She ties it all together with an acerbic wit and the no-holds-barred attitude of a writer who is not afraid to say things as they are.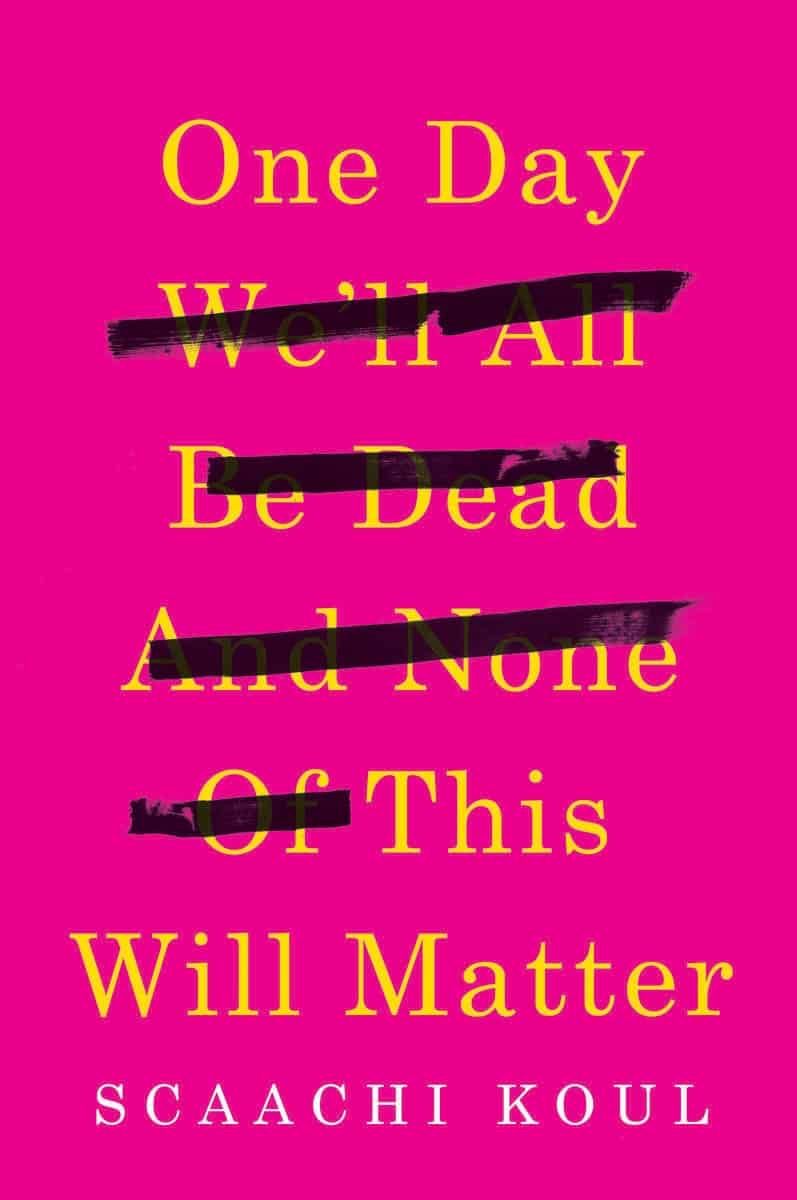 In an essay entitled "Mute," she writes about the Twitter harassment, but it's not the only essay in the book in which Koul tears open her chest and pours her guts onto the page. "Writing [the book] was difficult and it was a lot of ripping up old wounds again, but I think it's better for it," says Koul. "To be able to write something that will resonate, or even to write something for myself that feels honest, you have to go through a process of discomfort."
There's no denying Koul dug deep to deliver these essays. Whether she's talking about her girlhood in Calgary as the daughter of Indian immigrants or her coming-of-age in Toronto amidst a landscape still unsafe for many women, Koul writes with candour, incisiveness and humour (she is hilarious in person and on the page) and offers a fresh and much-need voice on racial and sexual politics.
The release of One Day We'll All Be Dead And None Of This Will Matter has been a whirlwind of press events, interviews and television appearances. She admits it sometimes feels a bit uncomfortable to talk about herself and the book so much, but she's enjoying the ride.
Koul continues to work as a senior writer at BuzzFeed Canada and has no plans yet for another book.
"I don't want to do anything at all," she says with a laugh. "I would like to sit in a dark room and be alone for five minutes. I'm going to have to do something, I know that. But I also think the public needs some time to not hear from me, so I'm going to give everyone a break."
Koul may not owe anyone shit but she has given us her all in this book, and I'm thankful she did.