Pushed to choose one word to describe Scarborough, it would without a doubt be love. Love is on every inch of every frame of this film, as it was so easily found on each page of Catherine Hernandez' award-winning book of the same title. Love for the children from low-income households, love for the single mothers who work relentlessly to put food on the table, and love for the educators who are a lifeline for so many families.
Scarborough is a film that touches you so deeply, that it finds a way to live within your soul, connecting with your younger self, like a childhood friend gently reaching for your hand. Directed by Shasha Nakhai and Rich Williamson, audiences won't soon forget this powerful film that is both tragic and hopeful, devastating and joyous. Scarborough gives the world an urgent dose of perspective and compassion, at a time when it needs it most.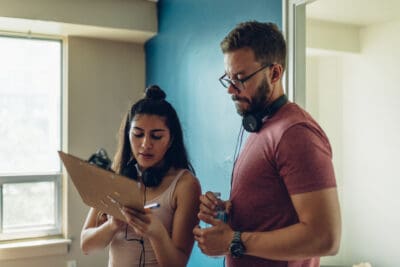 The film gets its world premiere at TIFF tonight, which is surreal and emotional for Catherine who shares how vastly different the red-carpet event is from the space the writer was in when the idea for the book first came to her. "I was in precarious housing, living hand to mouth. I was the owner of a home daycare and it was a desperate measure because I couldn't afford daycare myself. It was the only option that I had where I could take care of my child while making money and being an artist in the evenings and weekends," she says, holding back tears. "In that time of desperation I would take the children to various play centres and I would notice that the program facilitators would watch with baited breath every election that would happen because if there was a change in government it meant that their jobs were at risk."
When people think of early childhood centres, they may envision song circles, storytime, and sticky small fingers busy making crafts. Scarborough captures that childhood wonder and innocence, but it also shows how a handful of Cheerios, served in a paper coffee filter, can fill a hungry tummy. It shows how a cup of coffee passed to a tired-beyond-belief mother can make all the difference in a hard day, and how the joy of singing a happy song on a dingy carpet can offer relief and bring a sense of security for children and parents who are barely hanging on.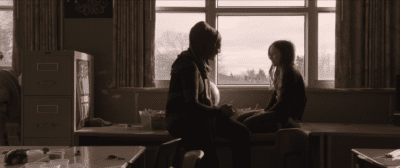 The performances of the three children who star as Bing (Liam Diaz), Laura (Anna Claire Beitel), and Sylvie (Essence Fox) will astound you. This is a film about their resilience, their inherent magic, and their survival. It is also a film about all the people in their lives who care for them, who play a role in getting them through the day. In a way, Scarborough is like that Sesame Street song, "These Are The People In Your Neighbourhood"; but instead of Bob and Big Bird, this cast of characters includes the nail salon owner, the quiet and concerned tenant next door, the kind and watchful sex worker on the street who sees it all, and so many others. But the spotlight shines on Ms. Hina, exquisitely performed by Aliya Kanani, who runs the centre that kids and caregivers visit before and after school.
Catherine shares that growing up, she had many Ms. Hinas in her life, or people who nurtured her growth and supported her creativity along the way. When running the daycare, she met many more, and wanted to use this character in Scarborough to show the sincerity and care of educators, but also the lack of support they receive, and the instability of their workplaces. "There were so many Ms. Hinas and the grace with which they gave support to communities without them understanding that it was a charity, without it being about largess and performance. It was all about centering them and their needs. To me it looked like a dance, a beautifully choreographed ballet, and I wanted to capture that in the film and I feel honoured to have witnessed it firsthand."
There are numerous moments of heartbreak in the film, including difficult scenes of abuse and neglect, but for audiences, the most painful aspect is likely not what they see on screen but knowing the reality of how COVID has forced the closures of so many centres and daycares, in Scarborough and everywhere. This invaluable nurturing, care, and support, by people like Ms. Hina has vanished from the lives of people who needed it most. To imagine what happens day to day, when those coffee filters of Cheerios and plastic fruit cups, or relied upon sustenance — are removed, or when the only bit of laughter and gentle touch in a day is taken, is unbearable to think about.
"It doesn't escape me at all that this film is coming out during a time where those programs that people were relying on, even just to have breakfast, are gone now," says Catherine. "A lot of people feel failed by the people who are in power. I feel quite lost during this pandemic, and that's me—I have access to food and I have access to water. Every day that passes I'm extremely worried about the welfare of the people in my community. Right now feels like the right timing for this film. The message is that I love you and care for you and affirm all of your struggles. What makes our community so wonderful is the people."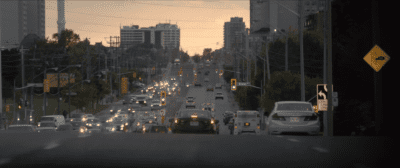 For those who grew up in Scarborough, the film is a love letter. For those who have not, who perhaps have had more privileged lives, it's an eye opener that will hopefully inspire action.
Scarborough is a shining example of the transformative power of film, and what happens when representation takes place on and off screen. "This is what happens when you give qtbipoc folks a platform to say what they want to say," say Catherine, who hopes that the project represents the beginning of a new norm in the industry.
It's the kind of movie that will influence a lot of things … The book is already being used in academia and law to better understand the realities of living below the poverty line. With the upcoming election now days away, TIFF audiences might even be influenced to vote differently. Childcare is a huge issue and Scarborough makes a more persuasive case for funding than any debate.
But no matter what your politics are, or where you come from, the film is a reminder that the small choices we make each and every day, as we move through our routines, can have a deep impact on the lives of others. A smile to a child on a bus, a conversation with a mother who is struggling, a knock on our neighbours door, a thank you to a teacher—these small interactions are, in fact, the most important.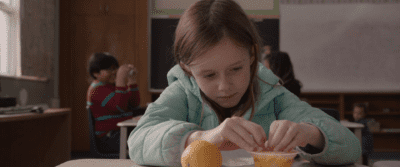 The film has not even had its premiere, and has already been acquired by Level Film, who've nabbed the Canadian distribution rights. For Catherine, the story of Scarborough has already exceeded her wildest expectations, but in many ways, it's just the beginning. "If I were to go back in time to that single mom, who had no idea where her next paycheck was coming from, and tell her that she was going to be at TIFF one day, as a screenwriter, I wouldn't have believed it. I would have to give her some kind of token, like the email verification that we made it into TIFF, to tell her that everything is going to be okay. To tell her that If she could find just enough change to buy a dozen eggs then she'll make it through. Whoever is out there right now, struggling at this time, know that I see you and that I affirm you and I celebrate you."