Emily Reid is the Founder, Director & Lead Programmer of the Christie Pits Film Festival/Toronto Outdoor Picture Show. She founded the festival in 2011 as a small two-night series in Christie Pits. "I live in that community and felt that park was a perfect place for public programming in an urban setting, but outside of the business core," she says. "I wanted to foster a communal film-viewing experience outdoors to encourage us to make better use of our beautiful park in the short summer months."
The festival took off and exceeded her expectations. After its fourth season, Reid and her team incorporated it as a not-for-profit organization and named the organization Toronto Outdoor Picture Show (TOPS) so they could bring programming to other Toronto communities. On June 18th, Vampires in the Outfield will be their first TOPS event outside of Christie Pits. We caught up with Reid this week.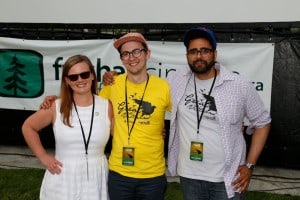 SDTC: Can you explain how you go about selecting films for the festival?
ER: Our CPFF programme is always built around an annual theme that allows us to present a number of films from a variety of genres, styles, formats and countries in a cohesive, curated context. Sometimes a particular theme comes to mind first and we build from there—such as with last year's Great Villains programme—and other times a film inspires the theme. This year we really liked the idea of screening the smart, indie, local feature I Put A Hit On You (by Toronto writer-directors Linsey Stewart and Dane Clark), a film about a couple stranded in their apartment unit while a hitman lurks outside, and that film inspired our Stranded! in Christie Pits series. Over nine Sunday evenings this summer, we will be looking at short and feature films that examine themes of isolation, confinement, escape and perseverance.
Does planning an ongoing outdoor event pose a special challenge?
It sure does! We plan really well and consider so many details, but outdoor programming is always at risk of the natural elements. The weather is an unpredictable beast, and we never know more than a couple of hours before showtime what the night will bring. It keeps us on our toes, and we roll with it.
Why was it important for you for women to be properly represented in all aspects of the festival?
This has always felt pretty natural and obvious to me and my co-programmer, Felan Parker. Women are often involved behind the scenes at arts organizations, but less commonly so in leadership positions, and certainly there is less representation in cinema (in front of and behind the camera). We both want to see better equality for women in the film industry, so it's a no-brainer to start here at home. More than half of our audience identifies as female, and as such we do our best to curate a programme that depicts an equal number of stories by and about women, against industry standards.
What film are you most looking forward to seeing on the big outdoor screen this year?
Oh boy! So many. The Truman Show has been on my list of films I want to programme outdoors, and I really can't wait to finally watch it with my friends and neighbours. I'm also really keen to see what our first Pride-affiliated night will be like. We absolutely love the three beautiful films screening on July 3rd, and I think with that programme we're going to contribute a really welcoming, positive, arts-loving space to the fabric of LGBTQ programming in Toronto.